CCHS skirt ban sparks student protest
More than 50 Cathedral Catholic High School students and parents, carrying signs in protest of the skirt ban for the 2019-20 school year, gathered on the sidewalk in front of CCHS this morning to dissent against the new dress code guidelines for girls.
"I'm here because I think that this [dress code change] is unfair and extreme," Clare Hannon '20 said. "I think there are other solutions, and if administration had tried to work with students and parents, we could have come to a different solution that would have let us voice our opinions."
CCHS Principal Dr. Kevin Calkins notified CCHS parents last Friday via email that due to unceasing, persistent skirt length challenges, skirts will no longer be an option for girls next school year. Instead, female students must choose among khaki, black, or navy blue non-denim pants, Capri pants, or Bermuda shorts.
Dr. Calkins feels the protest was an act of healthy expression from the student body.
"I'm glad they're speaking up for what they believe in," Dr. Calkins said. "I hope students at CCHS advocate for what they think is important, just in an intelligent way. I think to be proactive and take initiative to address the concern that they have is good."
According to Dr. Calkins's notice, the CCHS administration initiated the skirt ban after various failed attempts to remedy short, immodest skirt lengths, including thousands of detention hours, orientations, and the removal of Dennis Uniform as the required supplier for uniforms.
"The administration eventually opted against strictly enforcing current dress code guidelines because of the negative effect that could have on the environment," Dr. Calkins wrote in his email announcing the change. "Male faculty feel uncomfortable addressing female students about the length of their skirts, and even female faculty have expressed frustration with the ongoing challenge of dress code."
The skirt ban caused fervor among students, even catching the attention of local news with NBC 7 San Diego and KUSI News stories addressing the CCHS dress code changes and student resistance.
The student protest also prompted the anonymous creation of a change.org petition, which currently features 2,715 signatures as of this morning. The petition serves as a platform for students to comment and share their opinions on the matter.
"I think this protest shows that all the girls and the parents really are against this," Caylee Hornaday '21 said. "The faculty and staff are the only ones who are for the dress code. Shorts and pants are still going to show your body. The skirts aren't an issue.
"We pay lots of money to go to this school, and it's not fair for [administration] to just change the dress code and not address the parents' opinion."
Luke Meyers '20 believes the skirt ban not only affects the female student population, but the student body as a whole.
"I love CCHS so much, and I am so blessed to go here," Meyers said. "Yet, I'm really disappointed in the people that made [the skirt ban] decision. It teaches young adults the completely wrong message about how to handle complex issues. Rather than tackle them head on and deal with an issue that I'm sure every Catholic school faces to some degree, administration has chosen to remove the problem altogether.
"It teaches students that decisions that affect many can be made by few and that compromise is not the way to deal with issues. This is a major decision that affects the image and integrity of an entire school, and I think I should care about something like that regardless of whether or not the change actually affects me."
Although it is unclear whether or not the protest efforts will result in tangible change, the CCHS student body continues to renounce the skirt ban.
"They're punishing the entire school instead of just punishing the girls with the really short skirts," Sophia Walton '22 said. "I think [this protest and continued protests] could help with the issue. So many girls came out today."
As students left the protest to attend class, they led chants and waved their posters high, hoping to deliver a message that resonates with CCHS administrative officials.
"Administration needs to know that we understand there is an issue, and there are definitely some individuals who need consequences," Meyers said. "The way in which this affair was handled does not foster the environment that CCHS should be and teaches students the wrong messages about how to handle issues in the world as adults."
About the Contributor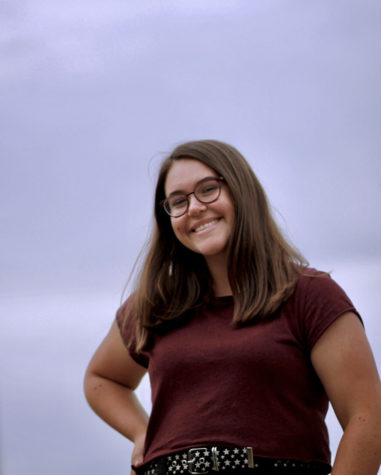 Angelina Hicks, Managing Editor
During my third school year on the El Cid staff, this time honored with the title of Managing Editor, I plan to spend every moment not only striving to...