Losing a legend
The death of past USDHS principal Dr. Richard Kelly causes grief and nostalgia among CCHS faculty and administration.
When University of San Diego High School/Cathedral Catholic High School social science teacher Mr. Don DeAngelo began his USDHS career 23 years ago, he never expected to befriend a hardworking, charismatic principal like Dr. Richard Kelly.
"He was just an incredibly supportive employer," Mr. DeAngelo said. "I've been working since I was 16, and he was by far the best manager I've ever had."
Dr. Kelly passed away at his home in La Jolla on Feb. 4 after a fight with cancer and Parkinson's disease, and many past USDHS faculty and administration feel grief for their former boss. His funeral, attended by approximately 300 USDHS/CCHS students, parents, and faculty, occurred Feb. 9 at All Hallows Parish.
"[The day Dr. Kelly died] was one of the worst days of my life," Mr. DeAngelo said. "At his service, there were hundreds of people crammed into one church. There were employees from when I started 23 years ago who just had to be there, and there were former students and their parents there, grateful for the gifts Dr. Kelly gave to them. I just hope I can be half the man that guy was."
"
I just hope I can be half the man that guy was."
— Mr. Don DeAngelo
Dr. Kelly first arrived to work at USDHS as principal in 1989, and he served until 2004. In 1998, USDHS was recognized as the Department of Education Blue Ribbon School for the excellent faculty, staff, and community under Dr. Kelly. USDHS/CCHS has maintained a standard of excellence due to his influence.
"Before Dr. Kelly's tenure at University of San Diego High School, we had gone through a number of principals," CCHS Director of Advancement and past USDHS faculty member Mr. Sean Doyle said. "Dr. Kelly brought some stability to [USDHS]. He also knew how to treat people. He genuinely cared for everyone. He would take the time to write a personal note when you did something well or when you were going through a tough time.
"He always treated people the way he would want to be treated."
The longest tenured principal and first president of USDHS, Dr. Kelly never officially worked at CCHS, but he did play an instrumental role in spearheading the campus move.
"I don't think a lot of people realize, but USDHS was a very special place because of Dr. Kelly," Mr. DeAngelo said. "When the diocese decided to move the school, there was a lot of resistance, which Dr. Kelly took. He got brutalized. A lot of really good teachers left, and the diocese put him in a horrible situation.
"But he kept all of it to himself. He tried to keep the energy as positive as he could. In the end, the diocese didn't let him move with the school. He never publicly complained, and he never said anything negative."
Despite having no desire to retire with USDHS, Dr. Kelly maintained a positive attitude and never let his support for CCHS falter.
"He encouraged as many people to move to the new campus as possible even though he would never set foot on campus as a principal or a president," Mr. DeAngelo said. "He got a lot of people to stay on board with the move. I don't think CCHS would have really gotten off the ground if Dr. Kelly hadn't weathered the storm and kept everybody grounded."
Dr. Kelly's legacy at CCHS lives on in more ways than one, and it is prevalent through his effect on longtime USDHS/CCHS faculty and staff and the design of the school.
"Dr. Kelly really moved a very good school at USDHS to be great," Mr. Doyle said. "His passion for the students was amazing. His care and love of the faculty and staff was incredible. He was very involved in the design and building of CCHS, and he had the vision of the school having a Tuscany village look to it. As you can see his vision came to reality. Every time I have toured alumni from USDHS, they comment on the Tuscany village feel."
Aside from the design, Dr. Kelly's influence on CCHS also branches into mission and ministry.
Before the tradition of all-school liturgies, only two classes attended Mass together at USDHS due to students' misbehavior, and teachers were even forced to circle the perimeter of the room to keep the students from acting out during the service, current CCHS math teacher and former UDSHS/CCHS principal Mr. Timothy Derenthal said.
Dr. Kelly, unsatisfied with celebrating Mass with only half the school, promoted community at USDHS by mandating all-school masses.
"Dr. Kelly saw [the separated masses] and didn't like it," Mr. Derenthal said. "Dr. Kelly said, 'That's not what it's about. We are going to change to all-school masses, and the kids are just going to have to learn to behave.' In the beginning, they were a little disorganized, but we slowly started to change the culture. Dr. Kelly showed his reverence at Mass, and his faith started to rub off on the kids. It took about a year or two, but eventually, we had really great masses."
Although most CCHS students never knew him, Dr. Kelly was a prominent figure on the USDHS campus who shaped CCHS into what it is today.
"He's one of those rare people you meet that fully live their faith," Mr. Derenthal said. "Day in and day out, he was a loving, caring man that lived his faith. He wasn't a person to get up and speak for long periods of time and tell everyone what they should be doing. He just lived it. Those types of people are rare and infectious. I don't think you could find one person who wouldn't say, 'Dr. Kelly cared about me completely.' He was a tremendous man, and I was fortunate enough for him to take me under his wing and show me the ropes in administration. He was a real mentor to me, and I am so fortunate."
"
He wasn't a person to get up and speak for long periods of time and tell everyone what they should be doing. He just lived it."
— Mr. Timothy Derenthal
Before Dr. Kelly started working at USDHS in 1989, he spent five years as a principal at School of the Madeleine in Bay Park before becoming a vice principal of St. Augustine High School. After his employment at USDHS, he increased the school's sense of community, giving it the tightly-knit bond Dons often describe at CCHS today.
"I think we still strive to be a community and a school," Mr. DeAngelo said. "That's a legacy of Dr. Kelly's — to promote community. I think he started the idea of trying to hire the best and brightest teachers to come on campus, and I think he started the legacy of trying to compensate people as fairly, as possible."
Dr. Kelly's death affected longtime USDHS/CCHS faculty and staff. An important part of the Dons community has been been lost, and with that loss comes the end of an era.
"[USDHS] really was a special place," Mr. Derenthal said. "The love that community had for each other was born and nurtured in Dr. Kelly. His death kind of signals a bit of an end to that time and place. I know he hadn't been here for a long time [at CCHS], but for those of us that remember back to those times, as long as [Dr. Kelly] was here on earth, those times were still alive. His leaving to God kind of closed that special chapter we had."
Dr. Kelly, a deeply beloved friend to many people, retired from working in 2004, but his love never did.
He grew and nurtured his relationships with past co-workers, including many current CCHS teachers and administrators.
Despite his physical death, his legacy lives on every day through his contributions, including the Dr. Richard Kelly Scholarship, which was awarded this week to CCHS student Frankie Loretta '20 through Global Leadership Connection, and the CCHS all-school liturgies.
"[Dr. Kelly] was really just a humble guy with a great sense of humor," Mr. DeAngelo said. "Even after he retired, there was a bunch of us who would try to get together with him for lunch a few times a year just because we wanted to be with him. After he retired, I used to meet with Dr. Kelly and go for walks around Mission Bay because I wanted to know what he thought about what I was going through on a personal and professional level.
"He would give me advice and encouragement, and I don't know what I'm going to do without that. It was a big loss of mine. I've spent a lot time sorting through that, and I know a lot of older teachers have too."
About the Contributor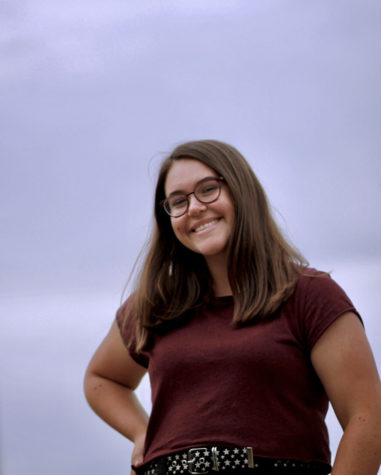 Angelina Hicks, Managing Editor
During my third school year on the El Cid staff, this time honored with the title of Managing Editor, I plan to spend every moment not only striving to...