New year, new courses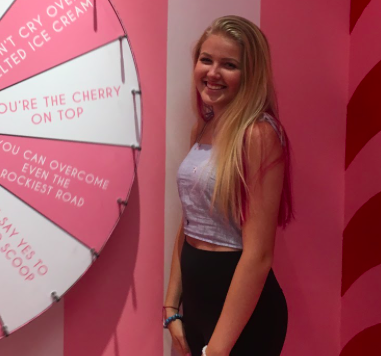 More stories from Katie Dittamore
After Cathedral Catholic High School student Lucie Roche '21 glimpsed at the course registration for the 2019-2020 school year, the first new class to catch her eye was core stretching, a new physical education class designed to improve mental health and maintain physical activity.
"I've been dancing for the majority of my life," Roche said. "While looking through the course description, I found it would be the best option for me."
CCHS chose to develop a new curriculum guide due to the school's academic team wanting students to be able to maintain their mental stability and have more of an interest and passion in learning. Some new classes include History of Sports, Core Stretching, and AP U.S. History.
"My habits have slowly become worse and worse as the year goes on," Roche said. "I'm up until 3 a.m. every night finishing homework because I am usually at dance until 8 or 9 p.m. every day. It's physically and mentally draining for me to have to do this every week. I wanted to be able to take classes I actually enjoy and don't require more than four hours of homework each night."
After many students were found having problems in the past years due to too much homework, no variety in classes, and unfortunate sleeping and studying habits, school counselors want to help the students as much as possible. Their goal is to include courses that everyone can enjoy and can lighten their workload.
"My best advice is to stay balanced and progress classes naturally based on 9th grade through 11th grade," CCHS college counselor Miss Kristen Micho said. "Don't take it too easy, but don't take on more than you can handle."
Classes such as core stretching are designed to improve health, performance, and mental state. Physical education teachers are hoping that this class can not only maintain fitness, but keep a sturdy mental state while dealing with the stress of high school.
"Core stretching seems like a great fit for me because of all the exercise I do outside of school," Justy Carruthers '21 said. "It would really give me a chance to work muscles I don't usually use in sports."
On the other hand, AP U.S. History has been added to the curriculum guide to allow students to take a more intense and rigorous course in American History that is not designed like Dual Enrollment U.S. History, a college-designed class.
"There are many moving pieces that go into the process so the earlier students can start to think about different colleges and options," Miss Micho said. "We hope they feel and become more prepared going into applications for senior year."
The course History of Sports gives students an understanding of the role sports played in shaping American History. It provides students with an appreciation of how various sports influenced American culture from early America to modern day.
I'm interested to see what History of Sports is all about," Ian Hawkins '21 said. "I play both soccer and football and stay extremely active all the time, so I think it would be interesting to learn about the background of some of my favorite sports."
Counselors, department heads, and teachers all had one goal which was to create a new curriculum guide that includes classes for everyone, offering different opportunities to students with different passions.
These added courses hope to create a better working environment for students, and allow students to be more active in class not only mentally but physically.
"As counselors, we meet with every student on our caseload to make sure each student feels supported," counselor Mrs. Tiffany Norris said. "We utilize that time to review your past classes and grades for prerequisites, check the Curriculum Guide, talk about future plans, answer questions, and discuss balance in your life. We truly want to listen to each student, so your class decisions best support you."
Leave a Comment
About the Contributor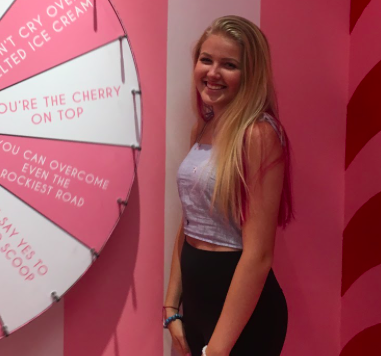 Katie Dittamore, Assistant Entertainment Editor
As as sophomore at Cathedral Catholic High School and this year's Assistant Entertainment Editor for El Cid, I look forward to what this school year...