One birth, one brain surgery, two months
CCHS alumni receives hour-long craniotomy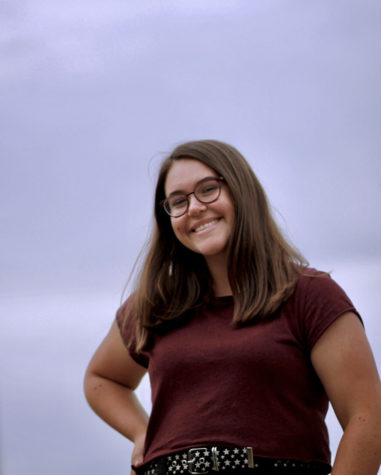 More stories from Angelina Hicks
When admissions associate and Ambassadors for Christ Corps moderator Mrs. Kayla Tucker '10 left for her maternity leave in September, she was not prepared for the mental struggle she would face when her husband received a craniotomy and 16 staples in his head just two months after their first daughter's birth.
"It was like time stopped and everything was on hold," Mrs. Tucker said. "Everything else didn't matter, just [my husband] and [my daughter]. That's all I could ever think about taking care of."
While Mr. Chase Tucker '08 ran the bases in a championship slow pitch softball game, a player on the opposing team, throwing the ball toward first base in an attempt to make a play, struck Mr. Tucker's temple, resulting in his head pain, nosebleed, and vomiting.
"I wasn't sure what had happened," Mr. Tucker said. "I didn't know whether I collided with the shortstop or if it was the ball that hit me. I also was only seeing two black spots at the bottom and top of my right eye, and my nose was bleeding from my right nostril.
"Panic set in right away."
After rushing to the emergency room, Mr. Tucker received a CT scan, and doctors diagnosed him with a subdural hematoma and a midline shift of about five millimeters, meaning his brain was bleeding.
"The first time [Mr. Tucker was in the hospital], I was thinking, 'Thank God we dodged a serious bullet, and they don't have to do surgery. He's never playing softball again without a helmet,' " Mrs. Tucker said.
The doctors admitted him to the intensive care unit for a few days of monitoring and discharged him home with directions to rest until the pain subsided.
Unfortunately, Mr. Tucker's pain only grew.
"When I was home, the baby crying didn't really help my headaches, and it was pretty hard to deal with [the pain]," Mr. Tucker said.
Thanksgiving morning, the Tuckers and other family members participated in the Father Joe's Villages Thanksgiving Day 5K, where Mr. Tucker walked the three miles in order to help calm his sciatic pain, Mrs. Tucker said.
However, the walk created more bleeding in Mr. Tucker's brain, and he was rushed back to the emergency room a couple days later and re-diagnosed with another subdural hematoma with a midline just short of 10 millimeters. At the worst point of his pain, Mr. Tucker lost a day of memory, and the doctors decided to give him a craniotomy, a surgical opening of his skull, to stop the bleeding.
"He was in so much pain that the surgery was the only option," Mrs. Tucker said. "I thought about [my daughter] and how she barely has lived two months with him, and I thought about what would happen if things went wrong. I just had to think about everything one step at a time.
"I wore Chase's crucifix through the whole surgery and just prayed that he would be okay."
After the hour-long surgery, Mr. Tucker, his memory hazy, returned home Saturday night.
"I have no recollection of the moments before surgery," Mr. Tucker said. "I just remember being with the friends that came to visit me, and then next thing I knew I was in the ICU with a drain coming out of my head and wrapped in bandages. I was completely out of it before the surgery."
During the hectic days surrounding surgery, Mrs. Tucker's family aided the new parents, looking after the Tuckers' two-month old daughter, Kennedy Tucker.   
"[Our family] offered moral support and took care of Kennedy for [Mr. and Mrs. Tucker]," Kolbe Center receptionist and Mrs. Tucker's mother Mrs. Sina Balke said. "Obviously bringing babies to the ICU is frowned upon, so she needed somewhere to stay. We were more than happy to have her with us."
The experience was especially challenging for Mr. and Mrs. Tucker to be away from their young daughter for extended time.
"Although the baby crying was hard to deal with [because of the headaches] when I first got home, I would have paid to hear Kennedy cry during my second hospital stay," Mr. Tucker said. "I just wanted my baby next to me."
Despite the challenges, Mrs. Tucker expresses gratitude for her family's assistance.
"This [event] changed everything," Mrs. Tucker said. "I was running back and forth from the hospital to my mom's house. Thank God my parents live so close, and they were able to take care of Kennedy when I was at the hospital. We basically just brought all of Kennedy's stuff to my mom's house for those two weeks.
"I don't know what I would've done without them."
Looking forward, doctors will remove the staples from Mr. Tucker's head in two weeks, allowing him to return to work in the near future. Mrs. Tucker, expected to return to CCHS on Dec. 17, will still return as planned.
"I'm recovering very well," Mr. Tucker said. "With a whole new outlook on life and great appreciation for my hero that is my wife, how could I not feel so blessed being in my own home with my little family?
"I love every second of it, and the support from family and friends is what I hope will make the recovery process a breeze."