Start Smart revival
To greater address the dangers of distracted driving and provide clarification on modern driving laws, Cathedral Catholic High School has been working with local law enforcement to reinstate the Start Smart program at CCHS.
To obtain a parking space on campus next year, students will be required to complete a Start Smart program course through CCHS. Each student must attend the course meeting with his or her parent or guardian and provide a valid student ID or driver's license.
"We used to have this program for a few years, but stopped a couple of years ago," CCHS Dean of Students Mr. Michael Wallace said. "After meeting with Officer Sanchez from California Highway Patrol, we decided to start up the program again."
The Start Smart Program aims to help new drivers become more aware of their responsibilities while on the road and the possible consequences when those responsibilities are not upheld. The program gives both students and their parents or guardians the opportunity to understand these responsibilities together.
"The course meetings will cover a wide range of topics," Mr. Wallace said. "Some of these topics include distracted driving, making sure both students and their parents or guardians are aware of all the provisional license laws, and safe driving in general."
According to the San Diego Sheriff's Department, each course meeting will be taught by trained law enforcement personnel and will create awareness of the possible consequences, both financial and physical, of distracted or impaired driving. The course meeting will also provide applicable information about collision prevention.
"I always hear stories from my son about students getting into car accidents in the student parking lots," CCHS parent Mr. Marcelo Santos said. "I hear a lot of students are distracted by their smartphones, and I don't want my son to learn that distracted driving is ok, especially when he will be driving to and from school next year."
According to the California Department of Motor Vehicles, the crash rate for 16 year olds is 3.7 times higher than drivers of all ages, and the crash rate for teenagers is 2.7 times higher than drivers of all ages. The reason these rates are higher correlates to poor hazard detection, low risk perception, risk taking, and lack of experience among new drivers.
"It is important for students to attend the course meeting because when I talk to students there are a lot of misconceptions out there about safe driving," Mr. Wallace said. "It is always good to be reminded that cars can be dangerous if not used correctly."
Also according to the California DMV, the citation rate for 16 year olds is 1.8 times higher than drivers of all ages, and the citation rate for teenagers is 2.1 times higher than drivers of all ages. Night driving, carrying passengers, and not wearing seatbelts are the most common cases for citations among teengers.
Many teenagers do not believe they are doing anything wrong until they end up on the side of the road with a police officer.
"Though many other students might think that this program is a waste of time, I don't agree," CCHS student Lucas Santos '20 said. "I would rather understand the laws and know what not to do before I start driving instead of having to find out the hard way on my way to school one morning."
The first Start Smart Program course meeting will be held Nov. 29 from 6 p.m. to 8 p.m.
"Near year, students will not be able to apply for a parking space on campus until they have attended one of the Start Smart Program course meetings," Mr. Wallace said. "Students will only be required to attend the meeting once throughout their entire high school career."
About the Contributor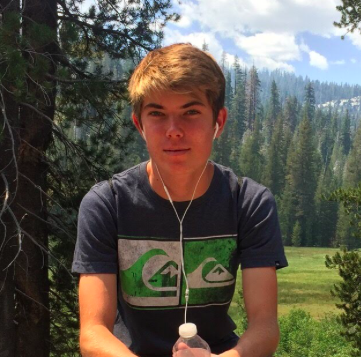 Matthew Rowland, Assistant Features Editor
As a junior at Cathedral Catholic High School, I will work as the Assistant Features Editor for El Cid. I chose to write for the newspaper to expand my...