God calls Ethan home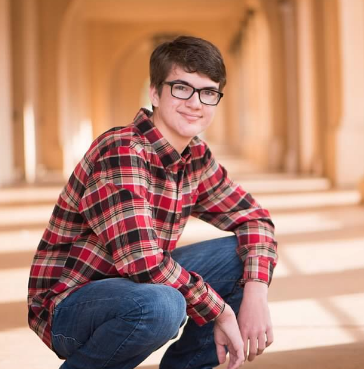 Ethan Paul Olson always lit up a room with quick one-liners to get everyone laughing. From family members to teachers and students, Ethan Olson's undeniable humor exists as the common denominator of his life.

A senior at Cathedral Catholic High School, 17-year-old Ethan Olson passed away unexpectedly Tuesday, Oct. 2 at his home in Tierrasanta.
"[Humor] was definitely one of his most recognizable characteristics, for sure," Cathedral Catholic High School student Coley O'Connor '19 said. "It was constant and legitimately really funny. He was actually hilarious."

O'Connor described one campus ministry project he completed with Ethan Olson, an assignment to explain the sacraments to an alien. When groups members waffled on assigned roles, Ethan Olson decided to take the part of the alien.

"It was the funniest thing ever," O'Connor said. "The whole class loved it, and it was so fun making it. I expected it to be lame, but Ethan lit up the whole thing."
His classmates, friends, and family will miss Ethan Olson's humorous personality, his sister Emma Olson '21 said.
"I'm going to miss his one-liners," Emma Olson said. "He would just come out of his room and tell a really stupid joke. He was just so funny, and he impacted so many people.
"He just didn't realize how many people knew him and loved him."
Ethan Olson enjoyed video games, ice hockey, and karate.

Ethan Olson often played video games, and he especially enjoyed storyline games, such as Mario and Fortnite. Ethan Olson dreamed of turning his love of video games into a career, and he hoped to attend college in Florida to become a video game designer.

Since fifth grade, Ethan Olson loved playing for San Diego Chill, a special needs ice hockey team. He hoped to assume the job of team leader after the original captain left for college, Ethan's sister Emma Olson said.

Ethan Olson started karate in sixth grade, earning a third-degree junior black belt. In karate class, he met Taylor Miller, one of his closest friends.

The son of Jason Olson and Lisa Schulte Olson, Ethan Olson was born in San Diego, on July 3, 2001. Two years later, his sister Emma Olson was born.

Ethan Olson's father and sister enjoy watching college football, particularly the University of Washington Huskies. However, Ethan Olson liked Oregon State, rivals of the Huskies. Emma Olson often informed Ethan Olson about his team's rankings since he never actually watched an Oregon State game.
Ironically, Oregon State beat the University Washington last Sunday, dropping the Huskies in national polls.

"I know Ethan is laughing up at me right now [from Heaven] like, 'Suckers!'" Emma Olson said. "It's just going to be really weird because I am like an only child. I like to be around people, so it's going to be weird being alone."

His paternal grandfather Sherman Olson preceded Ethan Olson in death. Ethan Olson is survived by his parents Jason Olson and Lisa Schulte Olson and his sister Emma Olson. He is also survived by his grandparents, Donna and Jerry Schulte and Judy Olson, and his uncles Jimmy Schulte, and Larry Sherman, and Jared Olson. His aunt Dena Olson and 16 cousins also mourn the former Don.