Lunch not included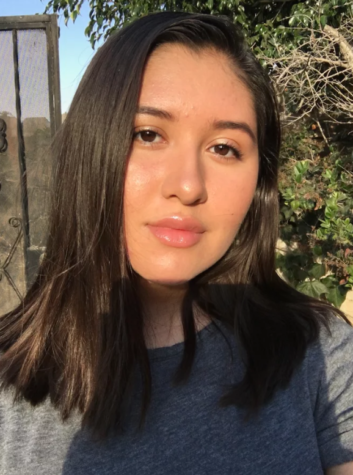 More stories from Mercy Sosa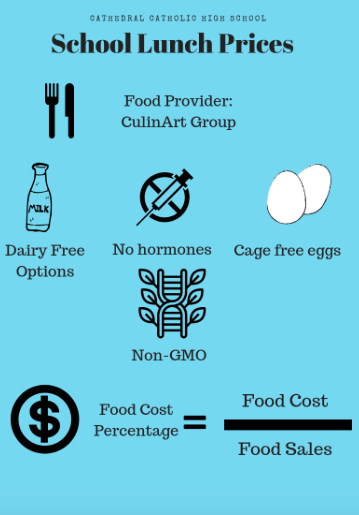 Cathedral Catholic High School students look forward to one activity the most during the school day: lunch.
However, many students are going broke filling their stomachs.
"Everyday there is someone asking if they can pay less," student cafeteria worker Talia Niu '19 said. "We always have to say no because they count money drawers at the end."
With food prices increasing approximately 25 cents each year during the last four years, CCHS students increasingly are feeling the pinch everyday at the lunch windows as they strive to balance their wallets with the growl in their stomachs, causing a source of irritation for loyal lunch-buying customers.
CCHS contracted with CulinArt Group, a national food and dining provider, after reviewing CCHS proposals and viewing presentations by other food subcontractors.
CCHS Chief Financial Officer Ms. Carolyn Sturz oversees campus contracts, including with the CulinArt Group.
"CulinArt answered all our questions very well," Ms. Sturz said. "They prevailed as an example of a company that was providing good quality food for a reasonable price. There was a wide variety, and it was affordable."
According to Ms. Sturz, CCHS desired a food provider that met the school's needs, especially that of a school with a Catholic mission, Ms. Sturz said.
As current students know, the CCHS cafeteria provides meatless options during Lent, an offering  made possible by CulinArt Group.
"We just felt comfortable with CulinArt group," Ms. Sturz said. "Everything is mission driven here. We asked ourselves if they were Catholic friendly. They have proven to respect that mission and have that be first for us."
Another culinary need CCHS required was alternative food available for students who have special dining needs, ranging from allergies to intolerances.
"We were looking for healthy options," Ms. Sturz said. "There are people with special dining needs now that weren't an issue before. We wanted to have options available for those who have special needs."
CulinArt Group appointed the position of chef manager to Mr. Alex Valenzuela, who runs the daily kitchen routines, determines the price of food items, and confirms menu items.
Mr. Valenzuela assures the food served at CCHS is of great quality.
"Culinart Group brings fresh produce from local farms in Southern California," Mr. Valenzuela said. "We provide no dairy products, no hormones. Our eggs are cage free, and our food is non-GMO."
Providing CCHS students with quality food comes at a cost, however.
Mr. Valenzuela and his superiors determine the prices on many different food items, especially produce and meats.
Many factors influence the price of food items. For example, Californias recent drought affects farms the availability of many food items. As those expenses get passed from farmer to CulinArt Group to consumer, food providers must maintain a certain food cost percentage in order to avoid losing money.
"What it costs me to provide [students] with a sandwich needs to be a certain percentage of what I charge you," Mr. Valenzuela said. "If my produce company is raising the price of tomatoes, then that affects my food cost.
"Unfortunately, I have to pass [rising costs] down to [customers]."
Besides the rising prices of produce, Mr. Valenzuela keeps in mind the food cost percentage, a big factor in determining the cost of the food. Food cost percentage is the actual cost of goods sold divided by food sales times 100, Mr. Valenzuela said.
"Say it cost me $2 to make a sandwich," Mr. Valenzuela said. "If I sold it to you for two dollars my food cost is 100 percent, which is bad because I can't sell you something at the same price it cost me to make it. So if a sandwich cost me $2 to make, I need to sell it to you for six dollars so my food cost percentage is 33 percent."
In addition, workers are necessary to operate the cafeteria, and they do more than just run the cash resister. Mr. Valenzuela said, workers also prepare food for approximately 1,400 students everyday.
"We have eight full time workers, and it is a part of the cost of food," Mr. Valenzuela said. "When factoring cost it includes the price of the food, what we pay for it, and the cost of my labor. The way the lunch area is set up forces me to have a lot of employees, and they are necessary to prep food and set up and run the cashier.
"Everyone here cooks something or preps something."
Although most students believe school lunch should be cheaper because of high tuition, students must know lunch is not included in tuition costs.
"We are not there yet with including everything in the tuition," Ms. Sturz said. "Down the road would we say we are going to provide food for all 2,000 people on this campus everyday? Well, we would look at tuition go up to incorporate that cost if we did."
One option for students who do not have the money to pay for school lunch, but would like to eat school food, is to work in the cafeteria. Besides the benefit of getting a paycheck, student workers are not required to pay for their food.
"I am able to get one bag of chips, two main course meals, and a snack," Nui said. "That's enough to feed me for the entire school day. I don't work as much as other people do, but by the end of a two week period, I would get approximately $24 for working half of lunch."
In a circumstance where a student is not able to have a sustainable diet during and outside of school, they can reach out for help to administration.
"If we became aware of a special extenuating circumstance where the family is not able to provide food, the only Christian response to a need like that is to help that young person," Ms. Sturz said. "I have been here for 24 years, and it has happened a handful of times where there has been very special circumstances."
As for the future, school lunch prices will remain constant.
"A lot of the price changes that happened this year came from my corporate bosses," Mr. Valenzuela said. "As far as I'm concerned, the prices are going to stay where they are at. I try to do the best I can, but I have a responsibility to make money not just for the company, but for the workers."
About the Contributor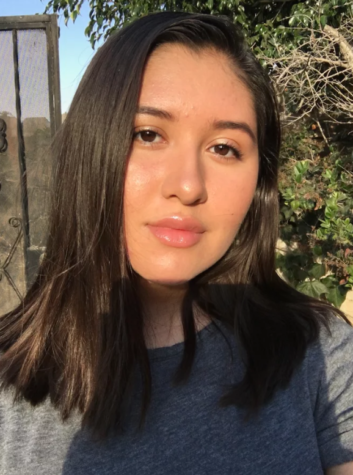 Mercy Sosa, Social Media Editor
My name is Mercy Sosa, and I am a junior at Cathedral Catholic High School. A first year El Cid member, I hold the position of social media editor. World current...