Committed to community concerns
Hang on for a minute...we're trying to find some more stories you might like.
Carmel Valley resident Mrs. Michelle Doan never thought she would consider selling her home in the Pacific Highlands Ranch community due to conflicts with neighboring schools, but the amount of traffic she and her family encounter every morning nearly has pushed her to the breaking point.
"Traffic is such an issue that we have our middle school child take a zero period to avoid it," Mrs. Doan said. "The traffic southbound on Carmel Valley Road between 7:15 and 8:45 a.m. is ridiculous.
"We would consider selling our home if it increases."
Ever since Cathedral Catholic High School relocated to Carmel Valley in 2005, the location has become increasingly crowded due to the rapidly growing residential community.
Due to multiple surrounding schools such as Canyon Crest Academy and Torrey Pines High School, and communities such as the Pardee homes, CCHS attendees and faculty find themselves facing an absurd amount of traffic.
"Something we've talked about with CCA and TPHS is staggering start times to try and solve the traffic problem," CCHS Principal Dr. Calkins said. "CCA and CCHS start at the same time while TPHS starts at 7:40 a.m. TPHS and CCA might be able to start at the same time with CCHS starting at 8:00 a.m., or CCHS and TPHS could possibly start at the same time."
CCA Principal Mr. Brett Killeen shares Dr. Calkins's views on traffic issues.
"We need to be patient with traffic and encourage our students to wake up earlier to make the traffic less heavy," Mr. Killeen said. "I often worry about [student drivers] getting in accidents. There are also neighborhoods around here that are getting edgy about people using their private streets as a shortcut."
The state of California, however, may soon have a solution for this problem.
Senate Bill 328 would require all public schools, middle schools, and high schools to start no earlier than 8:30 a.m. The bill, which aims to aid high school students get more hours of sleep, passed both in the Assembly and Senate, and it now awaits the signature of Gov. Jerry Brown. Schools impacted by the bill would receive a three-year period before it goes into place.
Such a bill would not affect a private school like CCHS, therefore helping solve the traffic problem.
While traffic remains the most predominant problem CCHS faces, it is not the only one.
Various other problems also exist, such as excessive lights and sound during Friday nights, which bothers some of the people who live in surrounding residential communities.
"The concerns are usually about noise or students who drive erratically or park off campus," Dr. Calkins said.
CCHS administrative policy requires the school to listen to and to respond to residents' complaints and concerns as way to successfully solve these issues.
"We've been receptive to feedback that we get from neighbors," Dr. Calkins said. "If there are noise concerns from the community, we try to address it. Last year, we made some renovations to the stadium to try to improve the lighting so it isn't glaring down on the neighborhood."
In an effort to eliminate community concerns and complaints, CCHS seeks to build strong relationships with nearby schools and communities, establishing a dialogue that can lead to future solutions.
"We have developed relationships with some of the neighboring businesses like Westroot Tavern," Dr. Calkins said. "Before football games, [Westroot Tavern owners] hang a CCHS banner, and [the football players] have some gatherings there.
"It's good for them, and it's good for us."
Mr. Killeen expresses an optimistic sentiment toward CCHS despite the negative aspects of fostering such closely neighboring high schools.
"We've had a very good neighborly relationship with CCHS," Mr. Killeen said. "We've worked together in trying situations. It's important we have a strong relationship and and respect for one another. I think a strong relationship is good for the community. Whether public or private, we're all serving the same goal to support [the students].
"I feel like we're there for all of you. It doesn't matter what school you attend."
Mrs. Doan, correct in her perspective regarding tremendous traffic, hopes the issues will be resolved so moving from Del Mar will become unnecessary.
"I love having places like Trader Joe's and shops close by and that the school is only a few minutes away," Mrs. Doan said. "I really do hope that the traffic issue gets better soon. It would be such a shame to have to move because of such a petty reason.
"We love living here."

About the Writer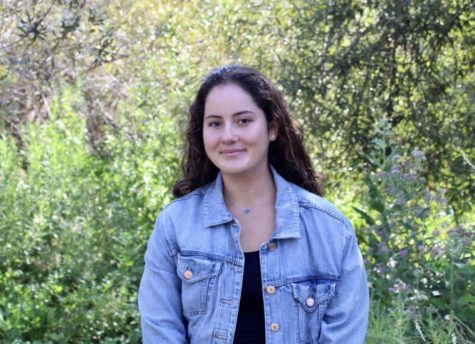 Daniela Gil, Social Media Editor
As the Social Media Editor for El Cid this year, I aspire to use my position to help the newspaper reach more students than ever. While writing for the...