And the scholarship goes to…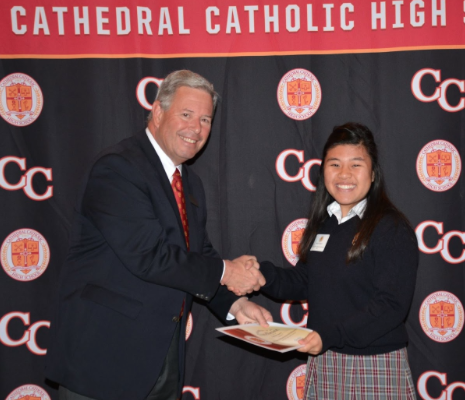 Cathedral Catholic High School student Alondra Gonzalez '19 never imagined she would have the opportunity to receive a scholarship worth $2,500 through such a quick and easy process.
But she did.
"I simply went on the CCHS website and they had a link on the front page that directed me to the application," Gonzalez said. "I was so surprised that it didn't take me a long time and was really happy when I found out I had received the Father Michael Ortiz scholarship."
In an effort to recognize the academic achievements of Cathedral Catholic High School students with financial limitations, the 2018 scholarship recipients received recently their scholarship certificates and meet the donors who helped make their education at CCHS possible.

Gonzalez earned the Fr. Michael Ortiz Scholarship named after CCHS priest by the same name who has assisted CCHS for a long time, both donating to the For God and Country Plaza and actively being present on campus.

"I would like to thank Fr. Michael Ortiz for granting me this scholarship because his generosity is really making a difference and making my education at CCHS possible," Gonzalez said.

Gonzalez, along with fellow scholarship recipient Paulina Nguyen '19, have found that donors look at more than just grades, but they also consider other factors when awarding scholarships, including community service completed by applicants.

"The Barbara Gilshian Memorial Scholarship felt right to me because I feel that both my service and experience at my parish, St. Francis of Assisi, and here at Cathedral helped to make me a more dedicated and faithful servant in the community and qualify me for this scholarship," Nguyen said.

Besides looking for a GPA average of 2.5, both the Fr. Michael Ortiz and the Barbara Gilshian Memorial Scholarship seek to award a student who participates actively in community service and practices strong Christian values.

"I am active in my parish, where I am an altar server and cantor," Nguyen said. "I am also a volunteer on the Moonlight Youth Theatre board as a junior member, where we raise funds to provide a fun and educational theatrical experiences to children. I help with rehearsals, marketing, and musical direction in the shows.
"Some of my favorite service activities include volunteering at the St. Francis Soup Kitchen and at Las Posadas men's shelter in Carlsbad."

Gonzalez and Nguyen both enjoy the support of CCHS teachers and counselors to achieve their goals.

"It is a tremendous honor to receive this scholarship, and I am very grateful that those who feel that I am deserving of this and to the faculty and staff who have supported me, including Ms. Swift, Mr. McMurtry, Ms. Gustafson, Ms. Tysor, Ms. Norris, Mr. Eason, Dr. Calkins and Mr. Laaperi," Nguyen said.
CCHS provides opportunities for students to give back to the community and become leaders of tomorrow by offering classes and programs like Campus Ministry, Ambassadors of Christ,and National Honor Society.

"Campus ministry has allowed me to share my faith with my classmates and be more involved during mass, retreats, service, and many other community gatherings where my involvement helps me be more of a leader," Gonzalez said.

These scholarships allow for CCHS students to help pay tuition and to expand their time at CCHS participating in extracurricular activities that give back to the Dons community.

"This scholarship will greatly help me continue to be an active member of the CCHS community and participate in extracurricular activities, where I can represent CCHS such as mock trial, speech and debate, drama productions, academic team, music events, and quizbowl competitions," Nguyen said. "The scholarship will help me attend more events since I live far away from school. It will also help with tuition since my sister will be attending CCHS as a freshman in the fall."

To the students who are discouraged by not receiving a scholarship, Ms. Karen Theobald, the assistant to the principal, urges students not to give up.

"Students should not be discouraged if they have not been lucky this year," Ms. Theobald said. "They should always put in their best effort and apply as much as they can. The scholarships for next year will open in December and be due in January.
"However, the scholarships are posted on the CCHS website year round."