Flu, flu go away
School sprays antibacterial mist to combat influenza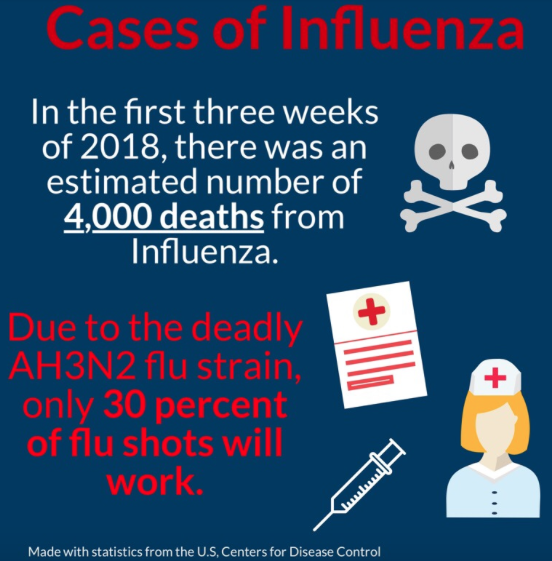 Cathedral Catholic High School student Annabelle Mutch '21 never thought she would be as sick as she was three years ago when she contracted influenza.
That is until she came down with stomach influenza earlier this year.
"I woke up one morning and had the chills really bad," Mutch said. "I got up to get some water and felt really dizzy. Before I knew what hit me, I hurled into the toilet. I ended up being sick for five days, living on red Gatorade and saltines. This was right before finals so I couldn't even study. I ended up getting Bs on several of my finals.
"My mom was pretty upset."
In a year when cases of influenza are skyrocketing locally and nationally, the CCHS administration is instituting new cleaning and disinfecting procedures in order to halt the spread of aggressive viruses.
"Once a month, the night maintenance crew spray a special antibacterial substance in each classroom," CCHS Director of Facilities Sal Aiello said. "These professionals get dressed head-to-toe in gear, and they spray an electro-static mist in each classroom and close the door. The spray rests over night and reaches every area of the room, detoxifying it from illnesses.
"If needed, however, the rooms can be re-entered within 15 seconds of spraying, no problem."
Further, campus common areas, including the nurse's office, wrestling and dance room, and the weight room, are sprayed daily, Aiello said.
This past winter season saw the highest hospitalization rate due to influenza. The most popular strain this year is H3N2, which first emerged in Hong Kong and killed one million people worldwide in 1968. Currently, some hospitals in southern California have been so overwhelmed with influenza patients that they have had to turn away people who were seeking treatment.
Mutch endured a mild case of influenza three years ago during the holiday season. This year, however, Mutch caught the stomach flu, the most aggressive strand of all the influenza viruses.
Many people do not get the flu shot every year. Until this year, the flu shot had been proven to prevent most strains of influenza. Therefore, the shot became common.
However, the flu shot this year is not helping when the strain that is not covered in the shot is the most common virus. The expectation of people getting the flu shot appears to be extremely low.
Since influenza has spread all around San Diego county, it was bound to reach high schools in the county, including CCHS.
"Throughout the 2017-2018 school year's winter season, there have been several flu-related illnesses and absences," CCHS nurse Kate Pe said. "The peak was during finals week mainly because I must approve an illness in order to miss a final. Students have missed a whole week of school due to the flu."
This year is by far the most documented year of the flu.
Mrs. Pe advises students to stay home while feeling ill so the bug does not spread to students and teachers.
"The hard thing about missing school is CCHS only allows 10 absences per semester," Mutch said.
According to the County of San Diego Health Department, there have been 14,289 flu cases in San Diego county as of the end of January. Just a few weeks ago, 32 flu-related deaths were reported in San Diego.
Moreover, the flu is extremely dangerous to the elderly population and young kids. This year, the majority of cases have affected people ranging from ages 60-79. Within this flu season, 206 people in San Diego have passed away and weekly statistics of reported cases show influenza is still on the rise.
In the U.S., more than 60 thousand Americans have gone to the hospital this year to seek treatment for  influenza. Though a current death toll due to influenza is unknown, the Centers for Disease Control predicts this will be one of the deadliest flu seasons for the U.S.
Doctors who study the body's immune response say there are three main reasons this year's flu season is so bad, including co-infection with another germ, usually bacteria such as strep, aggravation of existing conditions such as heart disease and asthma, and a so-called cytokine storm, which is marked by an overwhelming immune system response to infection.
Although the general public may be aware of the toll this sickness can have on a city, communities must take this issue seriously and enforce annual vaccinations.
Mutch seconds that notion.