Hair today, gone tomorrow
When a member of the Dons family was diagnosed with breast cancer 20 years ago, her life changed dramatically.
As a result, Mrs. Lynn Flanagan, mother to Cathedral Catholic High School alumna Laura Flanagan, now advocates for breast cancer awareness by speaking at area schools. Approaching her 21st anniversary since diagnosis, Mrs. Flanagan has shown unbelievable bravery and activism, using her situation to help others.
"Knowledge and education [of cancer] can save lives," said Mrs. Flanagan, who believes early detection was her key to recovery. "I am very lucky I was diagnosed at stage one!"
Inspired by Flanagan's story and designed to highlight the omnipresent problem of breast cancer, CCHS and Pantene Beautiful Lengths, a nonprofit organization that gives wigs to breast cancer patients, will host a hair cutting event tomorrow during the Fall Rally in the Claver Center to help chemotherapy and radiation patients obtain wigs that allow them to regain a positive self image.
For her part, Mrs. Flanagan underwent a lumpectomy, axillary dissection, and 35 radiation treatments. As a result of continued awareness, more cases like Flanagan's can be discovered at stage one, which results in a 99 percent survival rate.
"Awareness is the most important asset there is to ensure cancer can be detected early," Mrs. Flanagan said.
Mrs. Flanagan and many medical professionals act as strong advocates for early detection by promoting the importance of mammograms, MRIs, and self breast exams. Nevertheless, many cases of breast cancer are diagnosed at a late stage, which leads to a significantly lower chance of survival.
According to the Metastatic Breast Cancer Network, 13,000 of every 252,000 breast cancer cases diagnosed each year already have progressed to stage four disease, with a five-year survival rate of just 22 percent.
Often, women with stage four metastatic disease that has spread to multiple areas, such as the bones, brain, and lungs, cannot be cured. Even with modern treatments like radiation and chemotherapy, a majority of patients cannot heal.
Breast cancer kills 40,000 people every year, according to the cancer network.
A universal disease, breast cancer affects the health and livelihoods of both women and men. One in eight women will be diagnosed with the disease in their lifetimes, but there are also about 2,000 cases of invasive breast cancer found in men every year, according to the Susan G. Komen Breast Cancer Foundation.
An integral part of saving lives and the search for a cure, knowledge and awareness go a long way toward victory, which is why the hair cutting event, initiated by CCHS, provides students with the information needed for early detection and awareness for the ongoing search for a cure.
Students will have an opportunity to cut their hair, and then provide it as a donation to Pantene Beautiful Lengths.
"Hair loss during chemo can be a daunting experience," Mrs. Flanagan said. "It's a wonderful thing these girls are doing."
CCHS student Lauren Munro '19, student organizer of the event, added her opinion and reason for her hair donation.
"It's really just an opportunity for girls to be part of something bigger than themselves and give back to people who need something more," she said.
A single wig requires hair from around 8-15 girls, Munro said.
"As you can imagine, it's extremely important for us to get as many qualifying donations as possible," Pantene representative Andrew Cohen said. "It's great CCHS is donating."
A significant encouragement for chemotherapy patients, the gift of a wig can make a substantial difference.
Because awareness is so important in regards to early detection of breast cancer, the more people know, the better. CCHS donations act as one more impactful step to defeat the disease. However, many more steps will need to be made, which has prompted the CCHS community to continually support the cause.
"Every piece of knowledge counts," Mrs. Flanagan said. "We are still far from a cure."
Leave a Comment
About the Contributor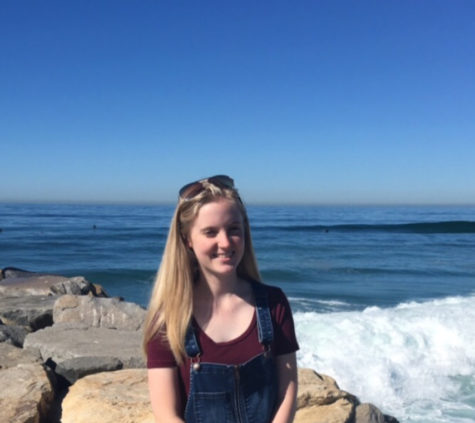 Savannah Dupper, News Editor
As a senior at Cathedral Catholic High School and the El Cid News Editor, I look forward to promoting positivity on campus by sharing my voice through...