60 years strong
Cathedral Catholic High School Director of Advancement and Alumni Sean Doyle knows that if he can just entice former University of San Diego High School students onto campus they will feel at home.
"When we bring alumni on, they realize it's the same place [with the] same beliefs and same community," said Mr. Sean Doyle, who graduated from USDHS in 1980. "There was an amazing sense of community at USDHS, one very similar to the one today."
And to keep that sense of community at the forefront, CCHS is celebrating its 60th year of Catholic education in San Diego with a bevy of events designed to highlight the Del Mar-area school's past, present, and future.
The school currently referred to as CCHS began with the founding of Cathedral Girls High School in 1943, located in downtown San Diego, and transitioned into the University of San Diego High School in 1957. In 2005, yet another campus change moved the campus from Linda Vista to Carmel Valley, officially establishing CCHS.
Although this year marks the 60th anniversary, the same loving Dons community lives on every passing year. USDHS alumni, although having not ever attended the CCHS campus, see CCHS as a home they can identify with forever, giving emphasis to the motto, "Once a Don, always a Don!"
Mrs. Dawn Roberts, a CCHS physical education teacher and a part of the USDHS class of 1989, adds to the nostalgia of the time, saying the amazing atmosphere that existed when she attended still lasts to this day.
Even CCHS math teacher Mr. Timothy Derenthal get excited by the 60th anniversary.
"I was lucky enough to be on a tremendous faculty and staff administration that I've never seen anywhere else," said Mr. Derenthal, who served as a principal at USDHS. "I was lucky enough to be a part of creating something new [at CCHS].
"I think we've done a good job of keeping the community spirit."
Sixty years of education, including multiple movements of campus' location, means drastic changes. CCHS has grown and developed in some ways throughout the years; however, the changes mostly deal with the aftermath of the change in times and the school's size.
Throughout the years, the level of innovation has increased exponentially with every passing year, including more programs, space, and facilities, which all have helped the school continuously grow in size and inclusion, Mr. Derenthal said.
Although CCHS has changed in some ways, it retains the same welcoming atmosphere of the Catholic school opened in 1957. Many aspects of CCHS continuously pull alumni back, as a multitude of CCHS faculty and staff are USDHS alumni themselves.
"The teachers have always been there for you, even 37 years ago," Mr. Doyle said. "The teachers were always accessible to you. You knew they cared about your success like they do [at CCHS]. It's always been just great people, great kids, and just across the board great.
"Nobody is working in a Catholic school or trying to run a Catholic school to get wealthy."
Mr. Derenthal concurs.
"Everybody [at CCHS] is [working here] because it's a passion and a love," Mr. Derenthal said. "To see that that has been something important 60 years ago, 30 years ago, and again today is really heartwarming."
The 60th anniversary of CCHS marks a largely meaningful event for many of staff, faculty, and alumni.
"Sixty years of putting out good people that have good faith is cool," Mr. Doyle said. "It's pleasant to come here everyday."
The 60th anniversary of CCHS acts as an amazing reminder of the blessings students receive from attending a Catholic school where they can receive a faith-based education. Since the establishment of USDHS in 1957, the school persistently has emphasized the importance of Catholic education and virtues.
"I love Catholic education," Mr. Derenthal said. "We need Catholic schools. We need the love they bring and the caring they bring day in and day out. To be able to be apart of [the students' lives'] for four years is special."
About the Writer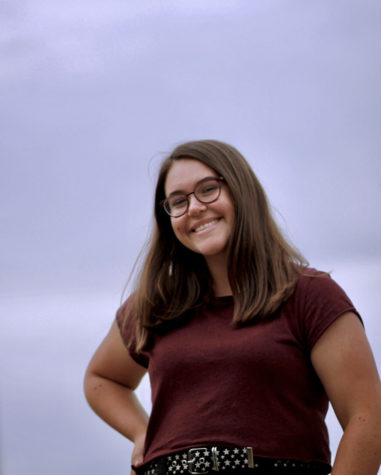 Angelina Hicks, Managing Editor
During my third school year on the El Cid staff, this time honored with the title of Managing Editor, I plan to spend every moment not only striving to...