Farewell to Uncle Keith
For most Cathedral Catholic High School students, class periods can sometimes seemingly drone one to the next in an endless cycle. But recent alumna Olivia Venvertloh '17 always knew the highlight of her school day if Christian Life Choices was on the schedule.
"Mr. Warrick's class was always my favorite class of the day," Venvertloh said. "He loves what he does, and you can tell. He's a great teacher."
For more than 30 years, Mr. Keith Warrick graced the halls of USDHS/CCHS as one of the school's most loved teachers. This past year, however, was his last one, with Mr. Warrick celebrating his retirement from a career marked by challenging students to think for themselves and to question authority.
"Will I miss teaching? It's only natural after so many years," Mr. Warrick said. "But I am looking forward to retirement."
Mr. Warrick, who is referred fondly to as "Uncle Keith" by some students, taught Christian Life Choices, Christian Morality, and the Sacraments with a passion few instructors match.
His long career testifies to Mr. Warrick's passion for teaching. Before coming to USDHS/CCHS, he taught at the Archbishop Brady High School in West St. Paul, Minnesota, as well as Lourdes High School in Rochester, Minnesota.
"When I became a Christian Brother, I thought about going a step further and going into the priesthood," Mr. Warrick said. "I was really more into education, though, so I became a teacher."
However, Mr. Warrick brought more than just teaching to each of his schools.
As a huge proponent of the Campus Ministry program, Mr. Warrick literally wrote the book on Campus Ministry, bringing it to more than 40 high schools around the nation.
"I studied at Fordham University in New York and I had my internship in Campus Ministry, and with that internship I travelled all over the place to all kinds of high schools to introduce Campus Ministry to them," Mr. Warrick said.
When Mr. Warrick came to CCHS, he naturally brought Campus Ministry with him, founding the CCHS program and changing the lives of students, forever.
"I had no idea Mr. Warrick was the founder of Campus Min here," CCHS Campus Ministry student Michael Robinson '17 said. "This program has had such a positive influence on me, and I'm so glad he started it."
As part of his personal teaching philosophy, Mr. Warrick's door is always open, and students are always coming in and out. He joked, "I never get any work done here. I'm always saying hello to students who just want to chat.
"I wouldn't have it any other way."
Mr. Warrick's teaching career may have ended this year, but he definitely will not be bored. He is an accomplished painter, prolific writer, and plays both the guitar and clarinet.
No matter what Mr. Warrick pursues in his retirement, his many years of good-natured, skillful teaching has lighted up the halls of two fortunate schools and countless lives.
Something you do not have to tell Venvertloh.
About the Contributor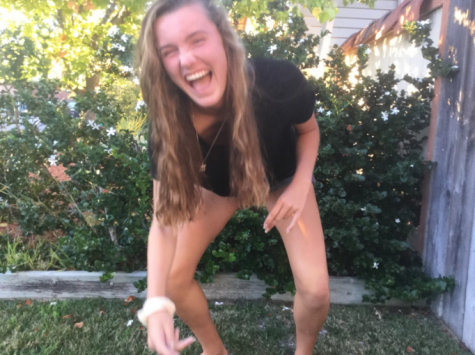 Cat Groenke, Copy Editor
To be honest, I never harbored any intention of being a journalist. My dream always has been to write fictional novels. Writing stories that are not real...