Political online wars create student strife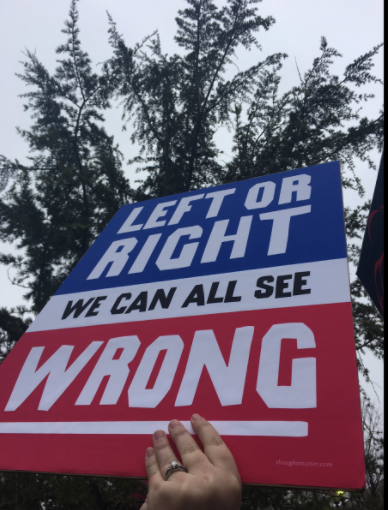 Students at Cathedral Catholic High School are using social media such as Twitter and Instagram to express their political views in an informal fashion, thus allowing them to vocalize their opinions and to utilize their first amendment rights.
But it comes with a price.
"Sometimes it can get out of hand," CCHS student Bridget Marmion '18 said. "I've seen people get in fights over Twitter that ruin their relationships."
Since many students at CCHS are ineligible to formally cast their votes, they speak out online in favor of their political beliefs. As a result, many students report that conflict and hate can result when posting their political views.
Conflicting political ideologies inevitably cross paths on social media websites, especially in high school communities where social media plays such a prevalent daily role. When these topics trend on Twitter, students expect them to trend at school lunch tables, forcing people to read and to form opinions.
"I try to stay out of the chaos," CCHS student Megan Bugg '19 said. "I use my Twitter to repost funny pictures or overall non-controversial messages."
However, many students vent their opinions online, making it a more politically mature outlet for teenagers. For instance, a group of CCHS junior boys maintain a conservative Twitter page with the handle @elephantstrong_.
Members of the group declined comment for this story.
Even though Twitter users exhibit conflicting ideals, other people find commonalities  with students, which creates a sense of purpose and unity within the citizens who legally cannot have an official say in the government's direction.
"We are closer to the eligible voting age now, so its proximity is stronger than ever," CCHS student Nick Garcia '18 said. "It would be strange if we didn't use our platforms to speak up. I love it. I think it's so important for young people to stay aware and inform others."
As the realm of political awareness widens, CCHS students continue to find outlet for their political expression.
"When I see someone post something, I actually gain some respect for them, depending on what it is," CCHS student Vanessa Lee '18 said. "This is a great way to gain attention and interest in a way that wouldn't otherwise be heard. Minors sometimes feel like we have no voice, but the use of social media allows us to publish what we feel for anyone to see it.
"It's an interesting way to find out more about someone."