Hard-working Don sprints to merit recognition
When Cathedral Catholic High School student Dominic Catanzaro '17 woke up one ordinary September morning, he did not expect anything different to happen at school.
However, that changed when a note arrived from the principal's office in the middle of class.
"The note just said to go to [Mr. Calkins] right away," Catanzaro said. "It didn't have a reason or anything. So, I was wondering what I'd done to be in trouble."
As it turned out, Catanzaro was in the opposite of trouble. In fact, CCHS Principal Mr. Kevin Calkins called Catanzaro to his office to tell him he had been named a National Merit semifinalist, the only one from Cathedral Catholic High School this year.
According to the National Merit Scholarship Corporation, every American high school student who takes the PSAT is eligible to enter the National Merit Scholarship Program. Approximately 1.6 million students enter, but only 50,000 students get the score needed for recognition from the program, and only the top 16,000 of those students qualify as semifinalists.
"I was stoked," Catanzaro said, "but I honestly wasn't surprised. I knew my score was good enough to qualify."
Catanzaro scored a 1480 out of 1520 on the PSAT, placing him in the top one percent of test takers in the class of 2017. His impressive score makes sense when put into perspective with his course load. Catanzaro's schedules through all four years of high school have been loaded with AP and honors classes, giving him a 4.49 cumulative weighted GPA.
Keeping up with such a rigorous schedule can be a daunting task, but Catanzaro stays motivated.
"I'm up working until one in the morning pretty frequently," Catanzaro said. "At this point, I'm used to it. Getting good grades is something I have to do so that I can get into a good college and go on to live a good life."
Schoolwork is not all Catanzaro does. He also runs cross country and track, is a member of National Honor Society, and participates in the Science Fair. His work ethic does not go unnoticed by those people around him.
"When I see how hard Dominic works, it makes me want to work harder," said CCHS student Isabella Catanzaro '20, Dominic's younger sister. "It's hard to justify slacking off when I can see him staying up all night to finish his work."
Catanzaro hopes colleges take notice of his hard work, too. He wants to study electrical engineering at the Massachusetts Institute of Technology or California Institute of Technology, which have a 7.9 percent and 9 percent acceptance rate, respectively.
With such lofty goals, Catanzaro cannot afford to drop the ball his senior year, a sentiment reflected in the six AP courses and one college class making up his schedule this year.
About the Writer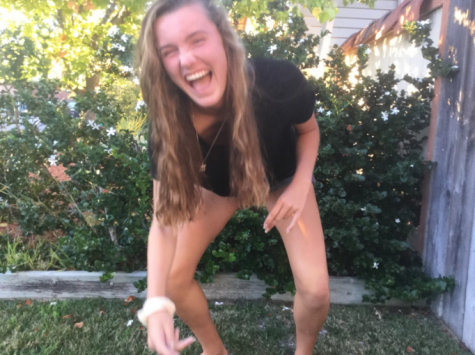 Cat Groenke, Copy Editor
To be honest, I never harbored any intention of being a journalist. My dream always has been to write fictional novels. Writing stories that are not real...