Alumni blaze unconventional career paths
Taking a leap of faith toward fulfilling their creative passions and entertainment industry aspirations, Cathedral Catholic High School alumni previously under the wing of Ms. Katie Wilson during secondary school now are chasing their show business dreams within the arts instead of pursuing undesired majors that would guarantee more career and financial stability.
"I find that many students are defaulting to what they think they should study or what they are told they should study, instead of focusing in on what they are passionate about," CCHS Counselor Mrs. Kristen Micho said. "I think this could be driven by people getting fixated on post-college salaries in their career field, the idea that being successful equals money, or potentially the cost of colleges needs to have a high pay-off."
In today's competitive workforce, college graduates must navigate an increasingly complex work environment, often making decisions that will impact the course of their entire lives. In addition to these decisions, teens are simultaneously entering into a world of possibilities that have not been considered.
According to Penn State's Division of Undergraduate Studies, an estimated 75 percent of students claim to change their majors before college graduation, while an estimated 20 percent of students enter into universities as undecided.
However, the 80 percent of students choosing a major usually wind up changing it.
"Sometimes you need to try something on to make sure it fits, and if it doesn't, there is something else that does," Mrs. Micho said.
Cathedral Catholic High School alumni siblings Matt Thompson '12 and Maria Thompson '11 chose the road less studied, taking their inspiration from CCHS into a world of teleprompters and curtain calls.
"CCHS drama was one of the most important parts of my life," Matt Thompson said. "I think it plays a similar role in many other people's lives who have gone through it."  

According to Matt Thompson, almost every career path is unstable, asserting that what truly contributes to one's success is creating the opportunities instead of waiting for them to just "fall from the sky."

After graduating from the CCHS stage, Matt Thompson pursued a degree in Film and Television Production at Loyola Marymount University, earning his bachelor's degree in May, 2016.

Currently, he wears various hats, working as a director, writer, and executive producer in Los Angeles, California for the virtual reality immersive AFTER – VR Series. Despite an early dive into show business, Matt Thompson continues to utilize his roots in Ms. Wilson's theater and Mr. Ryan Andrzejewski's film class.

"It gave me confidence and courage to express myself creatively, while under the loving embrace and comfort of [Ms. Wilson], who made me feel I could and should reach for the stars," Matt Thompson said.

In addition to Matt Thompson's career in Hollywood, his sister Maria has made a name for herself reporting as an Emmy-winning news anchor for Fox 42 in Omaha, Nebraska. With help from Ms. Wilson, Maria Thompson stresses the importance of fighting for the dream despite the negative media stigma.
Reminiscing on the "encouraging" team who shines a spotlight on natural abilities while testing comfort zones, Maria Thompson describes the CCHS drama program as an outlet for beginners interested in the arts.
"At the end of the day, you are doing a service for people no matter which side of the arts you belong to," said Maria Thompson. "In entertainment or in news, you are providing a necessary service to people and bringing emotion to this world."

Similarly, alumna Sami Nye '12 left CCHS with a professional aspiration to be an actress. Moving to Los Angeles, Nye graduated from the University of Southern California with a degree in theater and public relations. Then, she began working for Royal Entertainers as a full-time actress, performing as a Disney princess.

Nye ties back her economical success with Royal Entertainers to the exposure and guidance of Ms. Wilson. Learning at a high caliber in high school instilled in her the skill and confidence she did not expect to acquire as a freshman.

The common misconception of the arts and comparison of paychecks from other career paths does not discourage these alumni from following their dreams. These Dons simply decided to work hard in a cut throat business despite the risks.
"Trust me, I get plenty of funny looks and eye rolls from people when I say I am an actor, but it does not bother me," Nye said. "The way I look at it, this is my absolute passion. I want to create and inspire and make people laugh or cry or ask questions about the world.
"The love for art is so deeply ingrained in me that I don't just want to do this, I have to do this."




About the Contributor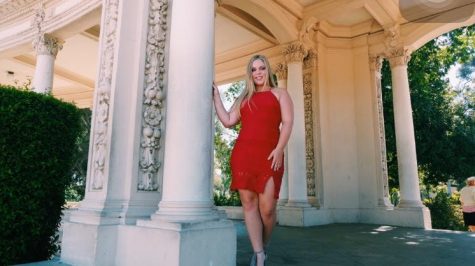 Sydney Calhoun, Managing Editor
As a result of my whimsical spirit, booking flights on American Airlines has become a hobby and picking up the monthly copy of VOGUE is routine. Aside...