Los Locos bleeds red and gold
From the sea of red to Los Locos, new spirit section leaders unify the Cathedral Catholic High School community at the stadium, on the court, and in the gym.
Straying from the traditional senior-only section, Los Locos 2017 has launched a new vision about what it means to chant not only as a senior class, but as a unified student body.
"For this year to be the best, everyone needs to bring a hyped energy filled with positivity," Matthew Goyette '17 said. "I would also say that keeping it funky is definitely a must."
According to many students, last year's Los Locos struggled with directing in a way that included all grades.
However, new leaders Francesca Federico '17 and Goyette plan to build off the success and leadership of alumnus Preston Stebel '16. The 2017 officers express fresh energy and a desire to continue a proud tradition.

Los Locos attracted more than 186 students to join during club week, Goyette said.
A common goal for the club is to support every football, volleyball, and basketball game. In addition to the sporting events, club meetings will be held and the specifics updated on the Los Locos Twitter account.

"During our meetings we want all classes to be there so we can vote on themes and chants loved by everyone," Federico '17 said. "You can count on shirts being up for sale in the upcoming weeks as well. But they will be available exclusively through Los Locos."

Since CCHS  values faith, respect, and spirit, Los Locos is expected to nourish and to mirror those same qualities, thus maintaining the same Don heritage that traveled from the University of San Diego High School on Linda Vista Road to CCHS on Del Mar Heights Road.
Cheering with alumni of both institutions inspired the newly developed Alumni Park to be the spot for Friday Night Light tailgates, prepping for good company and even better football.
"What makes Los Locos different from other student sections is the faith and community aspect we've had for years in the classroom and on the bleachers," Campus Ministry teacher Mrs. Blackstone Gardner said.
About the Contributor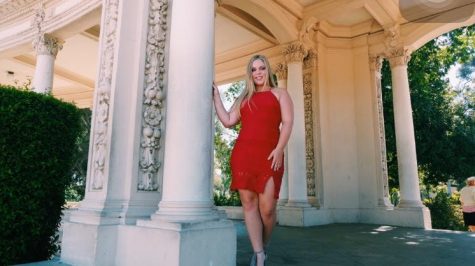 Sydney Calhoun, Managing Editor
As a result of my whimsical spirit, booking flights on American Airlines has become a hobby and picking up the monthly copy of VOGUE is routine. Aside...