Was 2015 a chill year? Why last year's slang should retire in 2016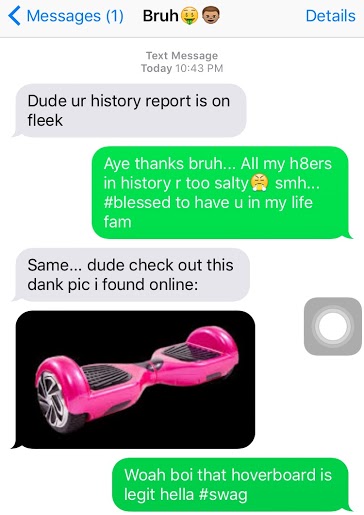 Hang on for a minute...we're trying to find some more stories you might like.
2015 was a relatively long and eventful year, and amidst everything that happened, the English vernacular in the U.S. underwent some extensive changes, many of which should be left in the dust now that 2016 has begun.
To say 2015 started off as a chill year is an understatement. The term "polar vortex" was thrown around so loosely that people feared there would never be an end to the abnormally low-temperature drops that plagued the Midwest and the Northeast at the beginning of the year. San Diego County even had its miniature polar vortex that brought snow to Julian and Palomar Mountain in early January.
As the year continued, people debated over whether or not a viral phenomenon nicknamed "The Dress" was white and gold, or blue and black. Alex from Target received his fifteen minutes of fame, and those who dared to try the Kylie Jenner lip challenge most likely damaged his or her blood vessels to some degree.
Speaking of challenges, a Mexican demon-child named Charlie was invited into the homes of those who partook in the "Charlie Charlie" challenge. In this challenge, one person would ask "Charlie Charlie, are you here?" while the other person (outside the range of the camera lens) would blow onto a pencil until it spun around to the word "yes" written down on a piece of paper.
The world tuned in on May 2 to see who would win in a hug war between Floyd Mayweather, Jr. and Manny Pacquiao. Donald Trump backlashed at everyone on Twitter from Ms. Rosie O'Donnell to President Barack Obama and made insensitive remarks towards Mexicans, Muslims, and virtually everyone else.
Mr. Trump also insisted there be a wall built between Mexico and the U.S. because nothing helps promote peace more than a solid boundary between two nations. Despite these comments, Mr. Trump was able to hold somehow a substantial lead over other Republican candidates for a while, but some thought El Chapo's escape surely meant an end to Mr. Trump's reign. Now that El Chapo has been caught, Mr. Trump can put his worries to rest.
The selfie stick ushered in a new era of selfie-taking that allowed consumers to take selfies from further distances. Did you know you can bring a selfie stick, a baton-like device, onto a plane, but you are not allowed to carry a badminton racket? The term "selfie" was added to the Oxford English Dictionary in Aug. 2013.
Along with selfie sticks came the revolution of hover-boards. No, these devices do not hover in the air, but they are instead more similar to handless Segways. The only problem is that they are known to explode, but hey, the technology is new, so there is a valid excuse for this.
Throughout the year, the use of new internet slang and phrases became more petty, annoying and clichéd than ever before. "Yolo" and "swag," words that should have died out, at least four years ago, saw a rebirth this year. Will there ever be a day when those two will be put to rest?
It seemed as if all Instagram users ever wanted to talk about were vibes. Good vibes, bad vibes, chill vibes, squad vibes, uber vibes. Uber is another word that became excessively popular this year, and the release of Uber on the app store, the app where a stranger can drive you wherever you want to go, only popularized the word even more.
Words and phrases such as literally, hella, legit and deuces have been around for eternities, and some people will cringe when they hear "literally… I just can't" running out of someone else's mouth. Some of the most popular words and phrases in the vernacular this year were on fleek, salty, bruh, swoll, clutch, 5ever, slay and flex, all of which should be ditched for somewhat obvious reasons.
Fifteen years ago, when the flip-phone was the most innovative device ever invented, people used acronyms when texting each other because it was annoying and time-consuming to type out full words when using a ten-digit number keypad. Nowadays, these acronyms are still being used, but some people have managed to intermix them with actual words.
When people openly say LOL, SMH, DM and ILY out loud, not only can it be confusing to other people, but it is a lazy habit. It's hard to believe some people would prefer to say ILY to someone instead of saying, "I love you."
Who will be the next politician to use the phrase political correctness? When will teachers and coaches finally realize that using the term guesstimate isn't clever? Will the dab be the next dance to replace the whip and the quan?
2015 definitely had its fair share of annoying internet slang and phrases, and hopefully 2016 will be a better year for the English vernacular.