All Gas No Breaks
Cathedral Catholic High School's Varsity Boys Basketball Team head to playoffs with an impressive record of 19-10, finishing second in their league and qualifying for open division playoffs.
Their coach, Will Cunningham, recalls, "This group has exceeded expectations so that's been gratifying."
Cunningham began teaching at Cathedral Catholic in 2009 as a Physical Education teacher. Since then, he has been delighted to guide the basketball team to victory year after year.
He especially finds pride in the teams that he coached to CIF titles. This year, he admires his players because they "lost a lot of guys last year, but are still a competitive open division team."
Cunningham finds satisfaction in the performance of the 2021-2022 star-players: Jaden LeBel and Shea Fitzgerald.
Fitzgerald is a junior, playing his third year on Cathedral's basketball team, hoping to continue to play for the Ivy League or Villanova. LeBel, senior, transferred from Foothill Christian last year but was quick to assert himself as a team leader. He plans to continue playing in college, at either Senoma State University or Cal Lutheran.
This season was filled with many action-packed games, but one team-wide favorite was against Mission Hills High School.
Fitzgerald describes it as a "bounce back win", as they won with a score of 71-37 to redeem their loss the week prior.
Cunningham agrees, crediting the win to the fact that the team is "usually trying to play best at the end of the season." He also remembers the win against La Jolla Country Day as a stand-out, with a score of 58-44.
Fitzgerald encapsulates the season into one word: bond. He says, "We get along really well compared to other teams I've been on."
LeBel builds on this idea, emphasizing how this 'family' dynamic is crucial to their success, "Playing as a team and a family is important because not one person can do everything."
As the team heads into playoffs, the boys gain introspective mindsets. Fitzgerald advises the team to "take it one game at a time." LeBel has a more competitive approach, "all gas; no breaks."
Cunningham sends the team off on the final remarks: "Make sure that we're prepared, and if we're prepared we can lay all the chips on the table and see what happens."
The team finishes strong, taking with them the knowledge that hard work pays off and knowing the importance of 'never taking anyone for granted.'
Unfortunately, the boys were defeated by Torrey Pines High School in the quarterfinal game. They were a fierce competitor in the division-one state playoff game at Crean Lutheran High School, but lost with a score of 60-63.
Leave a Comment
About the Contributor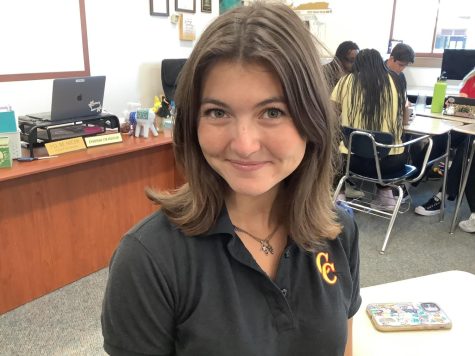 Sarah Brown, Co-Editor in Chief
Sarah Brown. Cheerleader, journalist, and vegan. Sarah has three siblings, all in college and her sister attends Colorado State University. She failed...