Garden club brings life to campus
The St. Francis of Assisi Garden behind De Sales has been carefully cultivated in hope of creating a space where students and faculty alike can work together to beautify the campus, live a more sustainable life, and create a place where they can share their love and knowledge of gardening.
"The garden is a canvas for students to design," Mrs. Rosalie Wisniew said.
The Meditterainian climate of San Diego yields bountiful harvests year-round. The garden club cam often be seen around campus holding their latest crop, from carrots to kale. However, Mrs. Wisniew prefers planting flowers, such as larkspur, foxglove, Queen Anne's lace, and alyssum, so the garden often blooms over the fence.
"I always shop around to see what is new at the nursery to add to the garden," Mrs. Wisniew said. "Many of my plants re-seed themselves, so in all, I create a lush, densely-packed English look."
One of the biggest goals of the garden club is to allow students to take knowledge gained in science classrooms and bring it to creating real-world example. The garden club also hopes to inspire all students from all interests with new additions like the FarmBot, a robotic farming device that allows users to plant, water, and alter the environment of the garden through a phone application.
The garden club expressed great gratitude for all the assistance they have received from the community, such as the 16 raised beds donated from J & W Redwood and the blessing of the garden by Fr. Garret Edmunds from the Order of Friars Minor, who spoke about the necessity of peace in society during the ceremony. The garden clubs hopes to improve the garden with shade trellises, garden benches, a snake fence, and iron toppers to add to the existing wall, throughout the next few years.
The St. Francis of Assisi Garden brings a sense of peace and tranquility to campus, where students often find themselves overwhelmed and stressed-out.
"Peace is a generous tranquil contribution of the good of all," Fr. Garret said. "Peace is a right and a duty."
Mrs. Wisniew encourages all students to come to the garden and experience that peace in the presence of God's creation.
"For me the garden has always been my glory prayer," Mrs. Wisniew said. "Everything in it speaks of Him."
About the Writer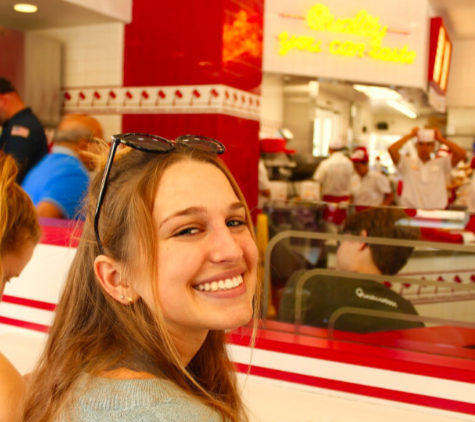 Sara Vechinski, Social Media Editor
As I ecstatically enter my senior year and second year on El Cid, I look forward to my new position of Social Media Editor, which I plan to take to new...