Student Spotlight: Tyler Askins
Cathedral Catholic High School had their annual musical performance April 26-28th. By combining music, dance, and acting, CCHS theater transported their audience to the world of Cinderella.
Overall, musical theater uses music to deepen the emotional impact of the story. The mix of the orchestra, singing, and interactions with the audience, is enough to fill the room with emotions that spoken dialogue alone can't. Whether it's heart-wrenching or uplifting, music has the power to connect with an audience and leave them feeling deeply moved.
In addition to moving an audience, musical theater has the power to bring actors and actresses from different lifestyles together and build a community.
One character that really stood out was the Stepmother, played by senior Tyler Askins. From the moment she walked onstage, the audience knew Tyler possessed a rare and captivating talent that changed the trajectory of the show. With every scene, she opened up to the audience, allowing us to see into the stepmother's emotions. She left the audience mesmerized by her ability to embody her role, show pure emotion, and scream like no one was watching.
When talking with Tyler, I asked her how she prepares for a role and what techniques she uses to bring a character to life on stage: "I watch the source material, if it's based on a book or a play, and I go and talk to my director and see what they want for the role. If they leave it up to me then I take that creative freedom on the stage and roll with it. If it's not what they want they will correct me and I will figure out another way to do it."
She goes on to mention it is ultimately up to the director, but most of the time there is freedom in how you want to be your character. If you went to Cathedral's "Dons Got Talent" show, put on by the National Honors Society, you might've seen an act that drew you in. It wasn't a dance, song, or a skit, but it was the host.
Tyler took on the role as host for Dons Got Talent and blew the audience away. There were many technical difficulties backstage that required Tyler to improv in front of the audience, and she did an amazing job of it.
When introducing and congratulating each act, she did not become monotone or repetitive. She had a new, kind affirmation to say about each individual act in the show, which showed her true character and her incredible acting capabilities.
Since Tyler was twelve years old, she has performed in approximately 20-25 plays with various theater companies. She fell in love with the art during a summer camp she took part in to "try something new." She highlights the bond with your castmates that you create and the experience itself of being on stage. "You put in so much work in rehearsals and to be able to perform it in front of an audience for the first time, there's no rush like it."
When asking her about how to prevent burnout, she confidently stated that she loves acting so much, she's never felt burnt out. Tyler understands burnout and she knows how important it is to seek support, set boundaries, and practice self-care when needed.
When touching on how to maintain her physical and vocal health, she mentioned that the week before Cinderella opened, she became sick and was still sick during the actual show. So how did she perform so well while being sick? Tyler stated, "Really, it's knowing your limits and when you get sick, knowing that's when you have to rest. I took the week off before our tech week just to rest and that's how it worked out for me."
I asked Tyler, out of the 20 plus shows she's been a part of, what was her favorite? And she said Cinderella! "I got to scream all night and have a romance with a freshman! It was just a really rewarding opportunity and the whole cast was really great." What made it such a successful show was that everyone had fun. Tyler goes on to say, "You can say tons of things about who got this award and who got that, but all that matters is that at the end of the day you enjoyed it and that the audience enjoyed it," and that we sure did Tyler.
Tyler is graduating from Cathedral this year and attending CalArts, where she will be studying Acting. After she graduates, she plans on staying in LA to find work in television and film. The twelve year old at Summer camp has come a long way and Cathedral should be so proud to say she is a Don. Tyler ends the interview with the advice, "Just follow your dreams. That's what I'm doing."
Leave a Comment
About the Contributor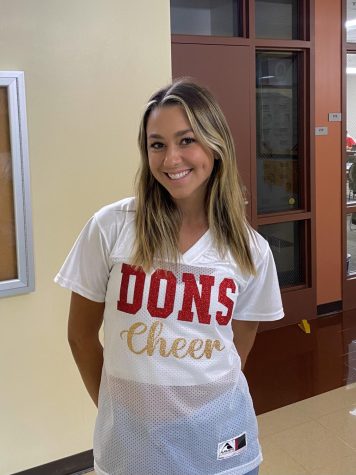 Danielle Corrao, CCHS News Editor
Danielle Nicole Corrao is a current senior at Cathedral. She transferred to Cathedral as a sophomore where she worked hard to become a Captain on the cheer...