Mr. Mike Fares, Distinguished Don
What does it meant to be a Distinguished Don? As stated on the Cathedral Catholic website: "The Dons Alumni Association recognizes and honors distinguished Dons alumni and special friends who positively impact the world by using their talents and resources to benefit Catholic education and the communities around them. These distinguished Dons support the mission of Catholic education and also value the Dons' shared traditions and memories."
One of this year's Academy of Distinguished Dons inductees is Mr. Mike Fares. But, who is Mr. Fares?
"Mr. Fares was one of the biggies, one of the legends of this school. Mr. Fares was always widely regarded as one of everybody's favorite teachers," states Chris Grazier, English teacher at CCHS.
Grazier elaborates saying, "For all the young teachers, he was definitely a mentor, you certainly couldn't imitate and teach the way that he taught, because that was totally unique and it worked for him."
According to Anne Majer, Assistant Director of Alumni, "[Mr. Fares] worked [at Cathedral] for over 30 years, starting back at UNI. He was always in the English department, he started the El Cid and was very instrumental in carrying that through. That was when El Cid was printed every week and everyone was excited to read it."
Fares demonstrated commitment to the school, especially through his involvement in extracurricular activities. Thanks to Mike Fares, El Cid exists and continues run today. He is one of the legends who had a hand in creating a name for the school newspaper.
When the alumni committee started compiling their list for this year's inductees, Majer says, "We decided we really wanted to honor two teachers, because so many of our teachers here have given their lives to our school, in bettering our students, and their peers. And we just thought it was important to honor these two teachers… it's really whether they go above and beyond."
It is safe to say, Fares went above and beyond as a teacher; becoming an icon to most— if not all— of his past students.
"I really enjoyed being a student of Mr. Fares's English 1 and in English 4 [classes] because he brought humor and energy to the classroom every single day. I was never fond of English; I was better at math and science, but he made the English classes as awesome as they could possibly be. Just made them fun, interesting, entertaining, and I really appreciated that," states Gary Remiker, AP Statistics teacher and past student of Fares.
Additionally, Majer shares her own experience saying, "He was one of those teachers that just makes an impact on your life forever. He had this crazy podium he would ride around on in the classroom and he just had a creative way of getting the best out of you, you became a better reader, a better writer, a better thinker because of him. And you also learned to appreciate the Cubs, because he loved the Chicago Cubs."
When Remiker was one of Fares's students, he was the baseball announcer. Remiker says, Fares "announced the baseball games which was kinda neat. We had a shared interest in baseball and some shared interest in some music and humor. Later on, when he helped with El Cid, he was a very visible person on campus, very likable and outgoing, and energetic."
Fares demonstrated so much love and passion for Cathedral Catholic and all his students and believed they were the ones inspiring him. His dedication to the hundreds, if not thousands, of students that he worked with changed their lives forever. The current El Cid staff appreciates all the hard work Fares poured into his teaching career and the over three decades of commitment he gave to the Dons community. The staff will continue to be inspired by his belief in what people can achieve for others and the possibilities of what this small newspaper can accomplish.
Leave a Comment
About the Contributor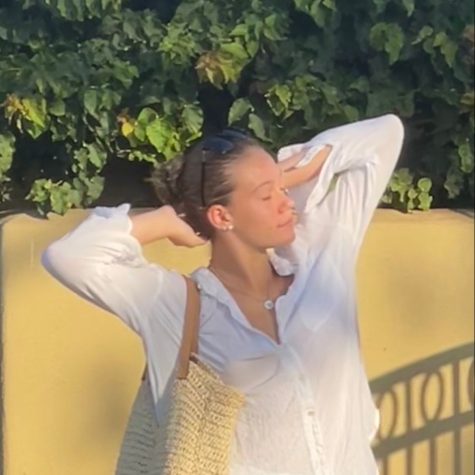 Nicole Nazemnikova, Staffer
Born in raised in Los Angeles Nicole moved to sunny San Diego as a child. Her first language was Russian thanks to her parents who are from St. Petersburg...