Julianne Cox, Yearbook's Unsung Hero
A lot of people wait all year for the yearbook, but do they know about the behind the scenes? Senior Julianne Cox is Cathedral's unsung hero. She eats, sleeps, and breathes yearbook.
Julianne got involved with the yearbook her junior year thanks to the seniors she knew on the tennis team. Class of 2022, Sahara Kiskis was on the tennis team with Julianne and had told her to join the class. Julianne was immediately interested because of all the creative aspects in making the yearbook. Photography, writing, and creative design.
I asked Julianne what inspired her to join the yearbook staff. "My upperclassman friends told me that the yearbook class was really fun and it would be a good experience if she didn't know what elective to take."
Julianne let me know that her favorite part of creating the yearbook is "reporting on individuals," and that her goal of this year is "to get everyone covered in the yearbook so that no one feels like they are left out. It's all about including everyone." I think that Julianne's goal this year is the perfect example of what being a Don is. Her focus for the 2022-2023 yearbook is to showcase every part of the Dons community.
Ms. Cairns, one of the yearbook teachers states, "Julianne is one of the most dedicated students I have worked with. She lives for the yearbook and pushes the staff to reach their full potential. It is a joy watching a student with so much passion for her work and I consider myself so lucky to be able to be her adviser."
Last school year, Julianne was an editor for the yearbook, but this year, Julianne was promoted to be the editor-in -chief: which is the highest role in the yearbook class. Thanks to Julianne's addition to the yearbook staff, the yearbook staff won multiple awards. First place at the Del Mar Fair, Josten's National Program of Excellence at the Gold Level, Bronze at the 29th Annual Foil & Specialty Effects Association, and First Distinction at the National Scholastic Press Association.
I asked Julianne if she could share any aspects of the yearbook for this school year, but unfortunately she didn't share any secrets.
Her role as editor-in -chief is to supervise 30 staffers who are all mostly freshmen. "It's difficult, but very rewarding because I get to see their progress in taking photos, creating design elements like doodles, and I get to see their writing grow. Which is just starting off so it's a learning process. I get to see their creativity grow, so that's my favorite part."
In the future, Julianne hopes to major in journalism at a college on the west coast. But for now, she continues to work day and night to produce the best yearbook for our CCHS community. Let's give a round of applause to our yearbook hero: Julianne Cox.
Leave a Comment
About the Contributor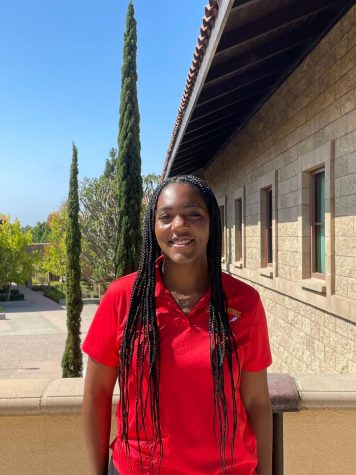 Kelli Jackson, Staffer
Kelli is a senior at Cathedral Catholic High School. She is the oldest of three and has grown up in San Diego all of her life. She is very excited about...