The Life of a Teen Entrepreneur
Sophie Galuccio, a sophomore at Cathedral Catholic High School, has always had a passion for business. Ever since she was little, she dreamed of opening her own business. At first, she showcased her bracelets at a small business near her house. Over the summer, Galuccio came up with the idea of starting a women's apparel and accessory brand. Through her inspiration with recent trends and social media, she started creating unique styles. Galuccio named her business "Glitter and Sand". "Through 'Glitter and Sand', I really want to showcase my personality through my products" Sophie says.
Along with her business, Galuccio is a well rounded student- athlete on the Varsity Crew team. Galuccio stays on top of her work constantly, always reaching above and beyond managing to balance her business with school and sports. "Usually I devote Monday through Friday for school and sports, and I prioritize my business on the weekends" says Galuccio. "Although I have my struggles, I make sure I practice good time management and keep myself organized."
Just like her first business, Galuccio sells her products at a local small business, showcasing her business at a local salon in Solana Beach. and advertises "Glitter and Sand" on Instagram. She creates videos and takes pictures of her products using social media as a chance to share her business to those all over the world.
Not only does Galuccio hope to expand her business through social media, she also puts "Glitter and Sand" out there by attending fairs and conventions for small business. Galuccio recently attended a small business fair called Queen Bee Market, showcasing small businesses across the county. At this fair, there were over 1,000 attendees a day. Galuccio received a lot of recognition from other businesses and influencers. "This experience allowed me to share my passion for business with others" says Gallucio, "and continues to increase the growth and recognition of my business." She hopes to attend more small business markets to show off her talents and hard work.
"My business could not have been made possible without the support of my friends and family. They have encouraged me to never give up, even when I start losing hope." Galuccio's goal is to expand her small business into a well known brand. "I know my goal will not be made possible without the support I receive from my loved ones." Through hard work and determination, Galuccio hopes to reach her goal of success. "My advice for other teens looking to start their own business is to never give up and surround yourself with people who will support you throughout the whole process."
Leave a Comment
About the Contributor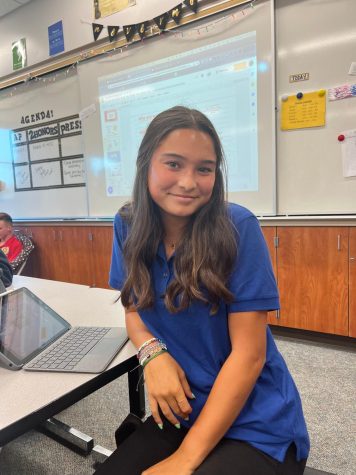 Isabella Durazo, Staffer
Isabella Durazo is a Sophomore at Cathedral Catholic High School and she was born in San Diego. Her hobbies include reading romance books and watching...