National Migration Week
National Migration week is a nationwide celebration in the Catholic Church, reflecting on the circumstances of migrants, including immigrants, refugees, children, and survivors of human trafficking. The Vatican announced this year's theme for National Migration Week which is "Building the future with migrants and refugees. Catholics gather around the country today and are asked to pray and become more aware of the migrant situation going on around the world and increase the awareness of the opportunities for migrants.
Mrs. Wallace is the coordinator of Hispanic and Latino outreach here at Cathedral. Mrs. Wallace describes National Migration Week as "an opportunity for the Catholic Church and anyone who is part of it to reflect on what immigrants, refugees, and what children face everyday." She speaks upon the different programs and charities that help refugees and anyone who needs counseling, financial help, food, and navigating the new culture they are entering into. Some of those charities and programs that can help are Catholic Charities as well as the Justice for Immigrants program. Mrs. Wallace is excited for all the events happening during National Migration Week at Cathedral.
Father Matthew is one of the new priests at the Cathedral. He is originally from San Diego and is very excited to be at Cathedral. He expresses National Migration Week as a Catholic initiative to help raise awareness for a particular group in need." He also speaks upon the National Migration Week as a way for migrants to feel spiritually supported and have that human contact." Fr. Matthew speaks upon how Cathedral students can get involved in charities and programs and in general learning about what the week is. He states that it "first started with ourselves and seeing your motives for doing something this week. It goes back to the gospel and fulfilling our commandments, and wanting to be like Jesus." Fr. Matthew hopes that students will be made more aware of this week through the different activities and speaker events happening, as well as taking action whether that's through a simple prayer or learning about more volunteer groups.
This past week, many events have been happening during lunch. On Monday, students created paper birds with drawings of flags on them from around the world. On Tuesday, guest speakers, Alexis Ennis, Ralph Enriquez, and Leticia Oseguera. All three speakers spoke upon migration and some of their personal stories and experiences through working with migrants and immigrants. On Thursday, there was a cultural celebration during lunch portraying the different cultures and backgrounds. National Migration Week was a great opportunity for the Cathedral Catholic community to learn more about migrants as well as many different organizations and programs.
Leave a Comment
About the Contributor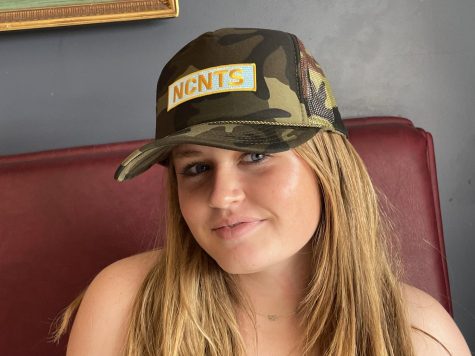 Annelise Motto, Staffer
Annelise Motto was born in San Francisco. She just moved from the Bay Area to San Diego. This is her first year at Cathedral Catholic High School. Annelise...