Teacher Feature: Grace Hanshaw
From her upbringing in Nashville, Tennessee, to her career as a student athlete at San Diego State University, Ms. Grace Hanshaw can hardly remember a time in her life where hard work and discipline weren't crucial to her life's anatomical structure.
She describes one of her life's greatest challenges as facing the intense pressure from her running scholarship at SDSU. "I just felt so much pressure to be perfect in competition and also in the classroom." Recalls Ms Hanshaw. "I started developing panic attacks because I was stressing myself out so much."
From this experience, Ms. Hanshaw learned critical life lessons involving determination, discipline, and maturity. "I learned that it is okay to not be perfect, and to make mistakes. If anything, it also taught me just how much I could handle."
When searching for a career, Ms. Hanshaw knew she wanted a job in which she would feel like she is making an impact. When discussing her past work experiences, Ms. Hanshaw stated, "I have had jobs in the past where I did not feel like I was valued. Teaching is not like that at all. This job matters, and I genuinely feel like I am making a difference by being here."
Ms. Hanshaw provides an excellent beacon of support to all at school, and excels at empathizing with her students. In fact, although her classes teach gel electrophoresis, metric conversions, and crime scene analysis, the biggest lesson she hopes her students learn is empathy. "People come from different backgrounds and have different experiences," says Ms. Hanshaw.
"Our society would be in a much better place if people just took the time to listen to others, and learned how to converse with others without getting upset and judging." Ms. Hanshaw loves everything about her job, especially the amount of time she has to nurture her other interests when she isn't in the classroom.
She adores the outdoors, especially hiking and rock climbing, and spent the summer backpacking with some of her closest friends and her husband. "My biggest priorities are my family, friends, and to have an active lifestyle," says Ms. Hanshaw.
Someday, she hopes to conquer El Capitan in Yosemite Valley. Ms. Hanshaw also enjoys watching Formula 1 racing, and hanging out with Kiko, her dog. Ms Hanshaw loves everything about her job here at Cathedral, and hopes to continue making a difference on campus. In five years, she hopes to still be right here in San Diego, doing the things she loves most with the people she loves most
View Comments (2)
About the Contributor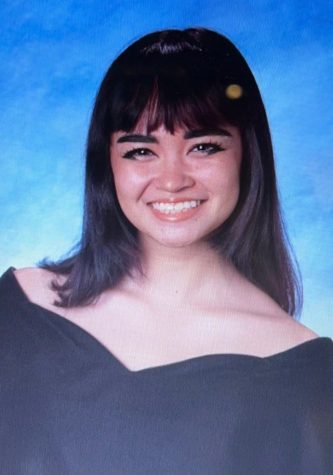 Malia Lima, Marketing Editor
Malia Lima, senior, describes herself as creative, passionate, and hardworking. "Writing has always been my outlet," says Malia. "Words have so much...