Making a Change ft. The Black Student Union
February is dedicated as Black History Month. It's an annual celebration of African American culture, achievements, and history. Cathedral Catholic High School has its very own Black Student Union chapter that welcomes all students to participate in racial equality on campus. 
Sydney Jourdain '22 and Bryce Brock '22 are both the founders and presidents who brought the Black Student Union chapter that is recognized nationally and globally to CCHS. 
"One of our goals is to spread racial awareness. Especially after George Floyd, we recognized that we really needed something like BSU at Cathedral," says Senior Sydney Jourdain. 
2020 was a year of monumental change for many. More specifically, the year that illuminated millions of the racial injustices that occur on a daily basis to African Americans. Such as, the murder of George Floyd. This event sparked the BSU president's attention to how many people ignored the conversations and the African American community. With that in mind, the BSU started at CCHS during the 2020-2021 school year.
"It's a place where African-American students can have a safe space to talk, hang out, get to know their culture and have those difficult conversations about race," says Bryce Brock '22. 
Like many other cultural clubs on campus, the BSU focuses on welcoming students that may feel singled out. These clubs create safe spaces for students to feel acknowledged, celebrated and most importantly, heard. 
The BSU has its eyes set on a future where Cathedral students, no matter their race, feel united instead of singled out. 
"We want to get to the point in Cathedral's history where we don't need a space for minorities because we are all so joined in solidarity together," says Senior Bryce Brock. 
For Black History Month, they host weekly meetings that consist of games, discussions, educational slideshows and the occasional treat to show their appreciation for showing up. They invite all students to join their meetings to spend time with one another and listen to their experiences. 
When asked what the BSU means to her, Sydney Jourdain '22 says, "having a space where people can learn about African-American culture and spend time with kids that look like me and Bryce all while feeling welcomed and appreciated." 
As Black History Month wraps up, the BSU wants to reiterate that "everybody is welcomed" to their meetings. They meet in GC6 (ASB room) with their moderator, Mr. Wilburn, who was able to "make our dreams a reality" when assisting in creating the BSU.
"We expanded BSU so that all races and cultures can come so that they can better understand minorities and African Americans to facilitate conversations between both groups," says Bryce Brock '22. 
If you want to learn more about the Black History Month, below are links to interesting resources. 
https://www.blackhistorymonth.gov
https://www.npr.org/2022/02/01/1075623826/why-is-february-black-history-month
Photo provided by Bryce Brock '22. Black Student Union members get together for a meeting in GC6 during Black History Month.
Leave a Comment
About the Contributor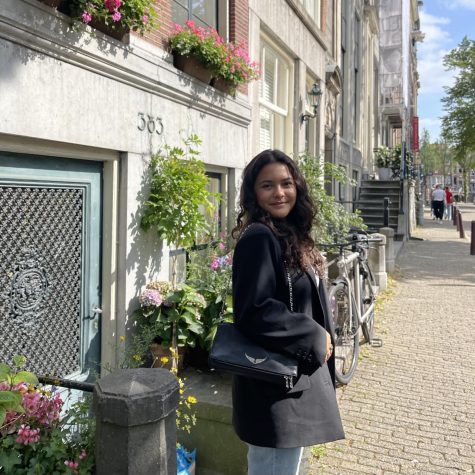 Natalia Dominguez, Staffer
Natalia Dominguez is a first year journalism staffer for Cathedral Catholic's El Cid Online. The bright and talkative senior found interest in journalism...