The Heroes off Court
CCHS is widely known for its sports teams, all of which greatly excel in their performances representing the school. Yet behind these exceptional athletes are the sports-med trainers who continue to support them throughout their high school careers. 
Ashley Hurrell and Austin Walker are the current sports-med trainers at Cathedral Catholic High School. They both have five years of experience with certifications from Boston University, Temple University, and San Diego State University.
Sports-med trainers are medical professionals who specialize in injuries that may hinder an athlete's ability to participate in sports. They identify and treat a variety of injuries in order for the student to resume playing within their limited time of the season. 
Hurrell, one of the two sports-med trainers at CCHS, describes her experience at CCHS, "It's been amazing, I landed my dream job when I got this job and it's been wonderful. [My favorite part of my job] is the connections I make, the trust you build with people. You see them, potentially, when they're most vulnerable, when they're hurt. Being able to help them get back to the things they love is amazing."
Walker, the second of the sports-med trainers, adds, "[The students at Cathedral are] the best. [They] are so funny, which makes the days go by fast when you're entertained. And they're all very appreciative and hardworking too. There are a lot of good athletes here which makes the job more fun too, I would say- because you can kind of expect more from the kids and they're willing to give you more on and off the field."
Sophomore Maisyn Clements, who is currently on the CCHS roster for the Girls Varsity Basketball team, was injured preseason with a sprained ankle. Her injury was treated by the sports-med trainers at Cathedral, and she recalls her experience: "It was when I was playing basketball, I jumped wrong and landed wrong. I think that with their treatment and their rehabilitation process, it healed quicker than it normally would have." 
Hurrell explains the protocol that the sports-med trainers follow while observing any games or matches, "We're there to provide care, not just to our kids at Cathedral Catholic, but any visiting team. We're there to watch any injuries that happen and take care of them. Typically, if it's a game situation, we'll [treat] them wherever they're playing, so if it's a field we'll do it on the sidelines, at the court in the bench area, or in the pool deck. If it's more extreme, we'll bring them into the athletic training room."
The Cathedral sports-med trainers are at the sidelines of each game, match, or event. However they continue to nurture caring relationships with CCHS student athletes. Clements describes, "They have made it clear with the girl's basketball team that they have a special connection [with us], and are like mother figures. They care for us, but they also would listen to us and help us with our problems outside of sports. They'll listen to us and give us the best advice that they can, so they're another important figure in our lives to help us through our problems."
Outside of the sports-med trainers associated with Cathedral's athletic department, the school also has a sports-med program available to students. Isabella Federico, a senior enrolled in the CCHS sports medicine program, describes, "Sports-med is a continuation of anatomy and physiology. First semester was a lot about the structures about the bones and the muscles and how they work together. Second semester, from what we've done so far, was a bit more of the medical aspect of it. We're going to learn how to wrap a foot, and elements of the body, or [how to do] CPR, and first- aid techniques." In order to take the sports-med class, the prerequisite classes are Anatomy and Physiology, however the option to take it alongside the sports-med class is also available.
Federico hopes to major in bio in the upcoming fall. Her main career interests are sports-therapy or dermatology. 
Despite the opportunities the career has to offer, the sports-medicine field is rarely made known. Hurrell explains, "When I did sports, I had no idea that this field even existed. But I knew that I wanted to continue working in sports in some capacity. I really loved the idea of taking care of people, helping them, and then the science- medical side things I really liked. Once I found this profession, I was like: 'Oh my gosh, this is perfect. It combines all three things that I love.'"
Walker also added to her inspiration to becoming a sports-med trainer, recalling, "I played sports growing up, and so did my brother and my sister and my dad. Sports were always a big part of my life and I got injured a couple times and went to physical therapy because my high school didn't actually have an athletic trainer. When I got hurt, I would have to go out and do that, but one of the physical therapy clinics I went to had athletic trainers working there, similar to what I did after college. So I found out about athletic training and I was like: 'Oh! I want to do that!sass
Both Walker and Hurrell have been the backbone of the CCHS athletic department. Though they are extremely knowledgeable in the sports-medicine field, they are also known for their great kindness and connection with the student athletes. Their reputations elevate the sports-medicine field and its representation at Cathedral Catholic, and may inspire more students to look into this career path with the options available to them on campus.
Leave a Comment
About the Contributor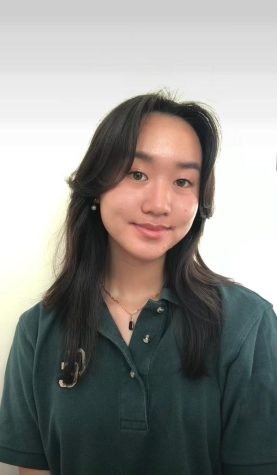 Hong-An Phan, Co-Editor in Chief
Born and raised in San Diego, California, Hong-An Phan is a student journalist for El Cid Online and a junior attending Cathedral Catholic High School....