#FreeBritney
Conservatorship, by definition, is a court case where a judge appoints a responsible person or organization to care for another adult who cannot care for himself or herself or manage his or her own finances. In order for one to be in a conservatorship, the conservatee must be jobless and need care, protection, and managing specifics like finances and properties based on mentally incapabilities. It is also required for the court to be guided based on the best interests of the conservatee. 
However, did the court have the best interests of the successful, famous, beloved, and talented pop singer, Britney Spears? How could the court neglect America's sweetheart and strip her of her basic human rights? What made her meet the qualifications of the conservatorship? 
The Netflix documentary, Britney vs Spears, illuminates the facts and the long thirteen years that Britney Spears will never get back. Growing up in Louisiana, at a young age, Britney had the gift of singing and was dedicated to singing growing up. Life may have seemed wonderful for Britney, but her path to success was a rough one based on her parents' rollercoaster relationship. Nonetheless, she didn't let their troubles affect her prominent career, because several years later, she became a viral sensation who many individuals looked up to based on her strength and confidence. Britney's tours were energetic and huge confidence boosters for her fans.
As Britney toured more, she fell in love with one of her backup dancers, Kevin Federline, who immediately got married to. Right after they said "I do," they had two sons. Yet, after two years of marriage, it went down in a dumpster fire in the public eye. The publicity of the divorce negatively weighed on Britney and was relentlessly chased down by hundreds of paparazzi. Every move and mistake that Britney made was magnified and caused her to go insane. She seeked an escape which was intaking adderall which eventually her intake spiraled out of control where she became addicted.
Then in 2007, a hearing called by Kevin Federline was to modify custody of Britney's two sons. This drove Britney psycho as she no longer embodied the fearless figure that the public viewed her as. Instead, she was fearful that her parents would insert themselves into her public situation. This divorce truly affected her, but she didn't let it get in the way of her remarkable career.
Britney created and produced an entire new album called Blackout which unfortunately foreshadowed what her future would look like. Her growing popularity encouraged paparazzi to aggressively follow her and chase her down by car to the point where she dangerously drove to avoid them. Based on the harassment of the paparazzi, they pushed Britney to make life-threatening decisions and hundreds of cameras followed her and in her face, they didn't allow her to just be.
2008 was the year where Britney's life dramatically changed and slowly began to shrink. In January 2008, police were called to her residence in Los Angeles, because she locked herself in a room. They were summoned because she refused to turn over her children to Federline's bodyguard. Britney went insane to the point where she was in desperate need of medical help. As she was in the ambulance, paparazzi followed her, neglecting her privacy while in the vehicle. When she arrived at Cedar Sinai hospital, police had to surround the emergency entrance with caution tape to ensure Britney's protection while receiving treatment.
James Spears, known as Jamie and Britney's father, arrived when this all took place and got involved even when he had been in the dark and hardly ever with Britney. On February 1, 2008, Britney was put on temporary conservatorship with her father being the conservator. She was put on this temporary conservatorship after losing full custody of her children. Britney's so-called "disability" was dementia which was proved not true based on evaluations. Drugs were placed in her food which made her act out of the ordinary. Britney's former manager claims that she took hundreds of drug tests and passed each one of them.
By the end of 2008, the conservatorship became permanent by the court which made Britney weaker and handed power over to her father to control her life. Britney's voice was threatened for so long, 
After consistently fighting for freedom, November 12th was a remarkable and literally life-changing day for Britney, because she was finally freed out of her conservatorship. Aged 39, Spears has been under this conservatorship for 13 years and living in such a toxic lifestyle. #FreeBritney fans erupted in excitement as their goal came to life; freeing Britney. 
Senior Aubrie Conway expressed her joy based on Britney's conservatorship officially ending which ultimately freed her.
"It's absurd to think like how we all thought it was crazy to be in like the pandemic and like 'Oh we can't go out and do this', but Britney really couldn't do anything and that's so heartbreaking to hear. 
Conway comparing the pandemic to Britney's past lifestyle is sadly true since Britney's life was so limited that she couldn't just be an ordinary adult. Although Conway is heartbroken about hearing the truth come out, she thinks it is amazing that Britney is finally freed and looks forward to seeing what the next steps of her life are, especially career wise and her family.
English, Journalism, and Yearbook teacher, Brittney Cairns, who shares the iconic name with the pop star has been a passionate fan since 2000. Cairns remembers watching the "Baby One More Time" music video premiering on MTV and immediately buying her CD player after that moment. When Britney was declared free, Cairns was proud of her hearing state her truth and what was bothering her.
"I personally felt a little ounce of pride of like finally she's speaking out and telling people how she felt and how she needs this to be over."
Cairns has followed Britney Spears's rising and successful career to take center stage. She couldn't even imagine every action and mistake under a microscope, especially as an adult in her twenties.
Since Britney being officially free, she has not held back from posting on social media about her conservatorship. Britney made her first address to the public after the conservatorship news by taking to her Instagram. In this video, she mentioned the facts such as not being able to maintain a debit card, having cash, car keys, and much more. Britney states her message which is to be an advocate for those who don't deserve to be in conservatorships. She even took digs at her family by calling them all victims and running away to pursue a career in singing. In the last part of the video, she verbally thanks the #FreeBritney supporters who constantly fought for Britney's freedom and spread awareness about the ridiculous conditions she lived under. They were indirectly Britney's voice since hers was threatened for so long. Britney even mentions that they are 100 percent responsible for saving her life. 
Britney is coming back on fire and fiercer than ever ready to call for action on conservatorships. Firstly, she is coming after those who have betrayed her such as her family, especially father, former managers, and Christina Aguilera. Britney rightfully should demand justice as she had missed out thirteen years of having a "normal" life. 
All in all, Britney Spears is an incredibly strong role model for many and it will be interesting to see where her new chapter unfolds. 
December 2, 2021 is the first time Britney Spears will celebrate her birthday as a free adult since the forced conservatorship began 13 years ago.
Leave a Comment
About the Contributor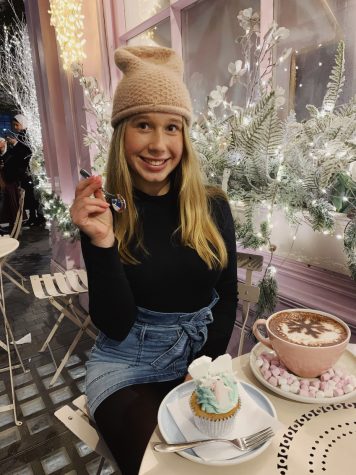 Sahara Kiskis, Features Editor
Entering her Senior year and first year with El Cid Online, Sahara Kiskis is excited to serve as the Features Editor. Sahara is a bubbly, compassionate,...