Siblings sew masks to protect healthcare workers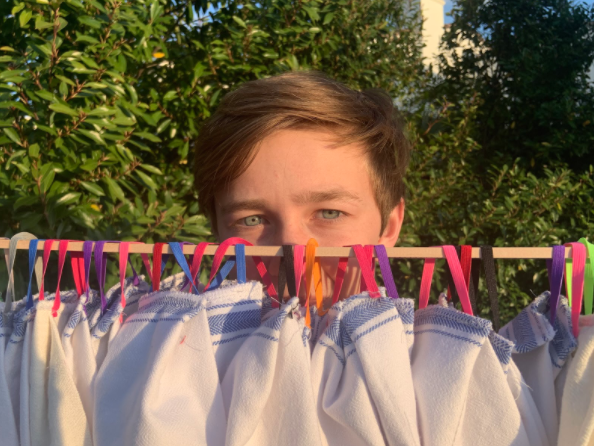 When local San Diego high school students Makenna Doan '21 and Carson Doan '23 heard about the lack of surgical masks due to the COVID-19 pandemic, their minds immediately went to their father.
"Our dad is a physician, and it is terrifying to think of him going to see patients without the proper protection," Makenna said. "Hospitals and doctors offices are rationing safety supplies, and we have to do something to protect our dad and all the healthcare providers. When we heard that masks were running extremely low, we knew that we could do something about it."
"
When we heard that masks were running extremely low, we knew that we could do something about it."
— Makenna Doan
Makenna, a 16-year-old Cathedral Catholic High School junior, and Carson, a 14-year-old Canyon Crest Academy freshman, created Mighty Masks, an effort dedicated to creating homemade masks to protect local healthcare workers and medical professionals, and they have created more than 250 masks in the past month with help from a group of local volunteers to provide funds and resources.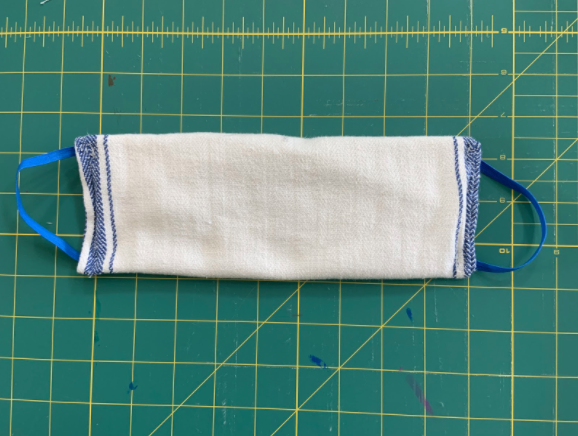 San Diego county leaders announced this week new guidelines of wearing cloth face masks when leaving home or working, and Makenna and Carson's efforts reflect a nationwide response to a lack of medical workers' protective gear to combat and treat the more than 290,000 U.S. COVID-19 cases in overwhelmed healthcare facilities.
The masks, created from a double layer of dish towel, have a 97% filtration effectiveness against protecting the wearer from virus-sized particles and serve as one of the best materials for creating homemade masks, according to a 2013 study done by Cambridge University.
A single mask takes approximately 10 minutes to make with an emphasis on cleanliness, as the product undergoes sanitization each time it comes into contact with a new individual.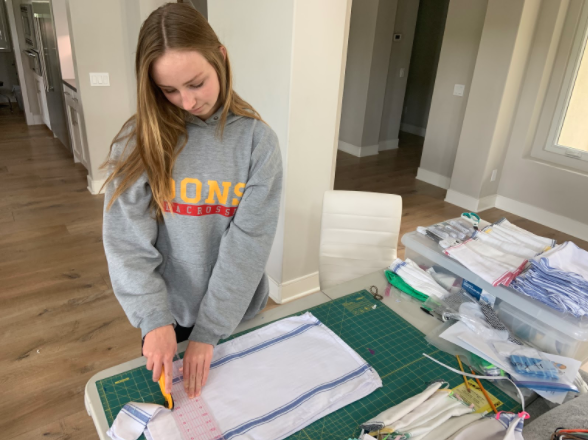 Firstly, the packages of towels, mostly donated from local volunteers, arrive in the Doan's mailbox, where the boxes are vigorously wiped down. Then, each piece of fabric is washed, ironed, and placed onto a sanitized surface with gloves. The towels are cut in a 10" by 16" rectangle, folded in half, sewn along the edges, folded into thirds, and sewn down on both sides. After elastic is sewn on both sides, the masks are washed again and placed into vacuum-sealed bags for distribution, free of charge, to a variety of doctors offices and nursing homes.
The Doans also send masks to the St. Thérèse of Carmel Catholic Church outreach program, in which members of the parish community run critical errands for homebound parishioners.
"[Makenna] made a special accommodation for us over at St. Thérèse of Carmel when we reached out to see if she could make us some masks for our volunteers in our newest ministry," said Mr. Harrison Trubitt, who serves as a St. Thérèse of Carmel youth minister. "We wanted to provide as much support and protection for our volunteers and those they serve as possible, and Makenna allowed us to help those who help others.'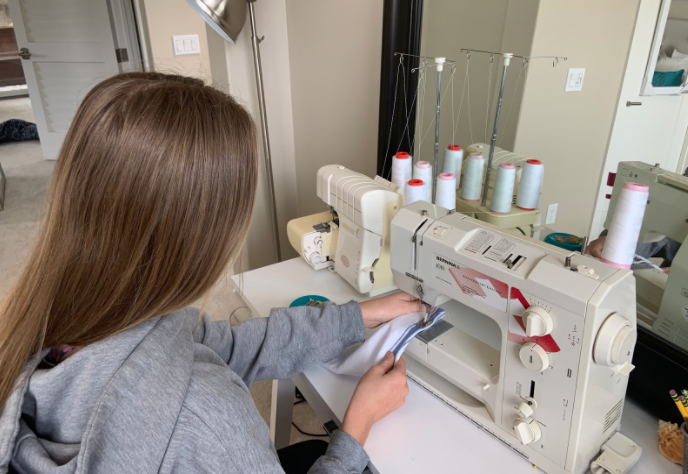 Makenna, a St. Thérèse of Carmel Youth Group RISE Student Leader, helps facilitate Confirmation small groups and execute retreats in the parish and youth ministry program.
"These masks will allow for volunteers to participate in an incarnational ministry and help a ton of people in our community that are homebound during the COVID-19 social-distancing protocol," Trubitt said. "This will not only allow more people to stay at home safely while volunteers run errands for them, but also show the Gospel those they serve and our whole community as we perform these corporal works of mercy.
"Without this personal protective equipment and Mighty Masks, it would be really difficult to serve people as well as we possibly could."
"
Without this personal protective equipment and Mighty Masks, it would be really difficult to serve people as well as we possibly could."
— Mr. Harrison Trubitt
Volunteers can either help make masks, do the cutting, or donate materials, as specified on the Mighty Mask website.
Although homemade masks are not approved by the Centers for Disease Control and Prevention and should not be used in lieu of surgical masks or N95 masks, the Doans continue to create masks as the supply of surgical masks remains inadequate.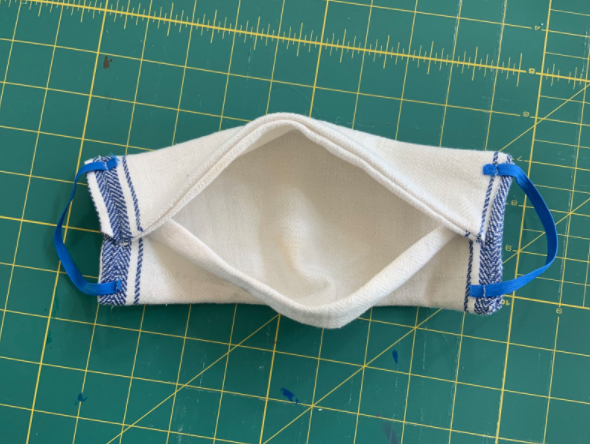 While many students choose to sit on the couch while the California stay-at-home order extends to April 30, Makenna and Carson continue to dedicate themselves to service, an important sentiment as the Lenten season approaches Easter Sunday.
"We were inspired by the uncertainty that our world is facing, and we wanted to find a way to help," Makenna said. "We typically are a three sport family, so when our schools went to distant learning and sports were canceled, all of a sudden we had a great amount of time on our hands. This was a just great opportunity to use that time and help our community.
"We hope to show people how they can help during this time and bring light to others. In these uncertain times, It is important for people to feel like they can help, so this is a great way for people to connect. We all see the value in keeping our healthcare workers and community healthy. This is just our little contribution."
View Comments (1)
About the Contributor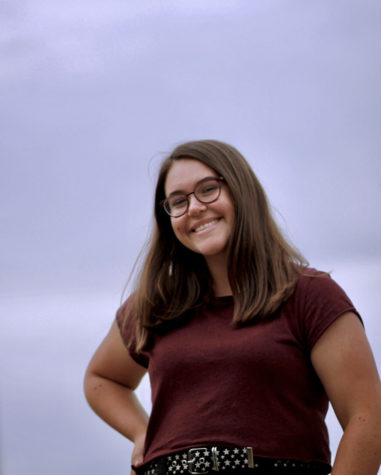 Angelina Hicks, Managing Editor
During my third school year on the El Cid staff, this time honored with the title of Managing Editor, I plan to spend every moment not only striving to...