Dedicated Dons
During the hectic lives of Cathedral Catholic High School students, many students lack the time to engage in service opportunities, busy with class work, sports, and social lives.
Some students, however, rise above, and CCHS created the Dedicated Don award this year to honor these students. Mission and Ministry recently commended Holden Brosnan '20 and Emma Caringella '20 with the first two Dedicated Don awards of the year.
"I am so grateful to have won this award," Caringella said. "I felt so honored knowing that I am able to be recognized for something that I truly love doing and something that I want to center my life around."
Caringella is involved in Girl Scouts, Ambassadors, the National Honor Society, the Outreach for Nazareth Orphanage club, and her club Crafts for Kids, among others.
"I love participating in and leading as many CCHS service organizations as I can," Caringella said. "I try to encourage others to participate too, because I've learned how influential and amazing it is to take part in these programs."
In addition, varsity football player Brosnan is an active member of the Options program at CCHS, and he is committed to play football next year at The United States Air Force Academy. Brosnan also serves as the Best Buddies president on campus.
"Mrs. [Adrianna] Pehl introduced me to Best Buddies last year and asked if I'd be interested in being president, and without hesitation, I was elated to join," Brosnan said. "So with her and my amazing officers we have just expanded the club across campus in the past year.
"I absolutely love working with all of our Options students and can't explain the impact they've had on my life."
Brosnan and Caringella, two examples of highly-driven CCHS students, encourage others to do the same.
"To anyone who is looking to get involved at CCHS, all you have to do is find the things you are passionate about and look for something you can do to take it to the next level," Caringella said. "Just put yourself out there and you will be so happy with the people you meet and the opportunities you find."
Holden echoes a similar sentiment.
"Just do what you love," Brosnan said. "Find your passion and go with it. Try and make the world a better place through little things, and if we all do that we can go a long way together."
Mission and Ministry will continue to commend students involved in service throughout the school year.
"[Getting the award] was really cool," Brosnan said. "I just enjoyed how happy it made [Thomas Byrne '20], and the smile he had after was unforgettable."
About the Contributor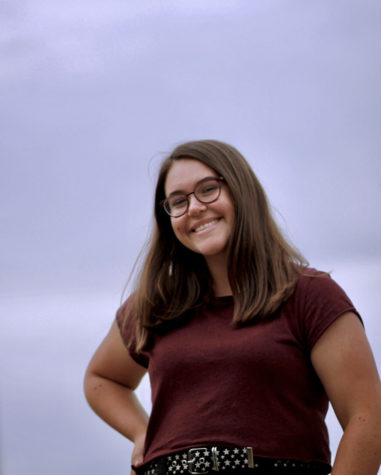 Angelina Hicks, Managing Editor
During my third school year on the El Cid staff, this time honored with the title of Managing Editor, I plan to spend every moment not only striving to...