Lip balm listings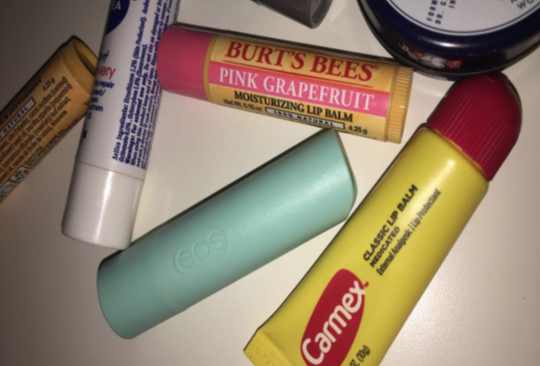 If you're a high school student, the effectiveness of lip balms and chapsticks will definitely be a source of debate at least once among you and your friends.  
Lip balms and chapsticks, interchangeable terms, are products meant to prevent the chapping of lips and to keep lips soft and moisturized.
Currently, my go-to products are Smith's Rosebud Salve at home, which I began using after observing its popularity on social media, and Booda Butter lip balm while I'm out and about, which I bought on a whim at Jimbo's.
However, it always interests me to see if other lip balms and chapsticks can perform better than my tried and true. Since lip products are something I do not mind splurging on, I asked the El Cid Instagram followers what their preferred lip balms were.
The three most popular answers were Carmex, Evolution of Smooth (EOS), and Burt's Bees. So, I tried them out over the course of three work weeks, stopping only on the weekends to use lip scrub and Rosebud Salve to give each lip balm an equal chance. Here's how it went.
The first week was Carmex, and it was the week I was most scared for. I have heard conspiracies and rumors that Carmex dries out lips rather than moisturizing them. Drying properties combined with a daily dunk into chlorinated water made me quite scared that I would end the week with cracked, bleeding lips.
However, I trusted the opinion of my peers.
"I like Carmex because I feel like it actually soothes my lips and isn't too harsh," CCHS student Isabel Cabrera '21 said. "I also feel like it removes the dead cells without being as harsh as a scrub."
Monday was the toughest day. After waking up, I immediately reached over to grab my trusty tin of rosebud salve, but remembered it had been replaced by a bright, yellow and red tube. However, I continued on with the day, carrying the extra tube I had brought in my backpack for reapplication.
The first day, I applied lip balm around seven times throughout the school day, which is significantly more than my regular one or two applications of Booda Butter.
During the middle of the week, I noticed my lips getting softer. My fears were turning out to be pointless, and by the end of the week, my applications were down to five for the whole day. To my surprise, my lips were as soft as when I used my rosebud salve.
The true test came on Friday, when I had a swim meet in the afternoon. While I forgot to bring my Carmex, I found I didn't need it, even after getting out of the pool. My lips felt thoroughly soft and moisturized.
Over that weekend, I didn't even need to use a lip scrub, only my rosebud salve to get my lips completely ready for the next week.
The biggest deal-breaker for me was the smell and taste of Carmex. While I didn't purposely eat the lip balm, when some found its way into my mouth or I licked my lips after application, I would notice a chemical smell and taste.
For users of natural products, this feature can be a total nuisance and might steer them away completely from purchasing Carmex, but if the person purchasing is already accustomed to slightly medicated or chemical smells, it shouldn't be a bother.
"The smell takes getting used to, and since I doubt anyone is eating Carmex, I don't think it's a problem," Cabrera said.
My final rating after a week of Carmex would be a four out of five. The product works well enough in and of itself, but the smell and taste was too overpowering.
The second week, I tried EOS lip balm. I have tried the distinctive egg-shaped lip balm before, but never found it auspicious.
Ferran Fernandez '21, however, has stuck by EOS.
"I really like the design," Fernandez said. "I feel like that makes it stand out."
The traditional egg shape was not available at my local Rite Aid, so I had to purchase a tube of EOS in the flavor Sweet Mint. While I was not as scared for EOS's detriment on my lips as I was for the Carmex, I still had fears that I would end up with chapped, bleeding lips by the end of the week.
On Monday, when I applied the lip balm first thing in the morning, I noticed how much better the flavor was compared to the Carmex. However, the design does make the actual product a little hard to reach. I ended up reapplying around four times with the EOS on Monday.
Tuesday was the worst day of the week. I woke up with extreme pain and dryness in the corners of my mouth which meant my angular cheilitis was back. I could barely open my mouth to speak or smile without feeling like my entire face was going to break because of the pain. This meant that I had to go back to applying rosebud salve only on the corners of my mouth, being careful to not touch my lips in the process.
I forgot my extra tube of chapstick at home, so every time my lips felt dry, I had to lick my lips, which I am aware dries them out further. When I actually got home after practice, I applied the EOS and noticed that it stung when I applied around the cracked areas of the corner of my mouth.
I really overestimated EOS.
My lips were extremely dry and chapped by that Friday, to the point of pain. Every time I would smile or open my mouth, the skin on my lips would bleed. By the end of the week, the skin around my lips was also dry and flaky.
My final rating of EOS would be a one half out of five. It only gets points for the flavor, which, though nice, was overpowering at times.
Finally, my last week of testing different kinds of lip balms and chapsticks. The last lip balm was Burt's Bees Moisturizing Lip Balm.
"I like Burt's Bees because it's really moisturizing and has a good natural tint and smell," CCHS student Jilly Roberts '20 said.
"It's my go-to because it always leaves my lips really soft."
Upon first application, the lip balm goes on extremely smoothly and has a nice, fresh, citrus-y scent. After a week of EOS, my lips were very flaky and dry, but Burt's Bees did not sting when I applied it.
By the middle of the week, my lips were completely healed and as soft as they were before I began using the EOS lip balm, and I was rarely applying lip balm more than two times a day.
By Friday, my lips were noticeably softer and smoother than usual, and had a slightly more pink tint to them. This lip balm really surprised me by how quickly it healed my lips and made them soft again.
Overall, I give the Burt's Bees Moisturizing Lip Balm a five out of five. The smell was very pleasant and not overpowering at all, and my lips were healed within a matter of two days. Another plus to Burt's Bees is that the lip balm is all-natural and has no harsh chemicals or preservatives, and it's cruelty-free, which means they don't test on animals.
For someone looking to transition into a more natural beauty routine, Burt's Bees is definitely the brand to turn to. It's mainstream enough that you will be able to find it at a drugstore, but it has all-natural products.
So, after three weeks of trying three different lip balms, I found that it  went surprisingly better than expected, with the exception of the EOS lip balm. Although I don't think either Carmex or Burt's Bees will be replacing my trusty Smith's Rosebud Salve anytime soon, I do think they will find a place in either my backpack or my car for on-the-go application.
If you are looking for a medicated product to help heal extremely dry lips, reach for Carmex. If you are looking for an all natural product to use every day, buy Burt's Bees Moisturizing Lip Balm. I just don't recommend buying EOS.
About the Contributor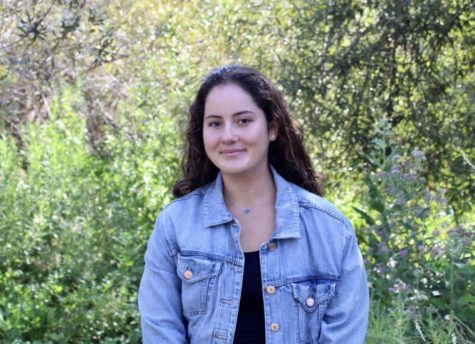 Daniela Gil, Social Media Editor
As the Social Media Editor for El Cid this year, I aspire to use my position to help the newspaper reach more students than ever. While writing for the...