Wonder Wilson
Dons drama director fights through chemotherapy while continuing her contributions to CCHS.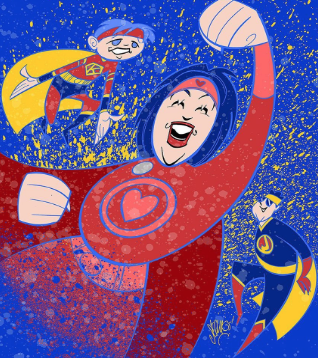 Hang on for a minute...we're trying to find some more stories you might like.
From a young age, Miss Katie Wilson, the award-winning Cathedral Catholic High School drama department director and performing arts teacher, has directed and performed musicals in her backyard.
However, since her recent diagnosis with endometrial cancer, Miss Wilson has immersed herself in her toughest role — a fighter.
"Fighting cancer is hard work," Miss Wilson said. "It's a job. There are so many appointments and medications. So, you have to be on it. It takes a lot of emotional and physical effort."
Despite her condition, Miss Wilson continues to teach, to direct, and to inspire every day, drawing strength from her faith in God's guidance and her loving support system of family, friends, and students.
Miss Wilson's original discovery of endometrial cancer was quite unexpected, happening after she went to the emergency room for an abnormal episode of bleeding just before last Thanksgiving. To be overly cautious, Miss Wilson's doctor ordered a uterine biopsy, a test not typically taken for women in their 40s.
Just days later, the test results confirmed a malignancy in her endometrium, and a few cancerous cells were also found in a lymph node.
"I don't believe that God made cancer," Miss Wilson said. "I don't think that God gave me cancer to prove anything or make me think. This was bad luck."
According to the American Cancer Society, about 61,880 new cases of endometrial cancer will be diagnosed every year, making it the most common form of female gynecological cancer in America.
Miss Wilson, ultimately flooded with worry and determination to fight, received the call from her doctor regarding her diagnosis while she was in her drama classroom at CCHS.
"The wind was knocked out of me," Miss Wilson said. "I was shocked, scared, and I felt a burning sensation come over my entire body. I thought, whatever it is, I am going to fight [the cancer].
"I went into survival mode."
Ten days after receiving the diagnosis, Miss Wilson underwent a hysterectomy, completely removing the cancerous cells in her uterus.
"I have had a fairly easy recovery from that surgery," Miss Wilson said. "I think that is God providing for me."
In addition to her hysterectomy, doctors removed the cancerous cells from Miss Wilson's lymph node, which was the last visible cancer detected. To be extra careful and cautious, Miss Wilson is undergoing 25 external radiation treatments and five additional chemotherapy treatments.
While this process has not been easy, Miss Wilson is confident the support of prayer and intercession of God will make her experience smooth, and she strives to find the positive in it.
"It has been a constant lineup of people who have been there for me, doctors and nurses, moments where I could rest in my faith that I knew I was being provided for," Miss Wilson said. "I could only attest to the fact that God is at work."
Furthermore, Miss Wilson believes her diagnosis is a miracle because it was discovered early with zero symptoms.
"My mom was working as one of my angels," Miss Wilson said. "I am not a person who runs to the doctor very quickly, and I did. It was the Holy Spirit at work."
A surplus of friends, family, and students, including her five siblings, cousins, and close friends such as Mrs. Kathy Garcia, the CCHS director of educational technology, support Miss Wilson.
"It's been a great time for us to spend time together and swap stories and laugh a lot," Mrs. Garcia said. "She has shown me how to be strong."
Mrs. Garcia established a CaringBridge website page where people can sign up to bring meals to Miss Wilson or to spend time with her son while she recovers.
"What Dons do better than anybody is support their own," Miss Wilson said. "The entire faculty helped support me with meals and love. If I look at all the greatest gifts and blessings in my life, I know God brought me to CCHS."
The CCHS community also has supported Miss Wilson in her desire to keep working throughout her treatments and recovery.
Miss Wilson currently is directing the CCHS production of All Shook Up, a musical that will be performed by the drama department on April 5 and 6 in the Guadalupe Center Theatre.
"She is the glue that holds the entire drama program together," said CCHS student Janna Shakiba '19, who will perform as the lead actress playing Natalie Heller in All Shook Up.
Miss Wilson's love for theatre as an actress and director started when she was young and quickly became her passion. She attended the University of San Diego on a singing scholarship.
"My very first [professional] show ever was with Christian Community Theatre In 1994 when I was 21 years old," Miss Wilson said. "I went on to do shows professionally all over the place, and to direct, and then eventually that led me to educational theatre."
Miss Wilson has worked at CCHS for 13 years, and she continues to inspire many students not only through her love for the arts, but also through her strength since her recent diagnosis.
"I am absolutely blessed to have known her as a teacher, as a director, and as a role model," Shakiba said. "Even though recent times have been difficult, she has remained calm and poised, and she still makes us laugh every day."
Mrs. Garcia, one of Miss Wilson's closest friends at CCHS, speaks for many people impacted and inspired by Miss Wilson.
"I have been blown away at how strong she has been, and I am so proud of her and honored to call her a friend," Mrs. Garcia said.
Not only has Miss Wilson taught other people through her recent journey, but she also has learned about the true value of life.
"I want to remind people to live in the moment of the beauty of every day," Miss Wilson said. "I wake up in the morning and thank God and Jesus for letting me be alive and awake."
Miss Wilson shares details of her appointments, treatments, and recovery on Facebook and her own blog titled "Katie Wilson's Journey" on CaringBridge.org.
"I hope people can see my humble journey and know that if it were to happen to them, they could do it too," Miss Wilson said. "Nobody should have to do this alone. I want people to see that you can be fighting cancer and laugh and find joy in every day."
About the Contributors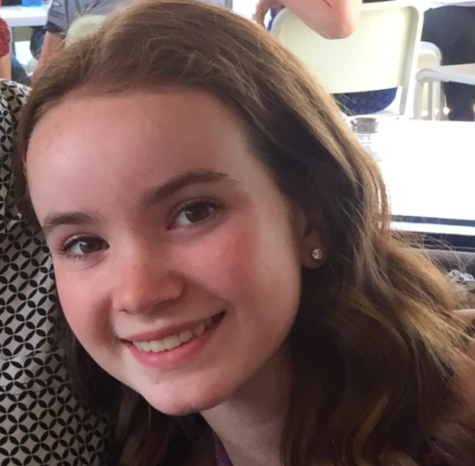 Ella Wishchuk, Assistant Spiritual Life Editor
As a sophomore at Cathedral Catholic High School, I look forward to blossoming as a young journalist and becoming a new member of the El Cid team. I consider...