Putting the spark in your Valentine's Day
Valentine's Day options abound for CCHS students
"Will you be my valentine?" 
This is a question Cathedral Catholic High School students will hear throughout the school day and long weekend. With the upcoming four day weekend, if you're looking for activities for you and your boo, or if you are celebrating a "Galentine's Day" with friends, these 10 suggestions could be great options for all people this Valentine's Day.
Drive-in movies

Drive in movies offer a chance to watch a film outdoors rather than in a theater. San Diego's best drive in movie theaters are located in Santee and South Bay.

You can bring blankets and snacks from home or buy ones offered at the theater. A movie at the Santee drive in theatre is $9 for everyone nine years old and up. This is an inexpensive Valentine's Day idea that offers a variation of the traditional movie date. A key tip for these movie goers is to come prepared with your own radio, because listening to the film's sound in your car can drain the battery quickly, and nothing will ruin your date quicker than a dead car battery. 

Beach picnic

Beach picnics can be done with friends or a significant other and offer an affordable option for many that don't want to spend a lot of money on one date. Beaches run up and down the coast of San Diego and won't be too populated because Valentine's Day falls on a Thursday. You can bring your own snacks and food along with blankets to cozy up or there are many restaurants you can purchase take out from in the area. Powerhouse Park in Del Mar, California would be a great option due to its grassy knoll above if you prefer not to sit in the sand.

Pillow fort movie night

Due to the recent rainy weather in San Diego, an outdoor date may not be an option, so a great alternative could be building a pillow fort and setting up a place for a laptop or iPad to watch a movie or TV show in your very own living room. Websites such as Pinterest and Twitter include fort ideas and directions that have pillows, blankets, and lights.

Baking

Baking, an indoor activity that only requires a few items, is a great way to spend Valentine's Day at home. Brands like Pillsbury have pre-made cookie dough available at Vons that can be thrown into the oven and left to bake for 10 minutes. Food Network offers a wide variety of cookie recipes for beginner level to advanced bakers. Not only is the baking a fun activity, but it also leaves a fun treat to enjoy after.

Dinner date

Dinner may sound like a traditional, boring route, but if you want to treat your friends or significant other to a good meal, dinner is definitely the way to go. Restaurants can range from a late-night In-n-Out run to a full three-course course meal at The Brigantine. Papa John's, Bucca di Beppo, and California Pizza Kitchen are offering Valentine's Day specials for couples and singles that range from $11-$49.99. Popular local restaurants, Jakes Del Mar, La Valencia La Jolla, and The Brigantine, include a sunset view, perfect for getting that Instagram worthy picture.

Belmont Park

Since Valentine's Day falls on a Thursday, CCHS has a four-day weekend ahead with lots of time to spend a day at Belmont Park. Belmont Park offers a wide variety of activities which include: laser tag, roller coasters, mini golf, and zip lines. This can get a little pricey, so if you have been saving up your pennies for the special day this activity could be the right one for you. Belmont Park offers two passes the "Ride & Play" pass or the "Ride" pass, which are $56 and $34.

Top 3 Valentine's Day movies

For those who prefer to stay in with friends, boo, or yourself, a movie is the perfect way to wind down after a hectic week and get a great start to an amazing weekend. If you aren't interested in watching a classic romance movie like The Notebook or Dear John, Netflix includes many new Rom Coms that have proven popular with high schoolers. You can watch, or rewatch, the adventures of Lara Jean and Peter Kavinsky in the movie

To All The Boys I've Loved Before

, or witness the roller coaster that is Elle Evans' love life in the movie

The Kissing Booth

.

CeramiCafe

In an artistic mood? CeramiCafe could be a go to choice for you. CeramiCafe, which is located in the Del Mar Highlands Town Center, offers teens, kids, and families a chance to create their own art sculptures and ceramics with many choices of pottery and paints to get creative. CeramiCafe hours are from 10 a.m. to 9 p.m. Monday through Saturday and 10 a.m. to 6 p.m. on Sundays.

Casual coffee 

A casual get together for a cup of coffee may be an overlooked option, but its a simple way to unwind with company. A coffee date is a simple idea that is affordable and easily accessible to all. If coffee isn't your first choice, many places do offer teas and hot cocoa. Your coffee location doesn't have to be the traditional Starbucks run before school, Philz coffee, located in the Del Mar Highlands Town Center also offers many of the same options and food choices, which vary between avocado toast and the classic blueberry muffin.

Spa day with the gals

Single and not really ready to mingle? Treat yourself with a spa day. A spa day gives you the opportunity to wind down a long week and work as a stress detox and pump you up for the long weekend. Spa days at home are generally less expensive, and stores like Target or Ulta offer a large selection of self care items like face masks, under eye masks, and rose water spray. This activity can be done or combined with any of the stay at-home activities previously mentioned and this is a perfect outing to do with friends or alone.
About the Contributors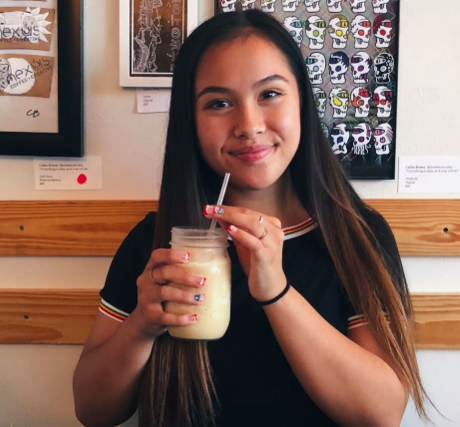 Olivia Palombo, Assistant Multimedia Editor
Born and raised in San Diego, I spend most of my time at the beach or with friends. As a sophomore at Cathedral Catholic High School, I look forward to...