Lost in the music
When Cathedral Catholic High School student Sergio Vinas '20 first found a passion for music, he never expected to make a career out of his talent by publishing a song on SoundCloud, a music streaming platform.
"I just want to experiment with and make music," Vinas said. "I know that pursuing my identity as an artist and not getting caught up thinking about my future will be what makes me different from other artists."
Vinas transferred to CCHS this year after attending The American School in Switzerland, an institution focused on welcoming young people from around the world, for his freshman and sophomore years of high school.
"When I was in Switzerland there was a room at school with drums, guitars and pianos that I was free to use and practice on," Vinas said. "That's when I taught myself to play the drums, and [the drums] are still one of my favorite instruments to play."
Before attending school in Switzerland, Vinas wanted to become an animator and eventually join Pixar Studios. During middle school, Vinas attended digital art classes and built up a professional portfolio.
"The digital art classes at TASIS were full," Vinas said. "I decided to take music classes instead, and I was given a lot of opportunities that allowed me to take off from there."
After attending music classes, Vinas led a band, and he was given the opportunity to guide the two performances at the beginning and end of TASIS announcements and assemblies.
"The lead guitarist Harrison and I had a cool connection," Vinas said. "After I led the band, he kind of geared me toward jazz, which then propelled me toward rap culture and where I am now with rhythm and blues."
Now, Vinas participates in the CCHS band, and he also produces music outside of school.
"Sergio clearly has great passion for music and some ambitious goals to match," CCHS music director Miss Jessica Swift said. "I look forward to seeing Sergio's talents continue to develop next year and hopefully beyond the walls of CCHS."
Once enrolled at CCHS, Vinas became a popular student among his peers. Even before he joined the school band, everyone knew of Vinas as a musician, and they wanted to learn more about his music.
"Sergio has been very dedicated to his music and has a great passion for singing and playing a number of musical instruments," student Emma Caringella '20 said. "Everyone in our band class knows how musically talented he is."
Miss Swift echoed a similar sentiment.
"When Sergio first transferred to CCHS, I heard about him from other students before even having the chance to meet him," Miss Swift said. "His peers encouraged him to join the band class, and it has been a joy getting to know him."
After completing sophomore year, Vinas was looking forward to moving back to San Diego to live with his family, which had been living in San Diego while he was attending school in Switzerland.
"We never really looked at any other school besides CCHS," Vinas said. "My sister loved the school so much that I had always known where I was going to be attending."
About the Contributor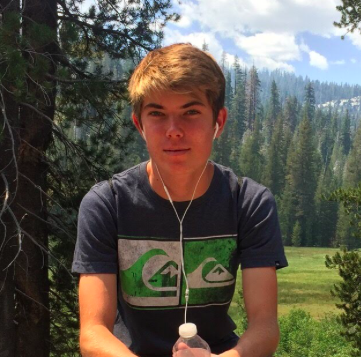 Matthew Rowland, Assistant Features Editor
As a junior at Cathedral Catholic High School, I will work as the Assistant Features Editor for El Cid. I chose to write for the newspaper to expand my...