Last of the first
When first-year Cathedral Catholic High School educator Mr. Michael Hogan arrived his first day of teaching English 2H during the 2018-19 school year, he felt almost like an outsider when entering the tightly-kit CCHS community.
"It was definitely intimidating coming as a new teacher here," Mr. Hogan said. "Anyone who has taught at another school knows that the first year at a new school is always a difficult one. Learning a new set of curriculum, learning the procedures of a new school, and adapting to the school culture takes a lot of additional time."
Although it may seem intimidating to incoming freshmen and new teachers, CCHS possesses deep connections to its past, especially the University of San Diego High School, the predecessor to CCHS that was located in Linda Vista and open from 1957 to 2005. Last year marked the 60th anniversary of the USDHS/CCHS establishment, and the CCHS community will celebrate next year its 15th year at its current location.
CCHS opened in 2005 with the same faculty and administration as USDHS, adding to the tight-knit community feeling found at CCHS. However, less than 20 of the 200 current CCHS employees also worked at USDHS, according to various current CCHS staff members.
"I had such a great experience in high school and loved it so much that I wanted to help others have that same experience," said Mrs. Dawn Roberts, a USDHS/CCHS faculty member since 1994 who currently serves as the girls varsity soccer coach and physical education teacher. "That's why I came back to work here, and that's why I still do."
According to Mrs. Roberts, she and other USDHS teachers harbor a different connection to the school than those community members without the long experience.
"I obviously have a connection to the history of the Dons that newer teachers won't have," Mrs. Roberts said. "I have experiences as a Don that have helped me with my teaching and helping the school spirit live on."
After last year's loss of long-time USDHS/CCHS members Mr. Joe Kilroy and Mrs. Maria Oliver, the number of USDHS teachers continues to decrease every year.
Should CCHS expect a new generation of teachers as the USDHS faculty dwindle?
Many CCHS staff members, looking forward to the updated atmosphere new teachers can bring to the CCHS community, welcome the staff additions.
"It's always tough to watch long-time teachers and friends retire, but it is just natural," USDHS/CCHS teacher since 1988 and current math teacher and cross country coach Mr. Dan Geiger said. "It is also exciting to see new young energetic teachers start their careers."
However, USDHS/CCHS teachers have witnessed firsthand and appreciate the transition from campus to campus, something new teachers fail to acknowledge and may take for granted.
"The view of Mission Bay from USDHS was incredible," said Mr. Gary Remiker, a CCHS/USDHS teacher since 1996 and who serves as a current math teacher and baseball coach. "But USDHS desperately needed a big remodel. The CCHS classrooms, bathrooms, and athletic facilities are so fantastic. We didn't even have any real athletic facilities at USDHS, and it was a huge bummer."
Although USDHS/CCHS teachers have and will continue to watch their numbers fall and be replaced by fresh faces, they remain focused on who is being taught, not who is teaching.
"Although the USDHS campus was a close, smaller school, the CCHS students are wonderful with loving and kind families," USDHS/CCHS teacher since 1992 and current science teacher Mrs. Terry Annicchiarico said. "We have so many fantastic programs that we find ourselves going in different directions. It is great to see kids pouring out their talents."
The long-time teachers from USDHS hold something truly special in history. However, as their years come to an end and their numbers dwindle, they still reach out to new CCHS teachers in order to help the next generation be the best they can be for the students' sakes.
"I don't think I have ever felt more supported at a new school than I have at CCHS," Mr. Hogan said. "A lot of those teachers who have been here for years are also the ones that are so willing to help the newer teaching staff.
"In that sense, being the new kid has been an excellent experience in meeting new people, in developing as a teacher, and in growing as part of a faith community."
About the Contributor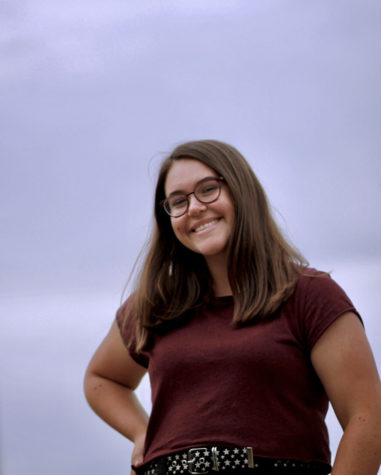 Angelina Hicks, Managing Editor
During my third school year on the El Cid staff, this time honored with the title of Managing Editor, I plan to spend every moment not only striving to...