A different type of art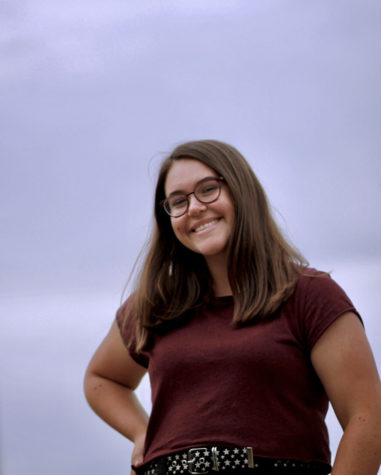 More stories from Angelina Hicks
When American Sign Language teacher and junior varsity cheer coach Mrs. Amber Elliott encountered a deaf cheerleader on her middle school Pop Warner cheer squad, she knew her life would forever change.
"[The girl] was communicating with other girls on my cheer team, and I thought it was so cool," Mrs. Elliott said. "I started learning ASL with a dictionary, and my mom noticed I really enjoyed it and gave me more resources to keep learning. From my interaction with deaf people, I realized I loved ASL so much, so I kept doing it."
After graduating from Cathedral Catholic High School in 2010, Mrs. Elliott had vastly different dreams and aspirations. She originally strived to continue her studies in sign language and become an artist in Italy, where a number of her family members live.
"I even looked at different types of colleges in Italy for art," Mrs. Elliott said. "I found one school that had Italian Sign Language and art options, and it seemed almost perfect. My whole life I thought I was going to do something with art. I never thought I would ever be a teacher."
Mrs. Elliott attended William Woods University from 2010-11 where she took Deaf Studies, American Sign Language Interpreting, and Studio Art. However, with ASL and art both requiring vast time dedications, Mrs. Elliott found herself left with a difficult choice.
"You have to put so many hours outside yourself to work on art, but I also wanted to put that many hours into ASL," Mrs. Elliott said. "I realized I was stretching myself too thin if I did both. I knew that I loved ASL a lot, and even though I never saw myself as a person who would be involved in the academia of a language, I excelled at this one."
Although art has always been a huge aspect of Mrs. Elliott's life, she chose to further pursue ASL instead of art, a decision she has never regretted.
"I've always been a visual person," Mrs. Elliott said. "I've always felt calm sitting down and working on one piece, but I ended up loving ASL so much more that I dropped everything. Something drove me to the ASL aspect, and I knew I had to pick that. I'm so happy that I became a teacher."
Mrs. Elliott attended St. Catherine University from 2011-14, where she earned her Bachelor's Degree in Sign Language Interpretation and Translation.
In 2013, Mrs. Elliott was selected for a study abroad program at Gallaudet University, a deaf university in Washington, DC, where she focused on interpreting and took all her classes in ASL.
"I just wanted to apply and try," Mrs. Elliott said. "I knew that fully being immersed in the culture is the best way to learn a language. I did it on a whim, took the opportunity, and went with it."
Before coming to teach at CCHS, Mrs. Elliott spent years teaching at various middle schools and high schools, including one year teaching ASL one at the Academy of Our Lady of Peace.
Mrs. Elliott first started teaching ASL one and three at CCHS during the 2016-17 school year.
"I didn't think I was going to be a teacher ever in my whole life, but it's my favorite job," Mrs. Elliott said.
This year, Mrs Elliott's husband also found himself teaching AP Computer Science at CCHS.
"I think God pushed me to take this job at CCHS," Mr. Kevin Elliott said. "I was working as a mechanical engineer at a very good company and was doing very well. I was happy with it, but when the opportunity to work at CCHS arose, it was clear in my mind that this was a calling."
However, this year is not the first time Mr. and Mrs. Elliott's paths have crossed at CCHS. They met in 2010 in their senior AP Studio Art class, where they then stayed together through college until getting married in 2016 at St. Gabriel's Catholic Church.
"I played football and [Mrs. Elliott] was a cheerleader, but we had never met until we were in art class together," Mr. Elliott said. "We quickly fell in love and stayed together through college even though we were very far away. I knew what I had with her was special. Although long distance relationships are very tough, I knew it was worth it."
ASL has not only affected Mrs. Elliott's life, but has reached Mr. Elliott's as well.
"Being in contact with ASL has made me appreciate Deaf culture as well as other communities that need to use ASL to communicate," Mr. Elliott said.
Aside from her husband, Mrs. Elliott's personality has touched many students at CCHS, and various students express fondness for their teacher.
"Mrs. Elliott always brings a great energy to the classroom that motivates me to learn every day," ASL three student Kate Foster '20 said. "Mrs. Elliott always has an amazing passion for teaching, and I can really appreciate all the effort she puts into the activities she plans for class."
Although Mrs. Elliott may have dropped art in its traditional sense, she still satisfies her creative side with her passion of ASL.
"ASL is artistic in it's own way," Mrs. Elliott said. "I can still have my moments of creativity, and I can always come back to art."