Media martyrs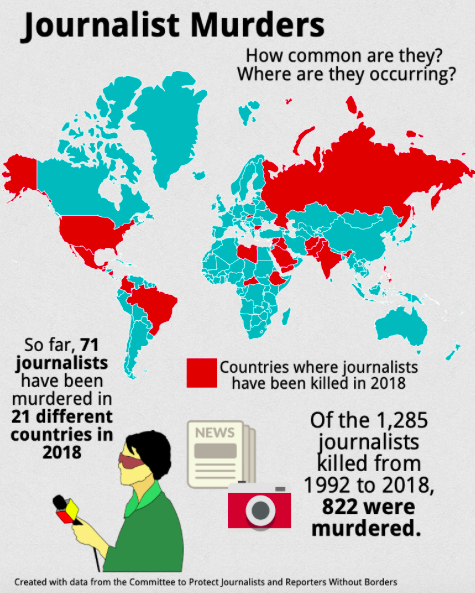 Indian journalists Sandeep Sharma, Navin Nischal, and Vijay Singh were struck by vehicles and killed in India seven months ago, after their reporting exposed corruption and bribery among local police.
Russian journalists Kirill Radchenko, Alexander Rastorguyev, and Orkhan Dzhemal were investigating Russian military presence in the Central African Republic six months ago, when they were murdered on a roadside.
Saudi journalist Jamal Khashoggi was murdered brutally in the Saudi Arabian Consulate this month after he voiced criticism of Crown Prince Mohammed bin Salman and Saudi Arabia's military conflict with Yemen.
The murders share the same motive: the suppression of vital truths.
Increased promotion of media freedom and political action for the protection of journalists is vital for the preservation of democracy and of honest journalism.
According to the Committee to Protect Journalists, a nonprofit organization for the promotion of press freedom, out of the 1,285 journalists killed around the world since 1992, 822 were murdered.
The recent murder of Khashoggi highlights the danger journalists face when acting as watchdogs of the government by revealing corruption and hypocrisy. Khashoggi was killed allegedly by a team of government-employed hit men because he publicly denounced Salman's claim of being a political reformer, according to The Washington Post.
A repressive government disposed of Khashoggi, whose reporting exposed an integral truth about an authoritarian Saudi leader. His murder represents a violation of media freedom and of a journalist's right to report truth to the public, no matter the damage it may inflict on a government.
"Media freedom is important around the world in order for society to function and for people to make informed decisions," San Diego State University associate professor of journalism Dr. Amy Schmitz Weiss said.
"
Without media freedom, people cannot govern themselves."
— Dr. Amy Schmitz Weiss
But freedom of press does not exist worldwide, and journalists continue to face serious retribution for fulfilling their role as reporters.
Murder, imprisonment, and human rights violations represent a new normal in many reporters' job descriptions, as they face extrajudicial executions, captivity, and unlawful prosecution around the globe.
Countries, including Iraq, Syria, Mexico, India, Afghanistan, and the Philippines, claim the highest journalist murder rates, largely because of oppressive governments and a lack of freedom of press, according to Reporters Without Borders, a group of advocates for media freedom.
Politicians also play a role in inhibiting journalism and freedom of press, as journalists are facing more hatred in authoritarian and democratic countries.
The 2018 Press Freedom Index, a scale recognizing levels of press freedom in more than 180 countries, indicates a politically influenced downward trend of media freedom in democratic countries such as the United States and the Philippines, both of which dropped several ranks.
Authoritarian countries North Korea, Syria, Iraq, Yemen, and Saudi Arabia, where it is difficult for journalists to do their job, remain at the bottom of the list.
Fearful for their lives, many reporters are fleeing dangerous nations or changing professions, which fuels a cycle of impunity for press freedom opposers.
While journalist killings are prevalent in many countries, Reporters Without Borders estimates only 13 percent of murder cases are ever prosecuted.
Moreover, The Committee to Protect Journalists found at least 787 cases in which journalists have been directly targeted for murder, but only 34 of those cases yielded convictions. Impunity in journalist murders, largely due to failure of law enforcement officials and a lack of political will, produces a culture of censorship and represses global dialogue about freedom of press.
Without political action and promotion of media freedom, journalists will continue to be stifled by oppressive governments and politicians.
"Journalists have unfortunately been killed, kidnapped or harassed all over the world for decades," Dr. Weiss said. "More needs to be done to protect journalists and protect journalism today."
Leave a Comment
About the Contributor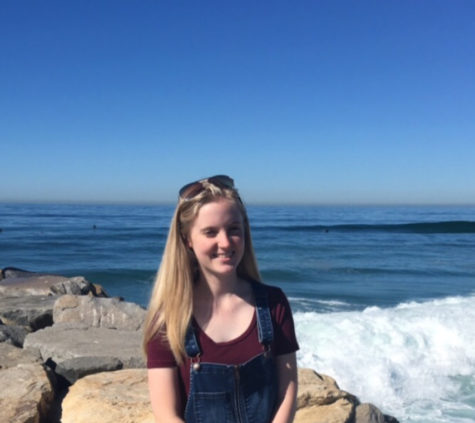 Savannah Dupper, News Editor
As a senior at Cathedral Catholic High School and the El Cid News Editor, I look forward to promoting positivity on campus by sharing my voice through...