Pass time or payroll?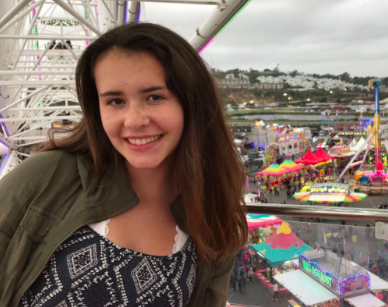 More stories from Lauren Boyer
The quickly advancing world of technology has created niches of online video content where people of any age can attract a substantial following while simultaneously doing what they love on camera.
Cathedral Catholic High School student Chris LeClair '18 is one of these people.
Beginning his public Instagram page @cooking_w_chri3 in 2017, LeClair has amassed more than 500 followers while doing what he loves: posting videos ranting about vegans, cereal, and more.
"A couple of years ago my friends were complaining about not knowing how to cook, and I decided that I wanted to show them how to cook," LeClair said. "But then I quickly realized that people don't want to watch boring tutorials. They want to laugh. So, I turned them into comedic sketches. People instantly loved them."
Before filming these highly-anticipated Instagram videos, LeClair has a pretty good idea of what to hit on and what jokes to say. Other than ranting about vegans and cereal, LeClair does not adopt a certain character while filming. The comedy and intensity is all him.
"I want my videos to slide like a good AP lit essay," LeClair said.
These videos have spread throughout the CCHS campus, with a number of teachers playing them in their classrooms to make students laugh. LeClair's videos also have allowed him to meet and to talk to people he did not expect to be a part of his CCHS experience.
"Sometimes people bring salads to school and just ask me to yell at them, and I'm like I'm not going to do that," LeClair said.
LeClair does not earn money from these videos. Rather, he ends up spending money on food featured in his videos, such as the occasional extravagant number of In-N-Out burgers.
While LeClair mainly posts his videos on Instagram, many people —fashion designers, makeup artists, teachers, react channels, and loads more— post videos mainly on YouTube.
YouTube, which is owned by Google, is the most popular social media platform with 73 percent of American adults, 1 billion worldwide, watching or posting a variety of videos, according to Speeli.com.
"Watching YouTube is one of my favorite pastimes," CCHS student Riley Staal '19 said. "I enjoy watching a variety of content, ranging from makeup tutorials to comedic sketches."
Approximately one third of YouTubers can make their livelihood on posting videos, ranging from a minimum wage salary to a multi-million a year salary. YouTubers can make money by putting ads in their videos, partnering with companies to do sponsorships, getting donations from sites like Patreon, and selling their own merchandise, according to Bustle.com.
Vloggers, such as David Dobrik, are people who film their daily lives, and can potentially make more than $1 million a year by uploading 5-10 minute day-in-the-life videos, according to SocialBlade.com.
While many professional YouTubers may present their lives as carefree and fun-filled on camera, they can be lonely and stressful off camera.
Middle-tier youtubers, those people with 100,000-500,000 subscribers, only make around $45,000 per year, not to mention generally living in expensive places like Los Angeles or New York City, buying equipment for videos, and having 20 percent of that money going to taxes because of self-employment, according to Medium.com.
Additionally, professional YouTubers spend countless lonely hours in front of the computer editing.
The devotion to YouTube is just as strong on the other side of the screen.
Online video conventions such as VidCon and Playlist Live attract thousands of young people, hoping to meet some of their favorite YouTubers or other online video creators at one of these mass meetups.
"While it was an amazing experience for me to meet fans of my channel and online creators that I enjoy watching, VidCon was kind of overwhelming and not for the faint-of-heart," CCHS student and ex-YouTuber Roberto Cano '19 said.
A unique aspect of YouTube, just like any other form of self-expression, is the fact one can find success through individuality and unconventionality, showcasing that YouTube is not a cookie cutter profession.
Even if one does not find success in YouTube videos, the editing, public speaking, and business experienced gained from that experience can be assets in different fields of work.
"I don't plan on expanding my page to the point where I make money because, personally, I feel like that would take the fun out of it," LeClair said. "I would rather my incentive be to make people laugh not to make money."
LeClar will attend Texas Christian University in the fall, where he will pursue a masters degree in accounting. His Instagram page will continue, only if his roommate is fine with him yelling into an iPhone, according to LeClair.
"One time I remember coming back from a retreat and everyone on the bus was watching my videos," LeClair said. "I realized that this is why I make videos. If I did it to get a paycheck or feature an ad, it just would not be the same."