One letter away
CCHS club honors military families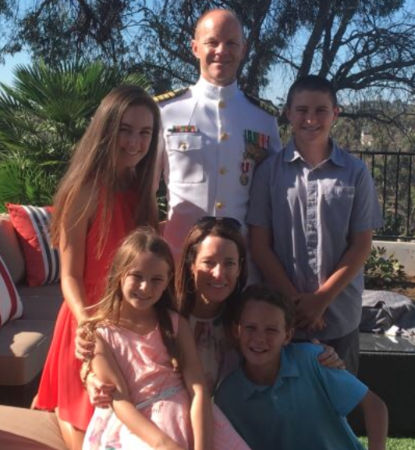 After her father's seven-month deployment in Afghanistan, Cathedral Catholic High School student Meghan Fitzgerald '19 and her siblings were there to greet their father at the airport terminal, a moment she will forever remember.
"My whole family and I waited at the airport for him to get off the plane, and of course, he was the last person off," Fitzgerald said. "As soon as we saw him, my siblings and I ran towards him and collided in a giant group hug. We were all crying, hugging and trying to talk over each other, telling him our best stories from when he was gone, but all I cared about was that my dad was finally home."
Dr. Brian Fitzgerald, Meghan's father, was an orthopedic arm and hand surgeon in the U.S. Navy for 22 years before he retired this past September. He was only deployed three times and usually for about 6-9 months. He went to Japan for six months in 1998.
His most recent deployment in Afghanistan was from Sept. 2007 to Apr. 2008, which required him to complete some combat training in both North Carolina and Germany before he arrived to the hospital in Afghanistan.
"He and the rest of the medical team there had to sleep in tents and cots for the time they were stationed there," Fitzgerald said. "They had limited connection for phone calls or Skype video chats, so we typically talked to him every three or four days."
For someone who is close to her father, separation was difficult, but Meghan understood it was a requirement of her father's job.  
"As far as our relationship, my dad and I are very close, we love to be outdoors, hike or bike together," She said. "He is always pushing me to do my best, whether in school or sports, but he also understands that the pressure can be overwhelming."
To truly appreciate the sacrifices military figures like Dr. Fitzgerald and his family make daily, CCHS student Kate Harrington '19 created a club on campus to give back and to recognize sacrifices made by military families.  
With the help of Calista Oliveira '19 and Devin Gaasch '19 , Harrington began the Dons Thank Our Troops Club, where students gather during lunch to write thank you letters to military men and women.
"It's easy to say that you are thankful for all the military personal serving our country, but to take time and write them a letter means a lot to them," Harrington said.
Currently, the club members are working to reach their goal of sending 500 letters, and they are getting closer with every meeting.
Harrington's inspiration to start the club came from her military veteran grandparents, who both served in the military.
"One served as a dentist on a navy ship, and the other as a B-52 pilot in WW2," she said.
Just like other club members, both Harrington and Fitzgerald share a deeper connection to the U.S. military in that they intimately understand the meaning behind sacrifice.
"Kate's club is a special and unique addition to the clubs that Cathedral offers because it provides a way for us to demonstrate our gratitude to personnel overseas and show that we are still thinking about them, even when they are thousands of miles away," Fitzgerald said.
About the Writer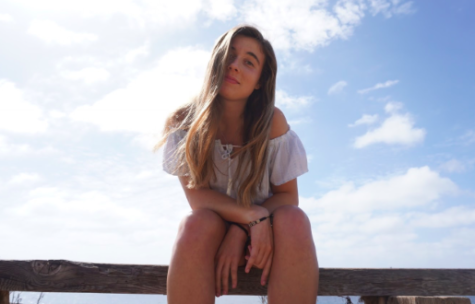 Riley Hetherington, Editor-in-chief
As my second year as El Cid Editor-in-Chief begins, I look forward to spending my senior year improving the newspaper and eventually leaving El Cid in...