One gap year at a time
Contrary to what is commonly associated with gap years, not every student who chooses this path sits on a couch eating potato chips.
Instead, Cathedral Catholic High School 2016 graduate Julia Way gives advice to two CCHS seniors, one who will volunteer in South Africa, and one who will intern at a production company, for their gap year.
"I feel like some people have this misconception that students who take gap years are lazy, wasting their time, or don't know what to do," Way said. "In reality, gap years are perfect for the people who know exactly what they want, but maybe just need a little more time getting there."
According to Way, she knew exactly what she wanted in terms of college and a future career at the end of her senior year.
Toward that end, Way walked straight off the University of San Diego's Jenny Craig Pavilion stage at graduation and onto a plane destined for Italy. She spent a month traveling Rome, soaking up the Italian gallerias, cuisine, and landmarks.
After returning from Italy, Way made her next career move, searching for ways to make her time away from the classroom worth it. As a result, she accepted a position working on the KUSI Prep Pigskin Report.
Choosing to spend her gap year focusing on how to achieve her dreams, her second round of college application results were a reflection of the time she devoted to resumé building. As a result, she gained acceptance to Muhlenberg College in Allentown, Pennsylvania for the fall semester to study theater and media communications.
Way advises anyone in the class of 2017 leaning toward gap years to focus on themselves and not the common stigma.
"I heard of seniors last year who took a gap year, and I decided that was the best path for me," CCHS student Amber Bauer '17 said. "My dream is for a career in the film industry, and I know that may sound unrealistic, but with this time away from school, I will have more hands-on opportunities [working as] an assistant producer of a movie in December."
The feature film Bauer plans to work on allows her to utilize her editing skills and video experience she gained from working on CCTV. Bauer plans to attend film school at Loyola Marymount University in 2018, depending on where the movie takes her in the industry.
In addition to Bauer diving into an industry, fellow CCHS student Shane Tuller '17 is taking a gap year across seas in South Africa as a Global Planet volunteer, a position that will allow him to provide relief work for communities lacking the basic necessities to sustain happy, prosperous lives.
"Before choosing to spend my year abroad, I valued a life of material goods and I was truly lost in the occupational sense," Tuller said. "I suddenly realized there was more to life than having the newest iPhone and more to the world than going into a four-year university right after high school."
Tuller will pay for his travels by selling his favorite Jeep named "Robin." This devotion stems from the admiration he has for the selfless people he will work with and the new culture he will experience.
Tuller's change in lifestyle brings him peace as he disconnects from all social media while he focuses on packing basic clothes, selling his car, and buzzing his hair for his trip across the globe.
"I am excited for this new adventure, and although serving a third world country is not glamorous, it is something I am just as serious about as others are about their college plans," Tuller said. "I will be back to school as soon as I get home from my volunteer work, and while I'm not sure which school or what major I want, I do know California will always be home."
Way, Bauer, and Tuller all decided to walk a path that is not commonly chosen, but a course that promises a future of possibilities. While they did not commit to collegiate sports or receive an academic scholarship, their futures will be just as bright and educational as their fellow students pursuing a degree this fall.
"Dear gap year seniors, you have to believe in yourself and do the work for the future you want," Way said. "Nobody is going to do that for you. My gap year could have gone so differently if I hadn't made the connections I did.
"And finally, if you know what you want, you just have to have the courage to work hard enough for it and take it. That goes for college, career, your life, and anything really."
About the Writer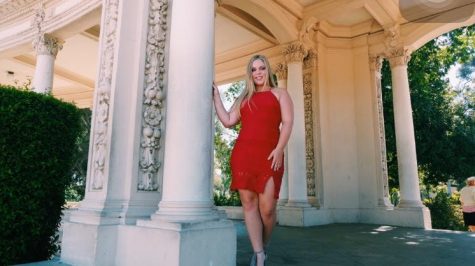 Sydney Calhoun, Managing Editor
As a result of my whimsical spirit, booking flights on American Airlines has become a hobby and picking up the monthly copy of VOGUE is routine. Aside...