El Cid recaps Young Playwrights' Festival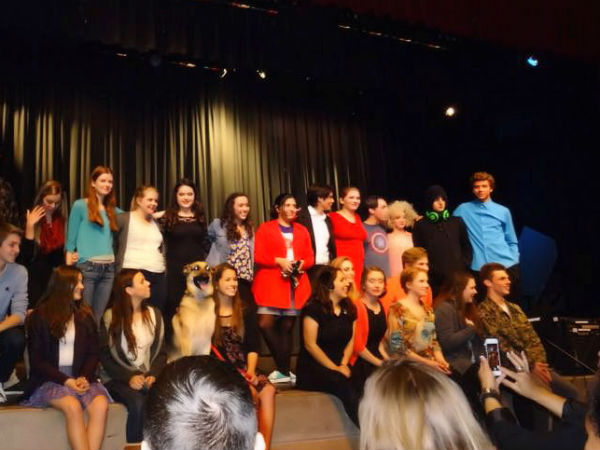 Hang on for a minute...we're trying to find some more stories you might like.
Cathedral's annual Young Playwrights' Festival took place on January 31, 2015. Here are El Cid's recaps of the student-run, student-performed plays.
————————————————-
Anything Could Happen – Quan Nguyen
A story of a girl who needs a date for the school dance, Anything Could Happen was inspired by the (at the time) upcoming formal dance, "A Gala in Greece," and the desperation that author senior Quan Nguyen felt was occupying the minds of girls at school. Anne, played by Theresa Nguyen, attempts to score a date with several guys by altering her personality in an effort to appeal better to each of them (like working out with a jock in an attempt to impress him). After several failed attempts, she is about to give up when her best guy friend, Ricky, played by William Li, tells her she should never change, and is just fine the way she is.
A musical in its own right, the play featured four songs sung by the cast, including "Somebody to Love" by Queen, "Just the Way You Are" by Bruno Mars, "Love Fool" by The Cardigans, and "Anything Could Happen" by Ellie Goulding. The writer/director Quan commented on his play in retrospect. "I think the play went really well for the amount of time we had to practice." Due to various reasons, from illness to surgery, Quan and some key actors were missing for the first half of the week, leaving them only time to practice on the day of the show. Nevertheless, he was satisfied with the way he was able to tell his story. "I want to thank Melissa Bolivar for helping me put it all together," Quan said. "Along with Theresa, Will, Sabrina, Kiki, Raymond, Nick, Vincent, and Leen for being in it. I also want to thank Ms. Wilson for giving me this amazing opportunity."
———————————————
Hard Truth – Tina and Caitlin LaMar
Senior twins Caitlin and Tina LaMar, wrote a play for their third year in the Young Playwrights Festival called Hard Truth. "My family is very open with each other," said Tina, "so we wanted to create a world where people hide what they truly feel and thereby have a negative effect on their immediate family unit." The play was about a family named the Thurts, who find out belatedly that truth serum had leaked into their water supply and the only way to purge it from their system was to tell the secrets that they had been keeping from each other. Hilarity ensues as the family struggled to reveal their closely guarded secrets to each other. The performance by a cast that included seniors Tina LaMar, Adam Neff, Emily Fields, Claire Kearney, and Patrick Dohoney as well as junior Henry Pederson brought lots of laughter to the theater. Despite the laughter, there was a message the LaMar twins wanted to get across. "I feel like we were able to get people thinking about how not sharing what they feel with the people they love might affect their relationships," said Tina.
———————————————
Quibbles, Quarrels and Quirks – Shelby Sprigg and Nicole Morgan
Written and directed by senior Shelby Sprigg and sophomore Nicole Morgan, Quibbles, Quarrels and Quirks is a comedy about a group of people riding a bus in the middle of nowhere. After one of the passengers mysteriously dies, chaos envelops those who remain. While attempting to figure out the identity of the non-existent murderer, the passengers devolve into their own petty squabbles. "The main conflict is waged inside each character," said Shelby. "It is a battle of man versus self, in which the innate selfishness of each character inevitably triumphs." The idea came from a short story called 47 Minutes, which Shelby had written previously about a bus possessed by a demon and it was adapted to Young Playwrights' for appropriateness.
Looking back at the performance, Shelby was immensely satisfied with her actors. "I had a great group of people willing to act in it, and they all pulled off their roles perfectly." However, Shelby didn't feel that it was fully successful and most of the audience missed the point of the story – that there was no actual murderer to begin with. "Each of the passengers who died did so as the result of an accident," she said. "There was some confusion about that afterward."
———————————————
One Crazy Summer Memory – Kiki Carney
Freshman Kiki Carney wanted to write a play that included elements such as a spooky haunted mansion and a musical performance, and so she created a play about three kids who wanted One Crazy Summer Memory. How crazy? Well, the three kids decided to spend the night at an abandoned, haunted mansion near the outskirts of town. Instead, they find a man cooped up in the house who has been withering away, still overcome by grief over his wife's death several years earlier. The students, played by Ellie Jones, Raymond Boffman, and Sierra Freitas realize that he was the once enormously famous musical actor and performer Mr. Clinger, played by Nicholas Garcia, and learn that he dreams of doing one last show. In an effort to cheer him up, the students put together a show just for him, giving Mr. Clinger the chance to realize his dream and giving the students the crazy summer memory they wanted.
Looking back, Kiki feels very satisfied with the performance. "My actors all got their lines down, the lighting and curtains were perfect, and the sound was great. I was really stressed out because it was my birthday, so my whole family was there, and I didn't want to let them down." She continued, "Honestly, I wouldn't have changed a thing. In my opinion it went as smoothly and perfectly as it could have gone." Kiki faced several issues initially, as she couldn't find actors who were available. With Ms. Wilson's help, she found people that fit the roles perfectly. Kiki wanted to say some words of advice for anyone submitting a play for Young Playwrights in the future. "Number one, get a cast early, and number two, the less you stress during the practices, the more fun you'll have!"
————————————————-
Juice Juice – Cassie King and Lia Generales
Written by seniors Cassie King and Lia Generales, Juice Juice was a "comedic interpretation of today's organic market," said Cassie. The story follows two siblings named Crystal and Blaze, played by junior Kennedy Didier and senior Patrick Dohoney respectively, on their first day at their new juicery, Juice Juice. "Although incredibly excited about their new business, overly peppy Crystal and Blaze struggle to make their first sale," explains Cassie.  As customers come and go without making any purchases, the pair turns against each other. While written as a comedy, "Juice Juice is a fresh reminder (pun intended) that family members need to support one another," said Cassie.
Inspiration for the story sprung from society's developing interest in organic produce, cold pressed juice, and farm-to-table cooking, brought to Cassie and Lia's attention through their friend Jackie Nofal. "After years of teasing her alfalfa bread and knock-off organic Oreos, we thought it would be fun to create a play with that sort of silly mockery," Cassie said. After their performance, Cassie and Lia both agreed that it was a huge success. Cassie expressed her delight over the fact that Kennedy and Patrick were able to act their characters so well and visibly show their underlying care for each other. "The only thing I would change," Cassie exclaimed, "is that I would have filmed the performance so that it could be shared with an even wider audience!"
———————————————
After the Battle – Maggie Tomcho
After the Battle is a play written by freshman Maggie Tomcho about a young veteran named Robbie who has returned home and is struggling with drug and alcohol addiction. While attempting to stay at a rehab center called the Veteran's Village, he is forced to give up his German Shepherd, Baxter, because they didn't allow pets. As a result, Baxter is sent into foster care for the time being. However, when Rena, the woman would have been taking care of Baxter, refuses to give him back, Robbie writes an emotional letter that convinces her to return Baxter to foster care so that Robbie, after he is finished with rehab, will be able to take Baxter back.
Maggie based the play on a true story from her family (Baxter was the actual dog involved) and wanted to express the elements of love, loss and redemption. She was delighted when the performance went well in spite of her worries of working with a dog onstage. She was also worried about how well Robbie would show the devastation he felt when Baxter was taken from him. "Baxter did extraordinary, and my actors portrayed the characters beautifully," Maggie said. "I could not be more happy."

About the Writer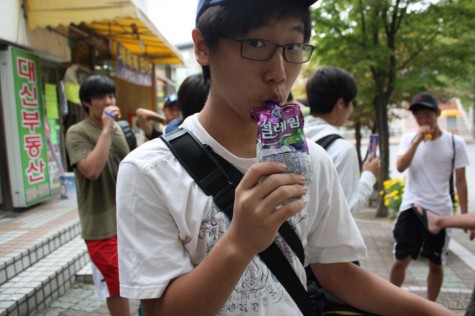 Joseph Park, Staff Writer
Hello world! My name is Joseph Park. I am currently a senior working on El Cid for the first time. Previously, I have been involved in the school yearbook. I have a strong passion for Theater, and have performed in various stage productions the past several years, including It's a Wonderful Life as George Bailey....