Judy Bloom: Influencing Generation After Generation
Judy Blume, an author of 29 books, has sold over 90 million copies of her books. "Are You There God? It's Me, Margaret", 53 years after its original publication, is hitting the big screens all over the world. Each book has influenced different generations through powerful coming-of-age themes. The inspiring stories are filled with countless different morals that have taught many girls all over the world.
Along with "Are You There God? It's Me, Margaret", other of Bloom's hit books are being adapted into movies and series. "Summer Sister", one of her many novels, is becoming a new series on Hulu. In addition "Superfudge", one of Blume's most famous children's novels, and "Forever" are being adapted into films on Netflix and Disney+. Now, Blume's famous books are being reimagined in order to inspire the youth of today and many generations after that.
Since the publication of her first book "The One in the Middle Is the Green Kangaroo", targeting grade-school students, Blume's publications started becoming hits. Each book she wrote about covered topics that are targeted for blossoming teenagers. Blume focused on topics that could be relatable to younger generations. She covered topics such as menstruation, friendship, divorce, death, sex, and struggles with religion. This allowed many young people to turn to her writing in order to learn of topics that their parents never taught them. Many young people can use Blume's books as a way to cope with changing bodies and new experiences that they could be struggling with.
In Judy Blume's new documentary on Amazon Prime, "Judy Blume Forever", she states, "I was an anxious child. I felt adults kept secrets from the kids, I hated those secrets."
Many adults, schools, and organizations saw Judy Blume's writing as inappropriate. In the 80s and 90s many groups sought out to ban some of Blume's books. Many schools all over the country pulled many of her books off the shelves. A little bit after, libraries and schools started to return her books to the shelves after outrage from many readers. A list of the most-banned books in the 90s and 2000s was released Blume's "Margret" made an appearance.
Today, the book banning has hit a peak for many authors. Blume's books have yet again become a target of the book banning epidemic. Ron DeSantis, Floridda's governor, proposed to restrict conversation about gender identity and sexual orientation in schools. This would lead, once again, to Blume's books being pulled off the shelves in schools.
In an interview with BBC, Blume spoke out about the recent book banning happening all over the country; "I mean, that's crazy. That is so crazy, And it is so frightening that I think the only answer is for us to speak out and really keep speaking out, or we are going to lose our way. Because even if they don't let them read books, their bodies are still going to change and their feelings about their bodies are going to change. And you can't control that. They have to be able to read, to question."
Judy Blume is and will be timeless. Her books inspire many all over the world. Like others, I have created many memories surrounding Blume's novels. My mom first introduced the books to me, telling me how much she had loved her books and they always stuck with her. Their significance in her adolescence led to the passing on of her books to her daughter. My first Judy Blume novel was "Margaret". Instantly, I fell in love with the storyline and writing style. I felt emotionally connected to Margaret, and what she was experiencing in her early teen years. I reread the book to the point of wrinkled covers and many pages falling out. To this day "Margaret" still remains one of my favorites books from my childhood.
Another book I loved growing up written by Judy Blume was " Starring Sally J. Freedman as Herself", which is a story that follows a young girl moving to a new city post WWII. Due to her wild imagination, she thinks that her neighbor is actually Adolf Hitler. This story, along with it being very funny and wholesome, touches subjects such as racism, religious discriminations, and death. These two books are just some of the many Judy Blume books that have shaped the childhood of many people, including mine.
Judy Blume's influence is still expanding even to this day. The film that was just released recently of "Margaret" served the novel justice. Just like the book, the movie portrayed moments in Margret's life that many younger audiences can relate to.
In addition, many older generations can easily enjoy these movies purely out of nostalgia. There were times of laughs and tears but it was overall very heartwarming and wholesome.
Judy Blume is the prime example of a truly timeless author who will continue to inspire many generations to come.
Leave a Comment
About the Contributor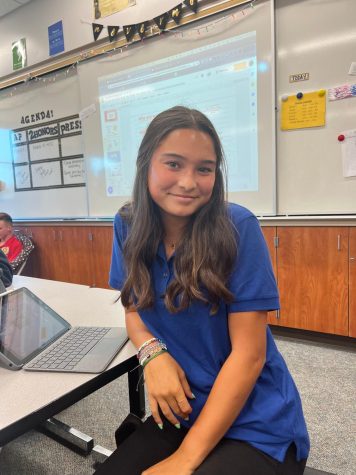 Isabella Durazo, Staffer
Isabella Durazo is a Sophomore at Cathedral Catholic High School and she was born in San Diego. Her hobbies include reading romance books and watching...