Met Gala Archive
After Monday, May 1st, the Met Gala is always the talk of the town, and while so much happened this year, it's taken many years to get to the event seen on television today.
Packed with a rich history, The Met Gala is a large-scale fundraising event for the Metropolitan Museum of Art's Costume Institute in New York City.
The Metropolitan Museum, more commonly known as the Met, is the largest art museum in the Americas, as well as the most visited art museum in the United states, with almost 3.41 million annual visitors annually.
Such an expansive exhibit requires extensive funding, which is exactly what Eleanor Lambert, a fashion publicist, was thinking when she launched the first Met Gala in 1948.
Back then tickets were just a mere 50 dollars, and venues varied, trying spots all across New York.
This measly origin drastically contrasts the strict invitation only policy, and even then the ticket costs 50,ooo dollars, but more commonly designers buy tables at 300,000 dollars, and fill them with guests in their designs.
But that's getting ahead, from the 1948 launch, just a short few years later, in 1971 Diana Vreeland took over and gave the event the qualities that we now associate it with, such as the glamor, the gala, and most importantly the themes.
Vreeland made the event the social moment that it is now, putting a large emphasis on the clothing.
She started in 1973, with the theme, "The World of Balenciaga."
This marked change, she brought life to the exhibit, and encouraged all attendees to dress to theme, as a way to become a part of the art display themselves.
Many of these attendees took well to the idea, such as Andy Warhol actress Jane Hozier.
Whilst perhaps not her most memorable display, it set the precedent for years to come.
One of her most fondly regarded Met's is the 1982, "La Belle Époque," this event was large scale and is based on Paris circa WWI. She went on to write an accompanying book alongside the exhibition providing more detail on the theme.
Furthermore this was revisited in 2020, when the pandemic halted the Met Gala, the Met began releasing three to four documentaries featuring old exhibitions, such as the accompanying "La Belle Époque" display.
Vreeland continued on running the Met Gala until her death in 1989, from here it was taken over by Dame Anna Wintour, who at the time, was newly editor-in-chief at Vogue.
She has long since held that position and her role in organizing the Met. One of the first things she did was move the Met to May 1st.
But her first lasting impact will forever be the 2004, "Dangerous Liaisons: Fashion and Furniture in the 18th Century." This was the first Met Gala Theme that allowed for the costume attire to come out.
Such a prompt like this one allowed attendees, such as model Amber Valletta, to embrace the unique nature of the event, and show up in a true 18th century men's hair-do and a furniture like fabric adorning her dress.
From here themes continued in such a fashion that allowed for outlandish attire, and many major fashion houses compete for the most talked about looks every year.
Following in the footsteps of this success, the next year's theme, 2005, was "The House of Chanel." This started a trend of the Met themes relating to major fashion design houses, but also major people in the fashion industry.
This theme focused mostly on a traditional Chanel, but like many themes sought to give the other side, which leads into something interesting.
Both the theme and exhibition were closely linked with Karl Lagerfeld, who was the creative director and designer of Chanel, from 1983 to 2019, this foreshadowed the theme this year which is centered around him solely.
This theme propted less outlandish looks, as Chanel is known for its classical nature and elegance.
Themes returned to the wild side in 2008 with, "Superheroes: Fashion and Fantasy."
This Met featured much holographic fabric adorning the biggest actors and actresses, such as Katie Holmes and Tom Cruise, George Clooney and Julia Roberts with Giorgio Armani, Mary-Kate and Ashley Olsen with Christian Louboutin.
Singers, such as Jennifer Lopez and Marc Anthony, Blake Lively and Penn Badgley, David Bowie and Iman, Taylor Swift, as well as a surprising number of political figures, Donald and Melania Trump, Ivanka Trump with Gilles Mendel of J. Mendel.
These themes that could be interpreted in comical ways continued through 2013 and 2014 with "Punk: Chaos to Couture" featuring punk of all styles and then "Charles James: Beyond Fashion" featuring a lot of color and styles in the looks.
Such as exemplified by Anna Wintour herself, in a dress by Chanel Couture. By this point few showed up to the Met Gala in something boring, so the carpet was full of color, and texture and made for a really interesting night.
2015, highlighted the influence of China on Western Fashion, in the theme "China: Through the Looking Glass."
Rianna highlighted Guo Pei, an incredibly talented Chinese fashion designer, as she wore her gold robe on the runway. Guo Pei has an impressive portfolio, and was recently the feature of the Fine Arts Museum in San Francisco.
2017 moved back to celebrating people, in this case Japanese designer Rei Kawakubo with the theme, "Rei Kawakubo/Comme des Garçons: Art of the In-Between." This theme left many directly in his designs, however many also allowed other designers to interpret his work in their own hands.
This remains a common theme, all guests are dressed in only the best, and biggest designers and fashion houses, such as Chanel, Dolce & Gabbana, Marc Jacobs, Versace, Dior, Calvin Klein, Balenciaga, Jimmy Choo, Stella McCartney.
It's just as monumental, if not more, for designers to get looks on the carpet as it is for the celebrities, singers and actors who walk the stairs.
2018, was heavenly, with the direct theme, "Heavenly Bodies: Fashion and the Catholic Imagination." This gala was filled to the brim with religious artifacts, some even from the Vatican, making their first appearance to the world outside of Rome.
2019, "Camp: Notes on Fashion," took the extravagant fashion that the event had been leaning towards and put it on overdrive. From Lady Gaga's four costume changes to Jared Leto and his own head, to Billy Porter's wings and Katy Perry's chandelier, this Met stirred up much conversation.
This was unfortunately followed by the pandemic, and the Metropolitan Museum's hundred and fiftieth anniversary went without an in person event.
The event returned in 2021, with the theme "In America: A Lexicon of Fashion" and centered around "Who gets to be American?" Whilst featuring all American designers. The carpet was jam-packed with celebrities in colorful outfits, and large dresses, A$AP's quilt, Natalia Bryant as a balloon, Normani's stunning yellow ball gown, and iconically Hailee Steinfeld in Iris van Herpen.
To learn more about the 2022 Met, check out these other articles, an in depth review titled, "Met Gala Recap 2022," as well as Hong-An Phan and Brooke Johnston-Quirarte review of the 2023 Met Gala, "What Are Those? These Are Clothes."
Leave a Comment
About the Contributor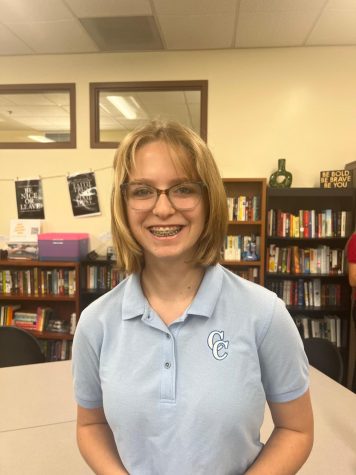 Chase Stern, Staffer
Chase Stern is a sophomore at Cathedral Catholic High School and is from the San Diego/Los Angeles area of California. As an aspiring journalist, she enjoys...