Is Sustainability Next in Fashion?
March has had a packed set of new releases, with a highlight being "Next in Fashion," a reality competition show. This Netflix show is on its second season, which differs in many ways from the original season first released in 2020.
The premise of the show is centered around finding new and upcoming designers. The show features a diverse group of 12 designers at different levels of expertise and education competing in design competitions. The reward for this competition is a cash prize and a promised collection.
Each episode, a designer is eliminated.
So far, both seasons have been hosted by Tan France, a known British-American fashion designer and host of Queer Eye. He is newly accompanied by Gigi Hadid, an American model, who together hosts and judges the competition.
Each episode features some big name guest judges, such as Emma Chamberlain, Hailey Bieber, Bella Hadid, Ashley Park, and Donatella Versace.
For a bit of background, fast fashion is an increasingly relevant problem in today's society. Fast fashion is clothing typically made overseas that is cheaper and lower quality. The consequences of the mass production of this clothing include environmental impacts, such as filling landfills with synthetic fabrics and micro plastics. It also harms many garment workers involved in the production process.
Hosts Tan France and new host Gigi Hadid, address the sustainability efforts of the show in their first introduction. While these efforts are superficial and beyond surface level not that sustainable, this large scale promotion of ways to be more sustainable is vital in the media today.
The biggest change to the new season is the sponsored prize at the end, which, alongside the 200,000 dollar prize as season one, is a collection with the brand, "Rent the Runway." This is in contrast to the traditional retail collection with "Net-a-Porter," a luxury online fashion retailer of season one.
"Rent the Runway" is a female founded company started in 2009 by Jennifer (Jenn) Hyman and Jennifer (Jenny) Fleiss. As an online retailer, they partner with major design houses and smaller designers to create and buy runway looks with the intention of renting them out to their customers. This solution reduces the over consumption and waste of fast fashion today, as the clothing is reused and reworn. The system is also much more cost efficient than buying permanently, making fashion far more accessible to all.
The company shares their goals for the future, as written on "Rent the Runway," "From rental to resale and beyond, we are broadening our vision to become the starting point for the circular economy — offering a variety of ways to experience the best assortment of designer apparel, accessories and more. We're just getting started" (RenttheRunway).
More companies like this, with sustainable roots, are vital for tomorrow, and media support of them is even better. "Rent the Runway" sponsoring "Next in Fashion" is not only great promotion for the company, but also a way for the winner's designs to be more accessible than ever before.
It will be interesting to compare the long term careers of the winner of season two, to the success of the winner of season one, who went on to work with H&M.
There is a stark contrast between the trajectory, and predicted trajectory, between the winners from each season. H&M is a notoriously large fast fashion company, while the season two winner themselves is already very sustainably conscious in their own brand, and moving on to work with an aligned valued company.
Sustainability in the show is continued throughout the individual episodes, such as challenges based on creating with natural materials.
An example of this is seen in an episode centered around repurposing, where the designers are only allowed to use pre-existing clothing in their designs. This episode is guest judged by Emma Chamberlain, an internet personality, who has grown in popularity, but always supports and promotes sustainability. She promotes individual style and rewearing, but majority her love of thrifting.
More influencers promoting sustainability is important, as it is currently the most effective way to reach teenagers, who hold the future of fashion and consumerism in their hands.
The opposing side to the design of the show is that the challenges are almost all completed in one to two days, and forces much lower quality in order to complete them. The majority of the clothing created is completely unwearable, regardless of the innovative design. This unfortunately creates much waste, as the clothing has no purpose in the aftermath of the challenge.
One way to solve this problem would be to lengthen the time for each challenge, and perhaps pair each designer with a seamstress to back them. This would help to create sellable, wearable designs, possibly to directly put on "Rent the Runway's" website.
The answer isn't that easy though, as the time limit is the only suspenseful element of the show. The majority of viewers aren't as interested in the nitty gritty of design, and the less suspense the show holds the fewer people it will captivate. Critics are already criticizing the good vibes and happy nature of the show, saying it is uncharacteristic of reality television.
One article by Lori C. on "ReadySetCut," a media and entertainment review website, says that, "As far as reality TV competitions go, this one is as inoffensive as it gets. The contestants are friendly and supportive of each other. Despite the high-pressure environment, there's no festering drama between them. "
The contestants and hosts are truly trying to help each other, and create their best work. This can be a pro or con depending on your perspective.
Netflix mainly approves shows that appeal to the largest audiences, and canceled "Next in Fashion" after one season, then decided to renew it a year later. To some, the feel good nature of the show is seen as forgettable, while others value a more positive and supportive take on a typical drama and gossip based genre.
In conclusion, "Next in Fashion's" efforts of sustainability aren't all bad or all good, but the promotion of sustainability and of companies like "Rent the Runway" is undoubtedly beneficial.
So while the show might not appeal to everyone, it is still a useful addition to the future of reality competition television. And, a really good watch, with a talented winner who has a long career ahead of them!
Leave a Comment
About the Contributor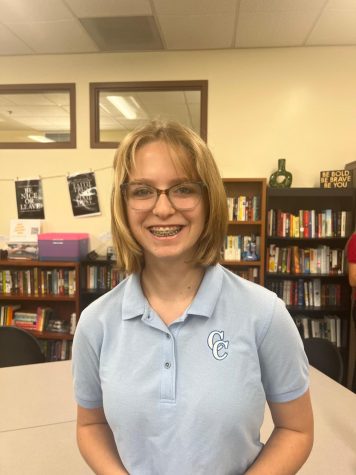 Chase Stern, Staffer
Chase Stern is a sophomore at Cathedral Catholic High School and is from the San Diego/Los Angeles area of California. As an aspiring journalist, she enjoys...