Next Stop Broadway?
Broadway, a collective of 41 professional theaters in New York's Theater District, is known for housing some of the best performances since 1735, when its first theater opened. Each theater notably holds over 500 people, a defining characteristic of Broadway shows.
Now you might recognize some of its greatest hits, such as "Hamilton," "The Phantom of the Opera," "West Side Story," "Wicked," "Chicago" and so many more. But where do these shows start? While there are no rules, and it ultimately comes down to the right people seeing it at the right time, there are four most common paths to Broadway.
First, through a very loose workshop path. This often takes place over many weeks with a fluctuating cast, crew, and script, often low budget without details such as sets or costumes. This acts as a way to define the show, and get necessary investors involved.
More commonly however, shows like this go to Off-Off-Broadway or Off-Broadway first. Shows on Off-Off-Broadway are characterized by their low budget, limited runs in theaters seating under 99 people. In between this and Broadway is Off-Broadway, with much higher productions and theaters with 100-499 seats. These are often picked up to move up and on to Broadway.
Another way is when shows are picked up from professional or semi professional productions that play in a regional or summer theater. If these receive outstanding audience reviews, they can carry directly to Broadway. The final most common way shows are chosen for Broadway is by looking at other Broadway sized productions in other cities (i.e. Chicago, D.C., Philadelphia or Washington) or other countries. This process faces the most reviews before Broadway, and therefore is the least changed before its Broadway debut.
A year of Broadway includes way more shows than you might think, and way too many to list. But to name a few newly picked up shows opening soon are "Bob Fosse's Dancin'", "Camelot," "Peter Pan Goes Wrong," and "Back to the Future: The Musical."
This only leaves me wondering what's next, and while not confirmed, after its world premiere on Sunday, February 19th, many are betting on "The Outsiders," at the La Jolla Playhouse being next up.
Now like the creators of the musical, most of us read S.E. Hinton's 1967 young-adult novel in an English middle school class, or for pleasure, and fell in love with the teens. Hinton wrote relatable and emotion evoking characters, with much deeper memorable motifs. One that has stuck with me is Jonny's wish for Ponyboy to "stay gold," a reference to Robert Frost's poem "Nothing Gold Can Stay."
If you haven't had the pleasure of reading the book, I would definitely recommend it, but the story is centered on two best friends Ponyboy Curtis and Johnny Cade in Tulsa, Oklahoma, 1967, figuring out family, friends, love and how to survive. Together, along with a chosen family of 'outsiders,' referred to as greasers, they navigate against socs, the posh neighboring socioeconomic group.
This resonated with many, and 16 years later, in 1983, a movie adaptation starring C. Thomas Howell as Ponyboy Curtis, Matt Dillon as Dallas "Dally" Winston, Ralph Macchio as Johnny Cade, Patrick Swayze as Darrel "Darry" Curtis, Rob Lowe as Sodapop Curtis and Tom Cruise as Steve Randle hit the theaters. Much of this beloved cast has gone on to incredible careers with notable success.
With such a past, it's not surprising a talented crew and cast picked up the story creating an amazing musical. While "The Outsiders," is only in its world premiere, it's sure to be a fan favorite. Braulio Fernandez-Flores, Assistant House Manager, and former alumni of UCSD, shares that, "From looking at the houses, it's doing really well."
The world premiere is a stage where the show is first seen by the public, and based on audience reaction, changes to the show can occur between runs. For "The Outsider's" this started on February 19th, and spans two weeks until opening night March 4th.
The creative director prefaced the world premiere show by explaining that through the two weeks of the world premiere, entire scenes and numbers have been cut and added inorder to create the best show possible.
UCSD student, and Assistant House Manager, Simonne Darbonne shares that the show is continuously changing, and in the half week between dress rehearsal and the world premiere, "The beginning part, his monologue, was a change. They didn't have that when I first saw it, and I think that was to give it more background for the audience."
She builds, adding, "I do know that they are going to be making changes for the next week or so until opening night." Now this continuous change can't go on forever, and by opening night, Darbonne shares, "changes are all finalized. That's the end." By that point the show will be in its best, most edited form.
Now to the interesting part, why should "The Outsiders" get picked up by Broadway?
For one, the set. It's very well designed, unique and surprising. It features tons of specific technology to the plot, such as a long scene, completely in the rain. Another reason is the cast. Alumni of UCSD, Emily Klemmetsen, shares that "And with some of the cast, they've been on Broadway or Off-Broadway or touring."
Furthermore, as shared by employee, Avery Simonian, "There is a really big pipeline from here to broadway, they are very connected." Fernandez-Flores seconds this by adding, "A bunch of shows come out of here." This is undeniable, as shows including "The Who's Tommy," "Big River," and "Jersey Boys" have been picked up for Broadway. The La Jolla Playhouse has also been recognized for its prestige as a regional theater, such as in 1993, when it was awarded the Tony Award for Outstanding Regional Theatre.
Now as Darbonne explains, "They don't usually know [if it will be picked up] til towards the end of the shows," but "usually after opening you can get a better feel of where it's going."
Which will be soon, with opening night this weekend. Adding some optimism, Fernandez-Flores expresses, "This is like for sure going to go to broadway."
Klemmetsen adds, "Yeah it more than likely is, we just don't know. You never know." But the show's opening already has crazy demand which Klemmetsen explains "If it gets really popular toward the end of the show they will extend it." This emphasizes the true demand for "The Outsider's," as the run has already been extended, before it opens.
The show definitely isn't perfect yet, and will continue to change and grow before opening night, but it is shaping up to have the potential to be the next Broadway hit. So as it's selling out, make sure to grab a ticket and see it pre-Broadway!
Leave a Comment
About the Contributor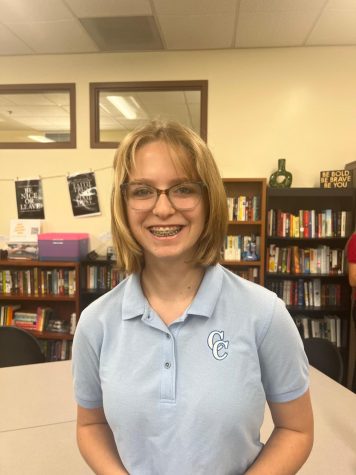 Chase Stern, Staffer
Chase Stern is a sophomore at Cathedral Catholic High School and is from the San Diego/Los Angeles area of California. As an aspiring journalist, she enjoys...