Everything, Everywhere, all on Cedros Avenue
While only a long block, the street is jam packed with more than 85 different store fronts, and is the perfect spot to wander for a couple of hours, after school or over the weekend. Furthering its convenience, Cedros sits just 15 minutes from campus, in Solana Beach and near the ocean.
The tons of different shops cater to all kinds of creativity, from thrifting, to art galleries and stores to restaurants. Combined there is sure to be something fun for everyone.
The theme of interior design, which is definitely prevalent with around 20 shops catered to it, might scare away the teen audience, but it definitely shouldn't as there is plenty to explore. Many of the interior design stores are much more than just that, with such heavy art, including the David Ala Collection shop, which is full of incredible paintings and wood sculptures/tables.
Moving to retail stores, so many small specialty shops line the street, guaranteeing unique finds. My personal favorite is SoLo, for so many reasons, but one is the amazing staff.
I spoke with Lori, a long-time veteran, who shares that the store has been there for 21 years, but more interestingly, "We are a cooperative of 7 women and each little section is a different shop."
This makes it a very unique store, one with so much, as it has so many contributors. Each woman has a small section of the store and combined they have everything. From a mini library, to arts, home decor, tons of cool jewelry, and art supplies, it's the best of all worlds. As Lori puts it, "Each buyer is very specialized. They buy according to their taste, their style, so each shop is so different."
Furthering this originality is the individuality of the products, "We carry antique, vintage, new, some of the girls make things that they sell, so it's a good artistic span and environment." And better yet it isn't even close to the only cool spot to check out.
Maybe after shopping for a bit, you need some energy, and the best place for that is at Lofty, a tiny coffee shop, with beautiful latte art, and a delicious menu. Perfect to rest for a minute before checking out the rest of the drive.
One of many galleries is the Executive Collections, a really cool gallery type space, with all the paintings for sale. The front is so enticing, with signage for a Dr. Suesses exhibit the coolest metal sculptures spinning in the wind, larger than life frog statues and large paintings on easels.
It only gets better with the amazing art inside, which is so versatile, ranging from playful figurines and Cat in the Hat renderings, to beautiful realistic and abstract paintings hanging throughout. The entire staff is so close and conversational, explaining each piece.
Featured artist Gloria Lee's daughter runs the gallery, and creates such a cool environment, and Sythia Celestino, explains, "we are all family."
Furthering our conversation Celestino explains that in the 14 years she's worked with the company so much has changed. They have fluctuated from a max of 7 locations to their current single location of one perfect store with it all. For the past 4 years at Cedros, Celestino expresses, "We definitely try to have a little bit of everything, we know that not everything that speaks to you speaks to me." Which they definitely continue to succeed at.
The street features six other really cool galleries, including the Madison Gallery, which is not only cool on the inside, but also has a fun exterior, perfect for photos.
A mix between shopping and art is the Village Consignment store, again made special by its two owners, Karen and Sherman Jenkins. I spoke with Karen Jenkins, a hilarious and sweet woman, about her experiences starting her business 32 years ago.
Jenkins starts with the truth, "Well part of it was money," but continues on to share, "I'd gone to a garage sale, and I saw some really nice things, so of course I bought some. Then one night I saw a little consignment store and I said to my husband, 'Do you think somebody could buy something at a garage sale and bring it to a consignment shop and sell it?'"
Well clearly it worked out, and luckily he had the foresight to see that, responding, "'I don't know, let's try it.'"
Jenkins remembers, "So we did, and we made money on it. I was a teacher at Del Mar Heights at the time. I was their art teacher for 6 years, so I took a sabbatical, and I never went back."
The two of them started in Del Mar, eventually moving into their current location two years ago, and as they expanded, "the storefront next door became available for lease, and we just grabbed it up about a year ago."
When I asked Jenkins about the best part to her, with no hesitation she replied, "The people." She continued to describe her customers, "98% of the people are super nice, and it's fun. We laugh and make jokes, you know all the things that make it worthwhile to be here." Her love of what she does is contagious, and it's impossible not to love the overflowing packed store.
After a day of shopping, food is the only logical next step, and Cedros has an amazing farmers market set up every Sunday from 12-4, with so many vendors selling a variety of homemade goods to delicious food. I'm partial to the tamales vendor who makes them fresh. However, if you happen to miss that, Cedros' permanent restaurants are amazing as well, including Homestead Cafe + Market, for a cute outdoor meal.
All in all, spending a day or afternoon at Cedros Design District is a great way to make the most of local attractions that make San Diego a cool and unique place to live.
Leave a Comment
About the Contributor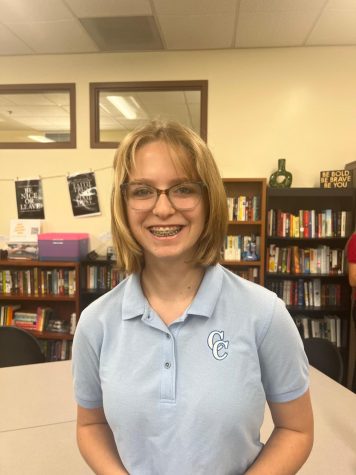 Chase Stern, Staffer
Chase Stern is a sophomore at Cathedral Catholic High School and is from the San Diego/Los Angeles area of California. As an aspiring journalist, she enjoys...