2023 San Diego Show Highlights
With over 20 theaters in San Diego, there are consistently many shows in the works. For highlights of the 2023 year, keep reading!
Moving past local elementary school shows, many high schools put out a few productions annually. Cathedral had our winter musical, 'Amélie', a romantic comedy, about a young French woman's life, on February 8th and 9th at the Poway Center of Performing Arts (PCPA). The next production to be released will be 'Cinderella', in April at PCPA.
Now onto the professional theaters, the three most recognized include: The Old Globe, Broadway San Diego, and the La Jolla playhouse.
The Old Globe theater itself has five shows, starting with "The Notebooks of Leonardo da Vinci" opening January 21 through February 26th. This play takes you through the mind of Leonardo da Vinci as seen by his own notebooks. It is followed by "The XIXth" (The Nineteenth); then, "Destiny of Desire", a nod to telenovelas; "Passengers," and finally, an October musical, which is yet to be announced.
As for the two theaters adjoining the Old Globe- first, the Shakespeare Theater (Lowell Davies Festival Theater), which is an outdoor theater, will have the "Twelfth Night" (June & July) and "The Merry Wives of Windsor" (July & September).
The second adjoining the Old Globe, is the Theater in the Round (Sheryl and Harvey White Theater Conrad Prebys Theater Center), and it is a unique theater, with seats completely surrounding the stage. It has four shows, starting with "Under a Baseball Sky," from February 11 to March 12. It's a show unique to the Globe, and focuses on the impact of baseball in the Mexican American community. Their season continues with "Exotic Deadly: Or the MSG Play," then "Crime and Punishment, A Comedy," and last, but not least, "Dishwasher Dreams."
Moving to Broadway San Diego, at the Civic Center downtown, with eight shows, and six in the new 45th season. Their 2023 just started with "Disney's Frozen the Musical" on tour, before showing "Bluey's Big Play," an adaptation of a beloved animated children's tv show. Next they will go into "Mean Girls" the musical, continuing the 2019-2020 run, which was interrupted by Covid. After, they have the 25th anniversary of "Riverdance," with "1776" the musical to come.
Their second half of 2023 is jam packed with some of the most anticipated musicals, starting in June with, "Six" the musical. "Six" tells the tale of the six wives of Henry VIII, but as 21st century women, and the musical has had much positive feedback since its 2020 debut, particularly for its outstanding soundtrack. Followed by," Tina – The Tina Turner Musical," based on 12 time Grammy Award winning singer's journey to fame. Broadway San Diego is ending the year with "Beetlejuice," a hilarious musical based on a Tim Burton classic film.
Next, the La Jolla Playhouse is set up for another amazing year, starting with the musical adaptation of "The Outsiders," beginning February 19th. This professional theater resides on the UC San Diego campus, and offers all students, with their student IDs (us included) a discount of 50%, which they call "Rush" tickets. This makes it more accessible and affordable to see their shows.
Large and well known theaters like those above are sure to have an amazing year, but there are so many smaller, and lesser known theaters in San Diego worth checking out.
Some honorary mentions include the Moxie Theater, a women-based, nonprofit theater, with two shows starting February. They plan on producing "Birds of North America" and the "Chronicles of Kalki." Their mission statement includes "to create more diverse and honest images of women for our culture" (Moxie Theaters).
Then, with another three shows, is the Diversionary Theater in their 37th season. They were "founded in 1986, [and the] Diversionary Theatre is recognized as one of San Diego's best theaters, and proudly showcases the most vibrant and diverse group of talent the city has to offer" (Diversionary Theater). This year they will be putting on "The High Table," "Monsters of the American Cinema," and "Head over Heels."
Finally, the Cygnet Theater has five shows this year, starting with El Huracán, playing late January and early February. The show is centered around a family preparing for a hurricane and, "Receiving its third ever production at Cygnet Theatre after the World Premiere at Yale Rep in 2018; El Huracán is an exquisite lyrical drama that places four generations of Latina women at the center of a universal tale" (Cygnet Theater). Followed by "Present Laughter," "Sharon," "Evita," and "The Little Fellow."
As a whole live theater has an emphasis on diversifying their writers, cast and crew in the past few years. Such as notably seen with the success of "Hadestown," written and directed by women. Director Rachel Chavkin, was the only woman nominated for a Tony (2019) in the Best Direction of a Musical category, which she proceeded to win, showing a lack of female directors in the industry being overcome.
And as of the 2022 Tony's, every performance category had multiple Black actors and actresses nominated. T. Oliver Reid, co-founder of the Black Theatre Coalition, and in "Hadestown" as the Hermes understudy shares with the Daily News, "We realized that we needed to expand and help build those relationships and make sure that there were Black professionals who have been given the opportunity to work on the scale of Broadway" (Daily News).
Following past trends, this year will not disappoint and an amazing lineup of diverse shows is coming our way, and it's definitely worth checking them out!
Leave a Comment
About the Contributor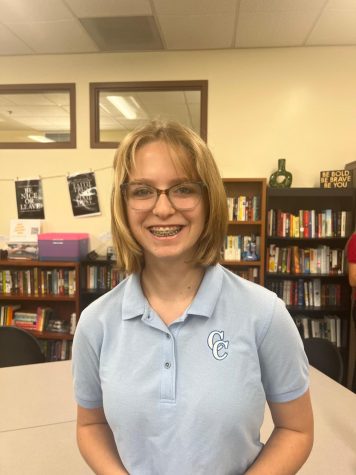 Chase Stern, Staffer
Chase Stern is a sophomore at Cathedral Catholic High School and is from the San Diego/Los Angeles area of California. As an aspiring journalist, she enjoys...