Worth Your Time? Academy Museum of Motion Pictures
Los Angeles is our perfect neighbor city, only a 2 and a half hour drive without traffic, and it's packed to the brim with fun activities, museums and experiences.
The Academy Museum Of Motion Pictures (AMMP) is located on the corner of Wilshire Boulevard and Fairfax Avenue in Los Angeles, California.
Perhaps you heard of the museum's new exhibits, or well hyped old displays, but before you stop by anytime soon, take a look at this article.
Museum goer, Sharon Birenbaum, attended the museum during its last exhibitions including one on Hayao Miyazaki, a Japanese manga artist, animator, director, producer and screenwriter, and an exhibition on Spanish director Pedro Almodovar. She expressed her experiences as, "a lot of fun, and a must see for anyone who loves movies."
While this may have been true for prior exhibits, it isn't not true for the current display.
First you have to get past its neighbor museum, The Petersen Automotive Museum, a huge eye-catching building, featuring a bright red facade, and a layered metal design on top. The building draws your attention, and intrigues you.
In contrast the AMMP building itself is nondescript, and the windows are dark with minimal displays. The coolest part of the museum is the glass sphere at the back overlooking the Hollywood sign, however it is unattached to the museum and its exhibits.
The entrance to AMMP is poorly labeled, leaving you walking in circles and talking to disgruntled security guards at all the doors, before going in what looks like the back. Parking is shared amongst too many buildings, and leaving museum goers annoyed before even entering.
Upon entering, a large open room comes to view, with many little seats in clusters. The check in and information desk is off to the right, just out of view, and under labeled.
After checking in, the museum exhibit starts on the first floor, and feels like an afterthought.
The first floor exhibit is small and divided with short clips of at least 15 movies playing at once on different screens, before shifting to the next set of movies. I believe it is trying to immerse visitors into a mindset of film, the theme of the museum, but it is poorly done, and feels underwhelming and incomplete.
AMMP is a tall building of five stories, but with the minimal the first floor, only the second and third floors are packed with exhibits from "Stories In Cinema", and the space is not maximized.
The exhibits only take up a half of each floor, and are hidden by a black wall, with large black doors at either ends of the building. At the fault of no labeling, opening the doors to unknown exhibits is daunting.
More effective signage would make the experience more welcoming, and promote better flow throughout the museum, which it is severely lacking.
While perhaps personal preference, the museum had no linear path, but tons of individual displays, and required looping back and passing displays over and over.
A special event that the museum puts on is an Oscar winning recreation experience, and local, Carol Stern, who participated in this ongoing feature last year shared, "it was hysterical, I laughed so hard!"
She also elaborates, "it was very fun and a different kind of experience, that you can't get anywhere else."
I was there on a cold rainy day, and the museum was at full capacity, only highlighting the issues in layout. During the winter cold season, masses of people pushed past each other, even though the museum definitely had the square footage to hold the mass amounts of people, we felt crammed together.
Cate Miller, a 7th grader at Notre Dame Academy, NDA and sister to Cathedral student Lucy Miller '25, expresses her experience as how, "they only have stuff from movies young people haven't seen, I didn't know anything."
She further elaborates that, "they don't have props that are interesting to people who aren't obsessed with movies."
Majority of the museum's content was quite interesting but ruined by its display. Some of my favorite displays included costumes from films like Edward Sissorhand, and other older movies.
Exhibitions on behind the scenes costumes design, sets and wigs also were quite captivating.
Building on this, the best exhibit, and feature display, is that on The Godfather.
It was expansive, and while a lot of it was recreations, it still stood out to Godfather enthusiasts as interesting.
Another highlight is ticket pricing, so if you are in the neighborhood, and want to go for just this exhibit or to check it out for yourself, you can make the most of, 17 and under get in free, and with student IDs tickets are just 15 dollars.
Onto my personal favorite part of the museum, that isn't even a part of AMMP. The top floor, with no exhibit and definitely no signs, has an enclosed bridge that you can cross over into a huge glass dome. Half of it is open, and overlooks the LA city, and monuments such as the Hollywood sign.
The dome is filled with tons of chairs and tables, and is a beautiful place to spend a bit of time. I would definitely recommend checking it out if you're there.
In conclusion, the Academy Museum of Motion Pictures has many flaws, including poor layout, design, and flow as well as some questionable displays. However, the museum does still have some redeeming qualities, such as its features exhibited, The Godfather, other costumes and the glass dome.
So next time you are up in LA, and have some free time, you can decide whether or not to spend your time in the Academy Museum of Motion Pictures, but unless you are super into film, I wouldn't recommend it.
Leave a Comment
About the Contributor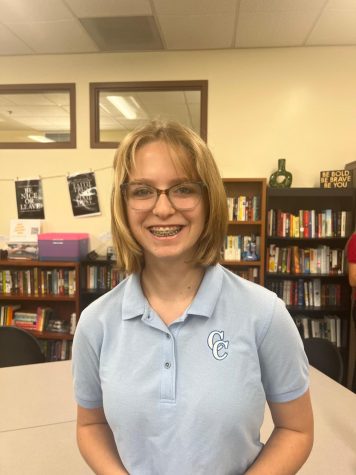 Chase Stern, Staffer
Chase Stern is a sophomore at Cathedral Catholic High School and is from the San Diego/Los Angeles area of California. As an aspiring journalist, she enjoys...