"GAS"-The Newest Social Media App and its Affect on Children
Now Ranked #1 on App Store, the "GAS" social media app is beating both TikTok and BeReal in downloads. Created by Isaiah Turner, Dave Schatz, and Nikita Bier and invented as an app to "Boost Self Esteem" is August 2022, but is it really doing this?
Nikita Bier actually completed a similar Facebook application in 2017 called "TBH" but this was closed down just 1 year after the opening due to low usage.
The app works by having a prompt with 4 name options to vote for. After receiving a vote, you get one "flame" per vote. Sophomore Student Liza Delach states how "This mindset is extremely harmful to students who use the amount of flames one has as a way to judge others." This new ideology is completely opposite from the original concept behind creating the app which was to promote self esteem.
When voting for someone, it is anonymous unless someone purchases "God Mode," in which they can get the first name of people that voted for them, reveal names of votes and get hints on votes from their peers.
Since August, the app's popularity has increased with over 1 billion users worldwide. With over 280 users at Cathedral, many students have a variety of opinions about the topic. Cathedral Catholic Sophomore Chiara Bonomi states how, "GAS uses compliments to make people feel good about themselves. During lunch, I see my friends get excited by the positive messages which increase their mood due to the positivity promoted by the app." Chiara's evaluation is exactly what the creators of the app hoped for, that the messages could boost self esteem throughout one's day.
Unfortunately, not everyone sees the GAS app in a positive way. Due to the fact that you can see the polls that people were voted for, it can actually worsen self esteem for some. From a personal example, the question, "Gets in the most trouble" is a negative sound bite that some may not want to be posted for their friends to see. Cathedral Catholic student Liza Delach claims how, "GAS promotes bullying due to the constant flame comparison among peers, and people may feel down on themselves if they have a minimal amount of flames."
Overall, Gas is an app that was made to boost self esteem. Because this app is newer, it still has a lot of room to grow and develop as a platform but as of now the app is safe, with very few bugs in its system.
Leave a Comment
About the Contributor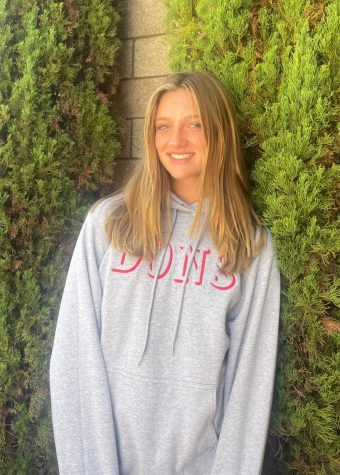 Elle Brennan, Staffer
Elle is from San Francisco. She is super friendly and talkative and is excited to try a new writing style as an El Cid Online staffer. Her approachable...